How to Train Your Dog to Eat by Himself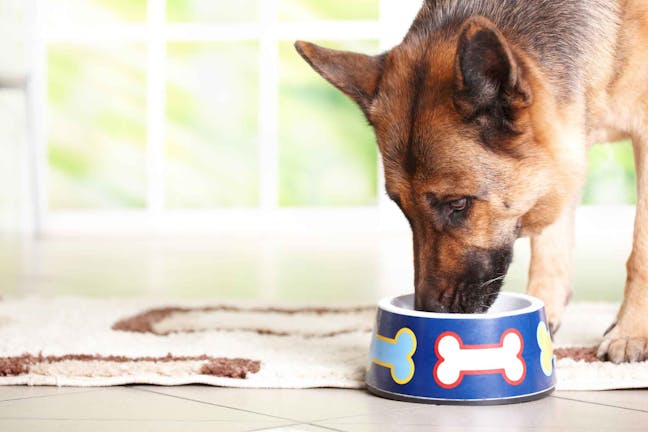 Introduction
There is nothing worse than a dog who refuses to eat on his own. When you have a "fussy" pup, it can feel as though you have little to no control over when he eats, how much he eats, or for that matter when he eats. When your pup is little, hand feeding him might be okay, but you need to get past this point as quickly as possible to ensure you have more control over his eating habits as well as his potty habits.
There is a controversy over which is better: "free feeding", in which there is always food in your dog's bowl that allows him to eat whenever he feels like it or "meal feeding", where you establish specific meal times when your dog is expected to eat. There are good and bad points for both types of feeding styles. and most vets recommend you put your dog on a feeding schedule. Not only does this help to establish you in the dominant role, but it also makes it much easier for you to observe his eating habits and how much he is or isn't eating.
Top
Defining Tasks
As a human being, you are used to eating on a relatively set schedule of three meals a day. While your dog may not need three meals a day, it is important for him to know when he is supposed to be eating and to do so at that time. Here in the U.S., we face a growing epidemic of human obesity and at the same time, there is a growing problem with canine obesity. By taking full control of when your dog eats and how much he eats, you can help prevent this from happening to your furry friend.
Another beautiful thing about teaching your dog to eat by himself at set times is that this can help to regulate his bowel movements. The big thing to remember is that you are teaching your dog to recognize when it is meal time and that he doesn't have time to waste once you put the bowl down in front of him. Bear in mind that if you allow your dog to "free eat" or "graze" it could take several days before you realize he is not eating properly.
Top
Getting Started
You won't need a ton of supplies to get started training your dog to eat by himself. The most important thing to remember is that it can take a little while for your pup to make the switch from being hand fed to eating out of his bowl when it is meal time. You will need:
A food bowl: Every dog needs his own food bowl.

Food: Stock up on the food you plan to feed him.

Treats: You will need some way to reward your dog for getting things right.

Patience: it takes time to train your dog to learn to eat on his own when it is dinner time.

The right place: To make this training more successful, you need to have a specific spot to put his food dish every time. Placing it in different places will only lead to confusion and problems with getting him to eat.

Praise: You can never give your pup too much praise when he gets new training right.

Top
Dish it up
Pour your dog's food into his bowl and raise it over his head.
Serve
Place bowl in front of him on the floor. If he begins to eat, praise him.
Repeat
Repeat this process until each time you put his food in front of him he eats.
Invitation
Start by asking your dog, "Are you hungry?"
First course
Place half the amount of food you want your dog to eat daily in his bowl.
Serve it up
Hold the bowl in front of his nose and then place it in the special spot reserved for his bowl.
Countdown
Count to five, if he starts eating let him finish and give him plenty of praise.
Wait for later
If not, pick up the bowl and wait for 12 hours before trying again.
Try again
Repeat the process in another 12 hours until he eats on his own each time you place his bowl on the floor. Be sure to give him tons of praise each time he eats until the process becomes a routine.
The Eat on Command Method
Dish it up
Fill your pup's bowl with food.
Dinner bell
Give your dog the 'come' command, assuming he didn't come running at the sound of food being poured into his bowl.
Table manners
Have your dog sit and slowly lower the food dish to the ground in front of him. If he tries to get to the bowl before it hits the ground, raise it back up and make him sit again.
Repeat
Repeat until your dog sits and waits patiently until you place the bowl on the ground. Then give him the command 'eat' or 'Okay'. His reward will be his dinner along with plenty of praise.
Be consistent
Follow this exact same process each time you feed your dog and he will soon come to understand when it is dinner time and that this is the only time he will be allowed to eat. At this point, you should be able to put the bowl down and walk away while he eats by himself.
By Amy Caldwell
Published: 11/19/2017, edited: 01/08/2021
---