How to Train Your Dog to Eat from His Bowl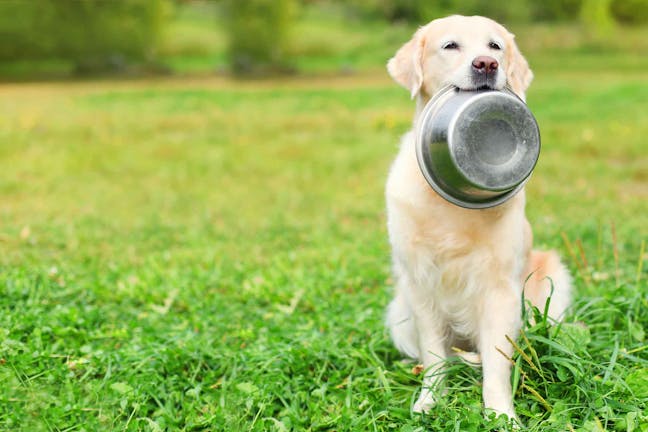 Introduction
Your pup started out life getting all of his nutrition from his mother's milk, but there comes a time when he needs to learn how to eat from his bowl. You can try hand feeding him for a while, but there is going to come a time when he needs to grow up and learn to eat from a bowl. Not only will this make life easier for you, but it will allow you to keep a much closer eye on how much and how often he eats.
While training your dog to eat from his bowl can be a little challenging, it is a great exercise in discipline for both of you. It also gives you time to spend working on some of the more basic commands such as 'sit', 'stay', and 'come'. It will also reduce the risk of your dog being injured if he has a habit of running in a rush to get to his food.
Top
Defining Tasks
The basic idea is to teach your pup that the only place he should be eating from is his bowl and nowhere else. At the same time, you will be teaching him not to rush towards his food dish and that there are specific times when his food will be put in front of him. This is one of the more important general tasks you can teach your dog and should be done at the same time as he is being weaned, if possible, or as soon after as possible.
In reality, you can teach any age dog to eat from a bowl, but the sooner you get started the easier the training sessions are likely to go.  You may want to choose and use a command word or phrase to help with the training such as "Come eat!" or "It's dinner time!". No matter what you choose, be sure to stick to the same command each time and always place his food dish in the same place each time to help avoid confusion.
Top
Getting Started
Getting started is relatively simple, you won't need much to train your dog as eating is a natural process and no matter what, your dog will eventually eat when he gets hungry enough. However, like most types of training, there are a few things you will need in order for the training to be successful.  These include:
A hungry dog: You cannot teach your dog to eat from his bowl unless he is hungry.

His favorite food: This is not a good time to try an unfamiliar food.

A feeding station: Supply a bowl specifically for your dog and choose a spot to place it for each feeding.

Time: no training happens overnight, you need to have plenty of time for this process.

Patience: Like time, you need to be patient with your pup or you may discourage him rather than getting him to eat from his bowl.

Praise: Always be ready with plenty of praise when he gets things right.

Top
Fresh start
Start by purchasing your dog a new bowl if he has been avoiding eating out of the one you already have.
Choose wisely
The current bowl may frighten him, or if it is a metal bowl it might slip all over the place when he is trying to eat. Also, try smaller bowl as a larger one might overwhelm him. You can always move up to a bigger bowl when he is ready.
The right spot
Find a quiet spot for him to eat so that he can eat his dinner in peace and quiet.
Jazz it up
Try pouring a little chicken broth or stock in the bowl to encourage him to eat from the bowl and give him lots of praise when he decides to go ahead and eat.
Manage mealtime
Keep food availability to a minimum, say for around 20 minutes before picking up the bowl. Keep trying until he is ready to eat the minute you put the bowl down.
Dish it out
Start by placing an appropriate amount of food in your pup's food dish.
Call him to the table
Bring your dog into the room where you plan to feed him and stand there with his bowl in your hands.
Sit first
Have him sit and then slowly lower the food bowl in front of his face until it is on the ground.
Work on those manners
If he tries to move from the sitting position or goes for the food. Raise the bowl and make him sit again. Keep at this until he remains in the sitting position while you place the bowl on the ground.
Dig in!
Give him your chosen command such as "Time to eat!" or " Chow down!" or anything else you choose to use. Let him enjoy his food and repeat this process until he eats every time you put his bowl down.
The Separate Meal Time Method
Dinner reservation
Plan your dog's meal times separate from your own.
Choose a time and cue
Create a time for him to eat and a specific feeding command.
Serve the meal
Call your dog into the room where you plan to feed him, have him sit, and place a bowl of food in front of him.
Wait for it...
Make him remain in the seating position until you give him the command to eat.
Doggie bag
If for any reason he chooses not to eat, after 5 minutes be sure to pick up the bowl.
Try again
In 12 hours try this again, chances are good he will be hungry enough to eat.
Repeat
Keep repeating this until he eats when you put his bowl down. Be patient, it won't take long.
By Amy Caldwell
Published: 11/27/2017, edited: 01/08/2021
---