How to Train Your Beagle Dog to Fetch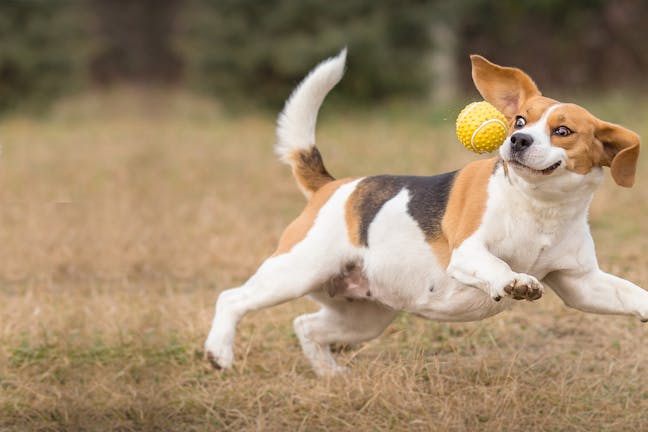 Introduction
Beagles are everything you want from a dog. They're intelligent, determined, excitable and even-tempered. They also have plenty of energy so you're always kept on your toes. You and your family have nothing but love for your beagle. He's now an essential member of the family and it wouldn't be the same without him. Because he's got a fair amount of energy to dispel you take him out for daily walks. However, while he loves chasing things, he's not so good at the retrieving part. He's not going to make an excellent hunting dog like this and he's going to make walks somewhat frustrating.
Training him to fetch will alleviate these concerns. Beagles are a breed of hounds so they have the nose to track down prey. Fetch is one of the first steps in training him to be the hunting dog you would like him to be.
Top
Defining Tasks
Because Beagles are intelligent dogs, training them to fetch is relatively straightforward. The challenge is teaching him what you want him to do initially. Once he understands what you want he'll quickly catch on. All you need to do is ensure you have the right incentive. Beagles have a strong sense of smell so appealing to that is always a smart move. You'll have to use a combination of toys and food therefore to master this training. 
If he's a puppy he should get the hang of it in a matter of days. He should be a fast learner who's keen to please. If he's older and not so keen on following orders anymore then you may need a week or two. If this training comes off, you'll have the perfect way to exercise him. He'll be left peacefully dozing in the evenings, instead of causing trouble.
Top
Getting Started
Before you can start training you'll need to gather a few things. You need to get hold of some toys he'll want to play fetch with. Beagles love tennis balls. Alternatively, a brightly colored frisbee should also do the trick.
Then get your hands on some mouth-watering treats, or break up his favorite food into small pieces. You can practice when you're out on walks so you don't need to set aside any extra time for training.
Once you have all that, just bring patience and you're ready to get to work!
Top
The Lead By Example Method
Throw the frisbee
The first thing to do is throw the frisbee or tennis ball for him. Don't throw it too far to start with and make sure you've got his attention when you throw it. If he's of the 'sit and stare' variety then you need to encourage him to chase it down.
Encouragement
Point at it and talk in animated voice. If that doesn't encourage him to chase after it then you need to lead by example. That means running after it so he follows you. He'll soon catch on and want to get it before you do.
Call him over
Once he runs after it and gets it you need to get him back to you. Call his name and pat your knees. Make sure you hold eye contact and talk in a playful voice. If he thinks it's a big game he's more likely to return to you.
Reward
Once he's back at your feet, give him a tasty treat and lots of verbal praise. The greater the reward the more likely he will be to bring it back to you next time. So, don't hold back!
Practice
Now practice this every time you go for a walk. After a while you won't have to show him how it's done. It will quickly become habit to run after it and bring it back. When it does, you can gradually cut out the treats.
Play with two toys
Spend a few minutes each day at home playing with the frisbee and a tennis ball. You need to get him really excited by it so he'll charge after them as soon as you get them out on walks. Playing tug of war and leaving them in his bed at night will do the trick.
Throw one
When you're on a walk, throw one of the toys and encourage him to chase after it. If he doesn't naturally start running after it point at it and talk in animated voice. He'll soon get excited and start chasing after it.
Hold up the second toy
When he's got the first toy in his mouth you need to lure him back over. To do this, hold up the second toy. As soon as he sees it he will charge straight over. He'll probably naturally drop the first toy in anticipation of the second.
Throw the second toy
When he does drop the first toy you can throw the second. Then you repeat exactly the same process you used to get him to bring back the first toy. It may be tiring to start with, constantly throwing them both, but he'll quickly get into the routine of collecting one and then bringing it back.
Practice
Keep doing this for a week or so. When he's into the swing of things you can go down to just using one toy. By now it will be habit to run after it and then bring it back to you. If he doesn't let go of the toy, go back a step for a few more days and then try again.
Go out for a walk
Go out as you normally would for a walk. Make sure you have him on a leash though, and that you've got a toy he's excited about with you. You're going to tempt him into chasing after it by holding him back.
Throw the toy
Throw the frisbee or ball as you normally would. However, hold onto his collar when you do this. The simple fact he can't chase after it will make him want to chase after it more.
Release
Once you feel him pull, wait for a second and then let him go. Just like humans, if he thinks he can't do something he'll only want to do it more. Point to the toy and encourage him to chase after it. Keep it as upbeat and playful as possible.
Food lure
Now hold out a tasty treat to lure him back over to you. Beagles have strong noses so the smell of his favorite treat should quickly bring him back to your feet. However, don't give him the treat until he drops the toy. Be patient, it may take him a little while to catch on.
Practice
Now you just need to get him into the routine of chasing and bringing back the toy. So, make sure you throw it several times on every walk. When he's got the hang of it you can gradually cut out the treats.
By James Barra
Published: 12/13/2017, edited: 01/08/2021
---