How to Train Your Brittany Dog to Fetch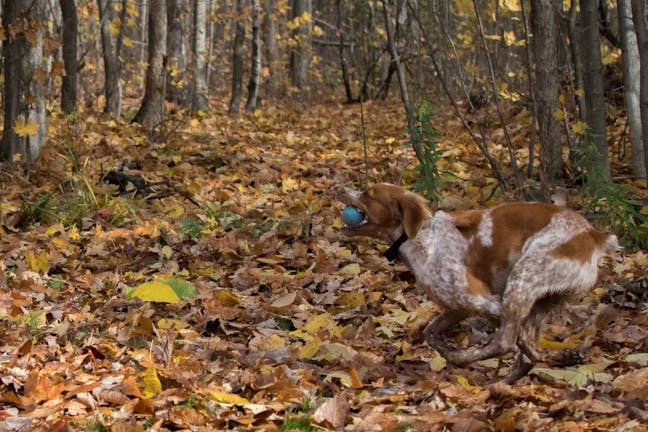 Introduction
Brittany Spaniels were bred to be hunting dogs; they are excellent as fowl hunters and can not only point out the birds but can also be trained to retrieve your quarry. These dogs are incredibly active and fun-loving. They have exceptional energy levels that they need to run down from time to time. One great way to help your pup burn off a large amount of this energy is to teach him how to play a rousing game of fetch.
Keep in mind that Brittany dogs tend to be very sensitive and, as such, do not respond well to punishment or negative training methods. By far, the best methods of training your pup to fetch are those that involve positive reinforcement. This is a fun game for your pup to learn to play-- the more enjoyable you make training sessions, the faster your pup is likely to learn. 
Top
Defining Tasks
The idea behind fetch is that you train your dog to retrieve one item in multiple locations indoors and out using his senses of smell and sight. Since Brits are exceptional hunting dogs, they have an extremely well-developed sense of smell. Tracking comes naturally to the breed, which in turn makes it easy for you to take advantage of this natural ability and put it to good use.
Fetch actually comes naturally to many dogs, including Brits, which will also make training your pup to perform this trick easier. While you will be using treats during the training process, once your pup has mastered this simple skill, he will be more than happy to play fetch just for the fun of it. With a little hard work and patience, your dog will soon add another skill to his bag of tricks. 
Top
Getting Started
Before you start trying to train your Brit to fetch, he should have already mastered the four basic commands. These include, 'come', 'sit', 'stay', and 'down'. By teaching him these first, you are establishing control over his behavior, which will make teaching him to fetch much easier. You will also need a few training supplies along the way. These include:
Treats 

A rubber ball or toys

Leash

An assistant

You will also need plenty of space indoors and out to train in, a quiet time to train each day, and plenty of patience while you work with your pup to teach him how to play fetch. 
Top
Starting positions
Starting in your backyard with a friend to help, have your dog come over to you and sit. Attach his leash to keep him from running after the ball when you throw it.
Throw the ball
Go ahead and throw the ball a few feet out in the yard while telling your assistant to go fetch it. Use a simple command like "Fetch, Joe".
Show the ball
When your friend gets to the ball, have him pick it up and hold it above his head. This lets your pup see it.
Fetch to me
Now have your assistant bring you the ball and when he hands it to you, be sure to heap tons of praise on him. You want your pup to get excited about what is going on. The more excited he gets about it, the more likely he will be to want to repeat what he has seen.
His turn
Repeat the training steps above, only this time let your dog play. Each time he brings the ball back to you be sure to give him lots of praise and, of course, a treat or two. Keep extending the distance you throw the ball until your pup will fetch the ball anytime you throw it.
Lots of toys
Gather up a basket of your pup's favorite toys to use during the training.
The toy toss
Take one of the toys and toss it on the ground a few feet in front of you where your pup can see it.
When he goes for it
Let your pup go and if he goes after it and brings it back to you, praise him and give him a treat. If not, then you might try walking or running in the opposite direction as this should encourage your dog to chase you down and give you the toy. When he does, give him a treat and praise him.
Add the command
Each time you toss out a toy for you Brit to fetch, give him the cue word, "fetch". After a few tries, your pup will soon learn to associate the cue word with what you expect him to do.
Use the rest of the toys
Now using each of the toys you gathered up, keep practicing at increasing distances. It should only take a couple of weeks for your pup to master this fun skill. It's not only fun but lets you pup get plenty of good healthy exercise.
The Start at the End Method
Drop it comes first
In order to properly train your Brit to play fetch, he first needs to learn how to drop the ball in your hand when he gets back with it. Be sure to master 'drop it' before moving on.
On the leash
Put your pup on his leash and drop the ball on the ground a few feet in front of your pup. When your pup reaches out and picks the ball up, reach out your hand and have him 'drop it.' Give him a treat and praise him when he obeys.
Repetition builds success
Repeat the 'drop' step over the course of several days until your Brit will drop the ball every time.
Off his leash
Let your dog off his leash and start working with him to increase the distance of your throws' introducing the 'fetch' command as you do.
Work it puppy, work it
Keep practicing this trick until your pup will fetch the toy no matter where you throw it. Keep play sessions short to avoid burnout or heat exhaustion in the summer. It should only take a few weeks to teach your dog this nifty little trick and then the two of you can start having a lot of fun together.
By PB Getz
Published: 12/21/2017, edited: 01/08/2021
---