How to Train Your Border Collie Dog to Fetch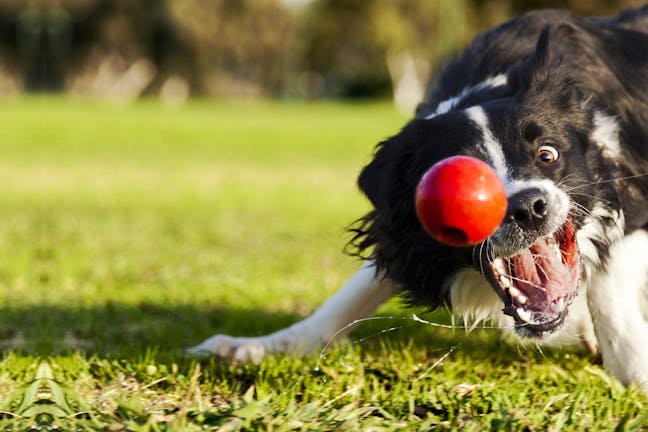 Introduction
There is nothing quite like a good game of fetch.  You with the ball in your hand, your pup dancing around your feet yelling "Throw the ball, throw the ball!" in his mind. So, of course, you throw the ball out in the yard and your pup goes tearing after it, grabs it in his mouth and then goes off in a completely different direction.
Doesn't sound much like playing fetch, does it? Of course not--one of the first things you need to teach your pup is how to play fetch if you want him to bring the ball back to you every time. Border Collies are by nature a very intelligent dog, one that is quite capable of mastering a wide range tricks. Once your pup has mastered 'fetch', you can teach him 'hide and seek', hunting, herding, how to bring you your slippers, how to bring you a beer, and so much more. 
Top
Defining Tasks
Fetch is a relatively simple game that will keep you and your pup entertained for hours at a time. You can start off teaching him to fetch a small toy or a rubber ball, but with time and patience, you can train your Border Collie to fetch just about anything he can carry. The game involves throwing a toy or ball out in the yard where your dog can find it, pick it up, and bring it back to you and then repeat it over and over again until one of you tires out (bet it's you first).
Imagine how much fun it will be for both you and your pup to show off when you have company come over. You could start with the simple basic game of fetch with a ball. Your friends will say "Oh, any dog can do that!" Then you ask your pup to fetch your slippers. "Wow!" your friends say. And then you hit them with your pup going to the fridge and bring you a nice cold beer. This literally blows their minds--all of this starts with the simple game of fetch. 
Top
Getting Started
Before you can try to teach your dog to play fetch, he will need to have mastered the four important basic commands, 'come', 'sit', 'stay', and 'down'. After he has mastered these, you should be able to train him to do almost anything. There are a few things you need to have on hand for your training sessions. These include:
Treats: To use as rewards and as training aids.

A ball: You can use a small rubber ball (think tennis ball).

Leash: For training purposes.

Space: You need plenty of space to train in.

Patience: You need a lot of this.

Time: To make this training go faster, you should plan to practice with your pup at least once a day every day until he gets it.

Fetch can be a great game, but only if you can get your pup to bring the ball back to you instead of running off and playing with it. Take your time, make it fun, and the two of you have a new game to play for the rest of his life. 
Top
It all starts with 'sit'
Go outside in the backyard, call your dog over to you and have him sit. At this point go ahead and hook him up to his leash so he won't go running as soon as you toss the ball.
Toss the ball
Toss the ball out in the yard and tell your assistant to go 'fetch' the ball using his name. For example, say "Chris, fetch!"
Chase the ball down
At this point, your friend should chase the ball and hold it up so your pup can see he has the ball.
Bring me the ball
Go ahead and tell your friend to bring the ball back to you. When he comes back, take the ball from him and praise him excited. Pet him and get excited about it, this will help get your pup excited at the new game if he isn't already bouncing at the end of his leash. Repeat this step a few times until you think your pup has got the idea.
His turn
Now repeat the above training steps with your pup. You must use the exact same method with your pup that you used with your friend to ensure he doesn't get confused. It won't take long before he masters this simple game and the two of you can spend lots of time playing together.
The Going in Reverse Method
Give me the ball
Start out by making sure your pup will drop the ball in your hand when you ask him to using the 'drop' command. This step is the one that most dogs find the most rewarding.
On-leash fetching first
With your pup on his leash, toss the ball on the ground about a foot away from your pup. When your pup grabs the ball, hold your hand out and encourage him to drop the ball in your hand. Be sure to praise him and give him treats when he does.
Keep working with your pup
Repeat this step several times until your pup will drop the ball in your hand each time you toss it on the ground in front of him.
Add distance to your throw
Gradually add distance to your throws along with letting him off the leash. This will help build distance and duration at the same time and make it more fun for both of you.
Practice makes perfect
While practice might make perfect, it is possible for you to overdo it. If you push your dog too hard, you may find he won't want to play anymore. Your pup will let you know if you are getting too carried away. The other thing you have to worry about is that during the hot summer months, your pup could end up with heat stroke if you play for too long.
Lay out several toys
Start by lining up a few of your pup's favorite toys. You will be using them throughout the training sessions.
Toss one toy
Toss one of the toys a few feet in front of you and point it out to your pup.
If he brings it back
If your pup goes out and grabs the toy and brings it back to you, shower him with praise and give him a treat. If he doesn't bring the toy back to you, try running away from your pup, he will probably try to chase you down. When he does, if he still has the toy in his mouth, give rewards and praise.
Add the cue
Now as you toss out each toy add in the cue "Fetch" so that your dog associates this command with the desired response.
Repeat with more toys
Keep repeating the training using different toys from the lineup to get your pup used to fetching more than one object. In a couple of weeks, your pup will be bringing you the toys he wants to play fetch with.
By PB Getz
Published: 12/21/2017, edited: 01/08/2021
---