How to Train Your Beagle Dog to Find Things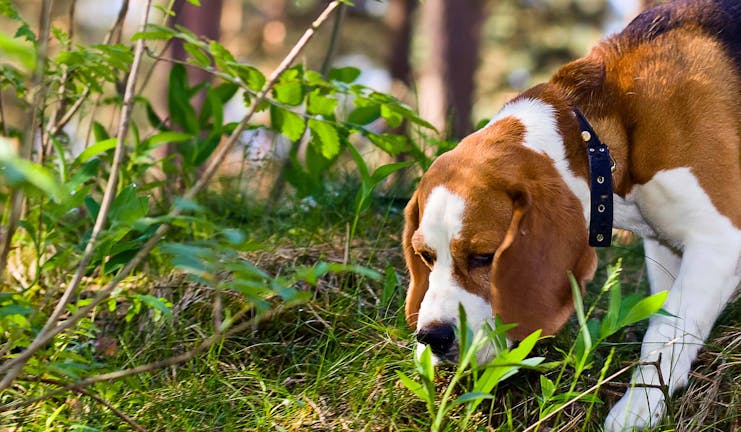 Introduction
Beagles are known as "the nose on four legs," and it's for a very good reason. These hound dogs have incredible noses, and can easily follow a scent for hours. They are expert trackers, and many Beagles are employed in airports and border patrol to seek out contraband food and substances. These cute little hounds also have a reputation for following their noses into trouble, and they need plenty of exercise and mental stimulation to keep them happy. Training your beagle dog to find things you hide is a great way to stimulate your pet, keep him out of trouble, and enjoy a fun bonding experience. It doesn't matter what you ask him to find, he'll enjoy every minute he's searching for the prize, and you'll have fun planning his search and cheering him on.

Top
Defining Tasks
Teaching your Beagle dog to find things for you is not only fun, but it can be useful if you tend to misplace things. Beagles have a high scent drive, and as hound dogs, they love to follow their noses. By creating a regular game of finding objects or scents, you'll not only be keeping your buddy happy, but he could also help you out in a pinch. This trick will come faster to younger dogs, but older dogs can learn to find things too, with a little more patience and practice.

Top
Getting Started
Your Beagle already has a strong drive to search, so asking him to find a specific toy or item will come more naturally than other dog breeds. Because this is a more advanced task for your Beagle to learn, try using his favorite toys, scents, and treats to help him along. Here are a few things you'll need to prepare.

Special treats that will get him excited. Try bits of hot dog or cheese.

His favorite toy. Use one he knows the name of or really loves.
A strong scent. You can use essential oils that have a strong odor.
A ball.
A piece of paper ripped into scraps.

A box or bunch of boxes.
Kibble or a bit of dog food.
Another person to help you with the training.

Top
Pick the right rooms
You're going to want to use two rooms in your house to start. One room will be for your dog to wait in, and the other will be where you hide the toy.
Show your dog his toy
Use your beagle's favorite toy. Sit him in one room away from the doorway and show him his toy. Put it under his nose and let him smell it.
Hide the toy
Have a helper keep your dog in the room while you walk to the next room. Hide the toy out in the open in an easy place for him to find it.
Release the hound
Go back to the room with your dog and say "find it" in an excited voice and point to the next room. If he has some trouble, you can point him in the right direction.
Reward him
When he finds the toy, give him the savory treat and lots of praise.
Up the difficulty
Repeat the same steps again, but continue to hide the toy in harder-to-find places such as under a chair or in a basket. Give him a nice reward each time he finds the object.
Try new objects
Once your Beagle is quick to find his favorite toy, try hiding new objects. Make sure to show him the object and let him sniff it first.
The Scent Training Method
Introduce the scent
Start by putting a few drops of essential oil on a tennis ball. Lavender, anise, or valerian are recommended scents. Play fetch with the ball.
Create a scented trail
The next day, hide the ball in a room away from your Beagle. Put a drop of the same essential oil on five to 10 scraps of paper and create a trail about 20 ft long leading to the ball.
Follow the trail
Bring your dog in the room and say "find it." He should start following the scented scraps of paper. If he needs a little help, you can direct him to the first paper.
Take away the clues
After a few days of following the paper trail, start to lesson the number of clues and put them farther apart. Eventually your dog shouldn't need the paper clues to find the scented ball.
Take it outside
Once your dog has mastered finding the scented ball in your house, you can take him outside and give it a try. Remember to start with easy places because there will be many more scents for him to smell outside.
Pick your training space
Find two adjoining rooms in your house. One where you can introduce your dog to the object, and another where you can hide it without him seeing.
Introduce the box
Have a helper hold your Beagle while you show him a small box. Put a piece of kibble or dog food in the box and let him see and smell it.
Hide the box
While your helper holds your dog, hide the box in the next room. The first time, make sure it's barely hidden.
Tell him to 'find it'
Return to the room and release your dog. Tell him to "find it" and point to the other room. When he finds the box and gets his kibble snack, tell him "good boy" and reward him with affection.
Up the difficulty
Each time you practice, show him the box and put the kibble in it, then hide it in a more creative place.
Introduce more boxes
Once he's easily finding the box with the treat, set up a variety of boxes in the other room. Show him the box you want with the kibble in it and hide it in with the other boxes. Ask him to find it, and reward him when he finds the right box.
By Katie Smith
Published: 01/11/2018, edited: 01/08/2021
---