How to Train Your Dog to Go Down Stairs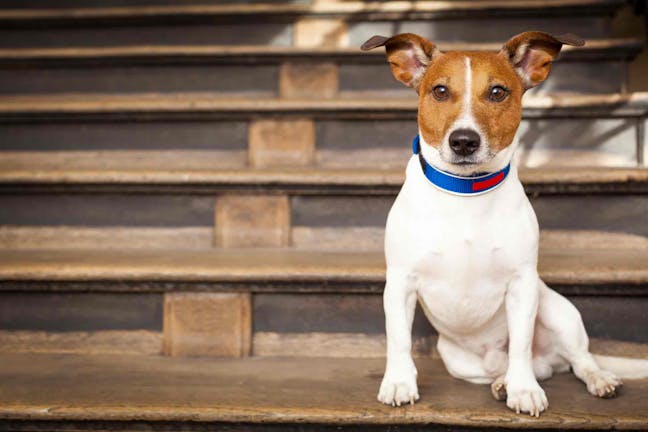 Introduction
The Smith family moved to a home with a basement and their 5-year-old corgi, Sam. Sam and his family had previously lived in a one-story bungalow with no basement, so Sam had no experience navigating stairs. Now, the kids' bedrooms, where he was used to sleeping, were downstairs, along with the family den with the TV, where his kids spent most of their time. His family was downstairs, and he was not! Sam was not very happy, but he seemed completely unable to go down the staircase and was constantly having to be carried down to join his "kids", much to the family's annoyance. Sam needed help!  Fortunately, Sam's family wanted to help, and with some minor adjustments to accommodate his fear of the stairs, some patience, and training, Sam was soon handling the stairs with ease.
Top
Defining Tasks
Older dogs, puppies, and especially small dogs may find staircases challenging and have trouble going down them. It is more common for dogs to have trouble traveling downstairs than up. Imagine you are a little dog or a puppy.  Now, look at the height of the risers on your staircase, and imagine how you would feel looking down the staircase from the top. It can be pretty daunting and frightening. Even large dogs may have trouble walking down stairs if the steps are too narrow to accommodate the length of their bodies easily. Going downstairs can be awkward and frightening for dogs. As a pet owner, you want to help your dog to be comfortable in your home, and be able to access all areas so he can spend time with you. To allow your dog to walk safely and confidently down a staircase, you may need to make some adjustments to footing and work on developing the skill a little at a time, until your dog has the skills and confidence to negotiate the entire staircase on his own. An added benefit to knowing how to go down stairs in your home is that this skill transfers to stairs at other locations such as in parks or homes and business you may visit with your dog.
Top
Getting Started
If your dog is having trouble going down stairs, first ensure that your dog does not have a physical or orthopedic problem that is preventing him, by causing pain or restricting his movement. You will need to take your time and have patience teaching your dog to go down stairs; never push, pull, or force your dog down the stairs, or use punishment or negative reinforcement, which will only result in further fear and aversion to the staircase. If your staircase has a hard, slippery surface such as wood, tile or linoleum, putting rubber matting or carpet runners on the stairs may help your dog to feel more comfortable with his footing and aid in training. Make sure there are no obstacles on the stairs that your dog needs to negotiate, or that could trip him up. Keep training sessions short; if your dog exhibits stress or frustration, end the session and begin again later. Have treats and toys on hand and be determined to go at your dog's pace, to make walking down the stairs a rewarding, positive experience for him.
Top
The One Step at A Time Method
Start at frist step
Start by picking up and putting your dog on the first step from the bottom of the staircase and hold a treat in front of his nose. Most dogs can negotiate one step.
Reward first step
When your dog sets off the first step onto the ground, give him the treat. Repeat a few times a day for a couple of days.
Add one more step
Move your dog to the second step. Hold a treat at the level of the first stair. Let your dog take one step, give him the treat.
Reward two steps
Present another treat at ground level. Let your dog step down to the ground, provide the treat. Repeat this exercise
Add steps
Gradually move your dog up one step at a time. Give him a reward for taking each step until he reaches the ground.
Vary rewards
Now start giving your dog a treat for negotiating two steps at a time, then three.
Reward for multiple steps
When your dog has mastered taking several steps at a time, start rewarding him for coming down the entire flight on his own. If your dog gets "stuck" at any point, go back to a previous step he has mastered, and practice that repeatedly until he is comfortable before proceeding gain.
The Makeshift Step Method
Create a step
If your dog is especially resistant to a staircase, start by creating a step with large books like phone books or encyclopedias. Start with just one book. Put your small dog or puppy on the book.
Reward step off
When your dog steps off, make a big fuss, praise him, and present a toy or reward with a treat.
Practice
Repeat until the dog is comfortable jumping off the one book.
Increase height
Add another book, on top of the first, put your dog on top of the books and let him step off.
Reward and Repeat
Reward your dog, play with him and praise him. Practice.
Make a game
Make several steps with books, teach your dog to jump on and off them. Make it a game.
Transfer to staircase
Now begin moving your dog to the bottom of the staircase to transfer his stepping down skill to the stairs.
Increase stairs
Gradually move him up one stair at a time until he is comfortable negotiating multiple stairs.
The Blanket and Barrier Method
Place a blanket on stairs
Drape a blanket over a small set of stairs only 2 or 3, or over the bottom 2 or 3 stairs on your staircase.
Place your dog on stairs
Pick your dog up, and place him on the second or third stair, while you sit on the stair below him to present a safety barrier.
Provide positive reinforcement
Pet your dog and give him a high value treat. Reassure your dog. If your dog shows signs of fear, reassure him, do not ask him to take a step, just praise him, when he is calm, pick him up, and remove him from the stairs.
Encourage step
Repeat several times daily. When your dog is calm sitting on the second stair on the blanket with you in front of him move yourself down one stair, and encourage your dog to come to you down one stair with a treat or favorite toy.
Reward effort
When your dog comes down a stair, praise him and give him his reward. Remove him from the staircase. If your dog shows fear wait until he is calm, try again.
Remove blanket
When your dog starts being comfortable coming down the blanket covered stairs to get his reward, remove the blanket and practice letting your dog come down the first two or three stairs without the blanket.
Add distance
Gradually add more stairs, and move farther away from your dog so he has more of a view down the stairs.
Reward multiple steps
Reward your dog for negotiating multiple stairs at a time.
By Laurie Haggart
Published: 10/13/2017, edited: 01/08/2021
---