How to Train Your Dog to Go Lay Down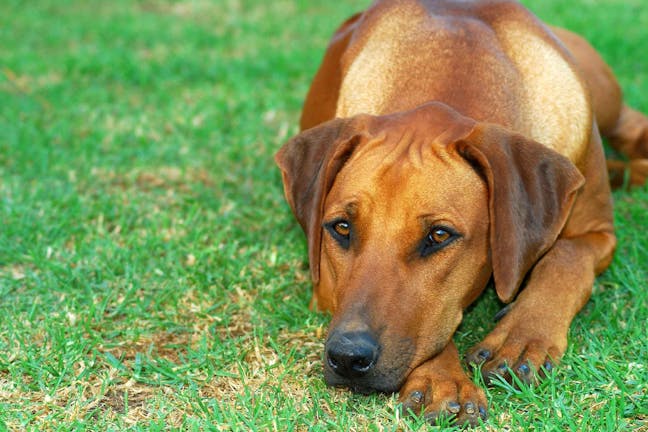 Introduction
Are you tired of yelling at your dog to "go lay down!" with no result other than his looking at you trying to figure out what you want him to do? Training your dog to lay down on command is one of the most important basic commands you can teach him. Not only will this help bring him under control and keep him there when needed, it is also the first command used in teaching tricks like "roll over" and "play dead."
Knowing how to lay down on command may even help to save your dog from serious injury or death. Picture this: you are at the local dog park and a fight breaks out. Your pup is headed to join in the fray but at a simple command he returns to you and, after being told to lay down, he drops and stays in place. Many of the other dogs come out of it with scratches, bites, and assorted other injuries, meanwhile your pup is happily lying by your feet. 
Top
Defining Tasks
The command is simple "lay down", in which your dog is supposed to drop to the ground at your feet and not move unless you give him a release command. It can also be coupled with "go" to create the ever-popular command "go lay down" in which your intent is for your pup to go to his "safe" spot and lay down. In essence, you are teaching your dog a dual-command, or one that tells him in a single command to do two or three things.
In the first case, you would be using the "lay down" command to tell your dog to lay down at your feet and to remain there until he is released. In the second case, what you are adding to the series of actions is the 'go somewhere' command. Sounds confusing when you put it in writing, but the good thing is that you will be training your dog to do all of this using a simple 2 or 3-word command. You can teach this command to any dog no matter their age as long as you have the patience. 
Top
Getting Started
Training your dog to obey the 'go lay down' command doesn't take much in the way of supplies.  You will need:
Treats: To use as rewards.

A special spot: Pick a spot for your pup to "go lay down" on each time you give the command.

Patience: Training a dog any new command or trick requires plenty of patience

Time: This training requires you to work with your pup for at least 15 minutes at a time several times a day

That's really about all you should need, other than his leash, depending on the training method you choose. 
Top
The Sniff and Lick Method
Sit first
Start by having your pup come to you and sit.
Have a sniff
Hold a treat in your hand in front of your pup's nose. Llet him sniff and lick it.
Going down
Lower the treat to the ground slowly, as your dog's nose follows it to the point at which his nose is pointing at the floor between his paws.
No getting up
Let him lick the treat but do not give it to him. If he gets up, start back at the beginning.
Tasty, tasty
If he gets to the point at which his elbows are touching the floor, go ahead and praise him and let him have the treat.
Add command
Now repeat this process using your "Lay Down" command. Be sure to reward him for getting it right. Practice until he will lay down on command.
Move the spot
Pick a spot where your pup is to go when told to "Go lay down". Add the word "Go" to the command and point at the spot he is to go to. This might take a while, but a healthy dose of treats should speed things along.
The Under the Knee Method
Sit on the floor
Sit down on the floor with your knee bent in such a way your dog can crawl under the gap.
Place the treat
Place a treat on the side opposite the one your dog is standing on.
Praise him
As he drops to the floor to crawl under your leg, praise him and let him know he did a good thing, give him the treat.
Add command
Repeat this using your "Lay down" command as he starts to drop and before long, you won't need your knee--he will know exactly what to do when you ask him.
Add a destination
You can add the "Go" command once he understands what "Lay Down" means. Identify a spot for him to lay in on command, such as his bed or a mat, and practice commands there.
On his bed
Using a treat, lure your pup onto his bed.
Lie Down
Using the same treat, lure him down until he is lying on his belly, saying "Down" at the same time. Be sure to reward him with the treat and lots of praise when he gets it right.
Release the hound
Release him using your personal command and encourage him to get off his bed. Repeat this several times until he knows exactly what is required of him.
Stand by his bed
If he gets on his bed without being told, praise him. If he also lays down without being told, give him a treat and lots of praise.
Give the place a name
While standing near his bed, if he starts to make like he is going to lay down, use the "lay down" command so that he associates the command with the action. Treats when he gets it right.
Work it up
The only thing left to do is work on distance and duration so that your pup will go lay down when told and remain there until you release him.
By PB Getz
Published: 10/18/2017, edited: 01/08/2021
---