How to Train Your Border Collie Dog to Heel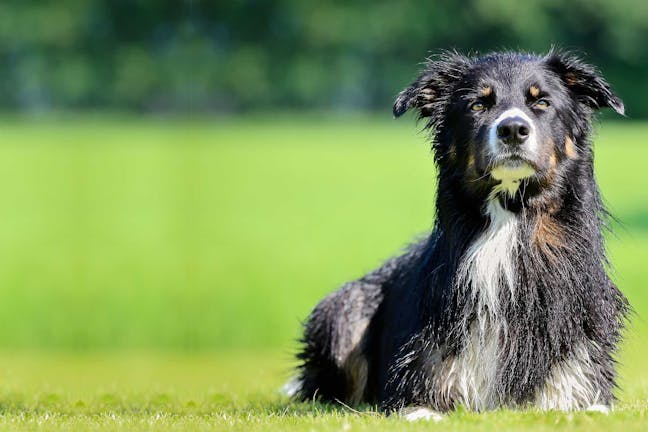 Introduction
If your Border Collie loves to go for long walks with you but leaves you with one arm that feels like it is at least 6 inches longer than the other, you are doing something wrong. If you feel like you can't go for walks when other dogs are present because your dog wants to tear your arm off to get the other dog, you are doing something wrong. So, what is it that you are doing wrong? You have not trained your Collie to walk in the 'heel' position.
The hardest thing your pup has to overcome is his natural need to explore and sniff at just about everything. At first, he is not going to like the fact you are keeping him close by your side, instead of letting him do what he wants. Once he gets used to walking with you this way, you can both settle down to enjoying long walks with each other. 
Top
Defining Tasks
The 'heel' position is a very specific place where your dog must walk when he is given the command to do so. This position is on your left side right beside your leg. Ideally, his front legs should be in front of yours and his back legs behind. He should never be more than a couple of inches away from your leg. This is the ultimate in controlled walking positions as your dog will learn he is not to stray from this spot once the command "heel" has been given.
Bear in mind that since you are teaching your pup to walk with you in the 'heel' position, you can treat every walk the two of you go on as a training session. But this doesn't mean you have to, try and vary up the walks. In reality, most of your walks will not be in the 'heel' position, it is used more to control your dog in unusual situations. 
Top
Getting Started
To train your dog to walk in the heel position, he must first have mastered the four basic commands, 'come', 'sit', 'stay', and 'down'. He should also be used to going for walks on a leash. You will need a few things to help make the training go smoothly, including:
Collar: One that fits your pup comfortably, you do not need a "training" collar with prongs, shockers, or anything else.

Leash: Stick to one that is no longer than 10 feet.

Treats: Choose a treat that your pup loves to use as rewards.

The only other things you need are a quiet place to work and plenty of time to work on this skill. Be patient and work with your pup. It might take a little time, but be patient and your Border Collie will know where he belongs when you give him the "heel" command. 
Top
Choose your side
Choose the side you want your pup to heel on. While the left side is traditional, you can use either side. But once you pick one, stick with it or your pup may become confused.
Pick the right leash
Start by choosing the right leash. For this, you need a strong walking leash that is no more than 10 feet long. This type of leash lets you maintain maximum control during the training process.
To my side
Call your pup and use a treat to lure him to the 'heel' spot by your side. As he moves into the right position, praise him and give him the treat.
Repeat
Repeat this step over the course of several days until your pup will assume the position every time you give him the "Heel!" command. Be sure to praise and treat him each time he gets it right.
On the trail again
Time to take your pup out and see how well he does out in the real world. Pick his leash up and give your pup the "Heel!" command. He should step right into place. If he does, hook up the leash and give him a treat.
Go for that walk
Go ahead and take your pup for a walk. Each time he strays, stop. Make him sit, let him calm down, then try again. Be sure to continuously praise him while he walks along with you in the proper position. The rest is all about practice. Make every walk an opportunity to work on his training and he will soon know his place when you go walking.
The No Looking Back Method
Go for a brisk walk
Call your pup over, hook him up to his leash, call his name and take off walking at a brisk pace. Do not look back, your pup should naturally try to follow you.
Hold a treat
Hold a nice tasty treat down at knee level and use it to lure him into the 'heel' position. When he assumes it, take a few more steps while praising him, then stop and give him the treat. Repeat this until your pup will come to your side when you call his name and give him the 'heel' command.
Off you go
Take off immediately after you give him the treat and call him to your side using the 'heel' command. Extend the walk, keeping him in place. Each time you come to a stop, praise him and give him a treat.
Go anywhere
Once your pup has mastered this command in a straight line, start changing directions, reversing, going into noisy or busy areas. Anything that will put his new skills to the test.
Keep working at it
It will take plenty of practice for your pup to master this skill as it goes so much against his nature. But as long as you keep working at training him to heel, he will figure it out, making your walks much easier.
The Snapping Collar Method
Which side?
Pick the side you are going to teach your pup to heel on. The left side is traditional, but you can use the right side if you prefer.
A different type of collar
For this training method, you need a training collar. You want one that is designed to make a loud "snapping" noise when you give a sharp tug on the leash.
The initial training location
Find a nice long straight sidewalk in a quiet area or at a quiet time of day to train your pup. The earlier in the day you can schedule your training session the fewer smells your dog is likely to encounter.
From the 'sit' position
Put your pup's training collar on, hook his leash up, and have him sit next to you on your chosen "heel" side.
Off you go
Give your pup the "heel" command once and then take off walking at a nice slow pace at first. No matter what, do not give the command again.
Work that leash
Every time your pup tries to walk ahead, give the leash a slight jerk that makes the collar go "Snap!" and then change direction, forcing your pup to follow you and try to catch up. The tug on the leash represents the way a pack leader would control his pack in the wild by grabbing the unruly pack member by the scruff and pulling them in the right direction.
No more leash
Once your pup has mastered the 'heel' position while he is hooked up to the leash, try giving him the command and allowing the leash to drag on the ground. If for any reason he tries to run ahead, simply step on the leash and pick it up. Use plenty of praise and treats to reward good behavior and before long, your pup will walk with you in the 'heel' position without the need for being attached to a leash.
By PB Getz
Published: 01/05/2018, edited: 01/08/2021
---