How to Train Your Australian Shepherd Dog to Herd Cattle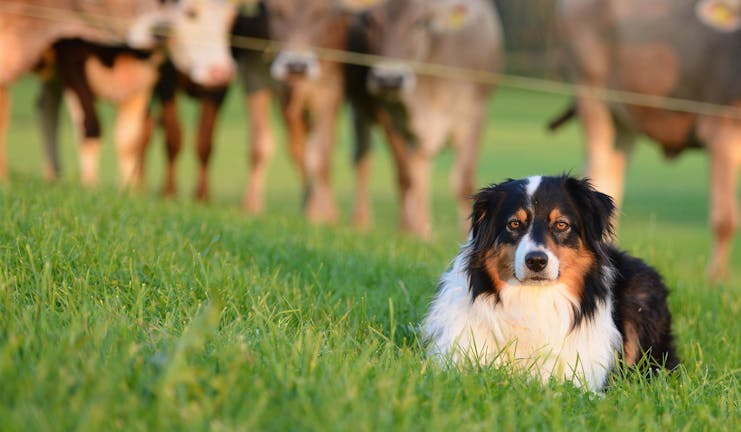 Introduction
Australian Shepherd dogs were developed to herd sheep and cattle. So training your Australian Shepherd to herd cattle should be easy right?  
Not so fast, herding cattle is a complex and difficult job. Even a dog developed and bred for this purpose will need lots of training and direction to be able to successfully gather and move cattle where his handler wants them. The very intelligent and athletic Australian Shepherd is capable of the job, but you will need to develop a strong relationship and communications with your dog so you can work together as a team to complete the job at hand.  Also, remember that your independent, high-energy Australian Shepherd may have some ideas of his own that are not compatible with what you are trying to accomplish. You will need to work with him to ensure he understands what to do and also, what not to do, so he stays safe while working!
Top
Defining Tasks
An Australian Shepherd needs to learn to respond to a variety of verbal commands or signals from their handler in order to successfully herd cattle. Verbal signals such as "come by" and "away to me" to indicate direction are frequently used with cattle herding dogs of all breeds, including Australian Shepherds. An Australian Shepherd's job when herding cattle involves gathering cattle together and then directing the herd to a designated location, usually to handling facilities that involve having the herd go through a gate, into a pen, so that cattle owners can separate cattle, prepare them for transportation, or provide medical treatment. An Australian Shepherd will need to know a variety of commands including commands to go right or left around cattle, and when to back off or stop herding cattle. Your dog will also need to learn to work safely around cattle, knowing how close he should get and when he needs to back off to avoid getting kicked or panicking cattle. If trained and used correctly, an Australian Shepherd can be a valuable tool to farmers and ranchers moving and handling cattle, saving time and putting less stress on animals.
Top
Getting Started
Because Australian Shepherds are highly motivated to herd and respond well to praise it is easy to get your Australian Shepherd to want to herd cattle. However, treats can be used to reward your dog for following direction and responding to verbal or hand signals. Also, a long lead line is frequently employed during training to guide your dog and prevent a young excited dog from getting too close to cattle, which could result in injury to your Australian Shepherd or cattle. Access to smaller animals like chickens to practice herding and other herding dogs that can model behavior are beneficial for training your Australian Shepherd how to herd animals and is a valuable stepping stone to working with cattle. Safe enclosures that can be used during training are also recommended to provide control and safety to animals.
Top
Teach verbal commands
Teach your dog off-leash herding commands such as 'come by', 'away to me' and 'that'll do', so he is familiar with these commands.
Introduce dogs
Introduce an experienced cattle herding dog to your Australian Shepherd, that knows and responds well. Allow dogs to become well socialized and comfortable playing together.
Introduce to sights and sounds
In a controlled environment, either a corral or small pasture, start working with the experienced dog and cattle that are used to being herded. Keep you trainee on a lead by your side. Allow the new dog to become accustomed to the sights and sounds of the cattle and the other herding dog working.
Practice on-lead
When your Australian Shepherd is interested but calm, take your trainee dog on a long lead around the cattle, providing the commands, 'come by', 'away to me', 'stop', and 'that'll do'.
Work together
When the trainee is comfortable performing these tasks on-lead, take the trainee off-lead and let him work with the experienced dog and the cattle. The experienced dog will help model behavior. If your Australian Shepherd becomes over excited, go back to working with him on a long lead.
The Teach Commands Method
Come by
Put your dog on a leash and have an assistant throw a favorite toy out for your dog. Give the command "come by" and run to the left with your dog on the leash, clockwise around the toy. After running by, pick up the toy and reward with play.
Away to me
Give the command "away to me", run with your dog on a leash to the right of the toy, counterclockwise. Reward with play. Repeat frequently.
Teach other commands
Teach your dog to 'lie down', 'walk on' to walk toward the toy, and 'that will do', to back away from the toy. Reward with play or treats.
Remove leash and practice
Remove the leash and practice verbal commands with toys frequently until well established.
Introduce cattle
Introduce your Australian Shepherd to a few cattle in a controlled environment, like a round pen. Provide verbal commands and let your dog get used to practicing them on live cattle.
The Domestic Birds Method
Teach verbal commands
Teach your Australian Shepherd herding commands such as 'come by','away to me', 'lie down', 'that will do"' and 'walk on'.
Introduce birds
Put chickens, ducks or geese in a pen and give your dog the "walk on" command to approach the birds. Keep your Australian Shepherd on a long lead at first if necessary.
Inititiate directions
When your Australian Shepherd gets within 10 feet of the birds, say "come bye" or "away to me". If your dog circles the birds in the correct direction, praise, say "yes" or "good". If the dog continues to approach the birds directly say, "lie down", make him wait and repeat again.
Practice
Practice 'come by', 'away to me', 'lie down', 'walk on' and 'that will do' with your Australian Shepherd and the flock of birds for several days until your dog gets used to handling live animals and following your direction.
Introduce cattle
Transfer herding directions used with birds to a herd of cattle in a controlled environment, such as a round pen.
By Laurie Haggart
Published: 01/04/2018, edited: 01/08/2021
---