How to Train Your Dog to Herd Ducks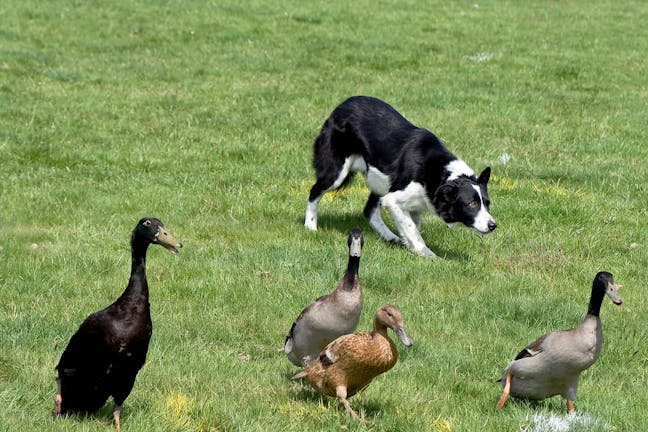 Introduction
Ducks make a great addition to your hobby or production farm. They add color to your yard, lay delicious eggs, and are basically a lot of fun to watch. But moving the yard can be challenging if you try to do it all by yourself. But, if you train your dog to herd ducks, not only do you have another set of hands, or in this case paws, to help out, but with the right training and time, your dog can take over the bulk of the work, leaving you more time for other chores.
Of course, it helps if your pup's breed is one that has natural herding instincts. But, for the most part, you can train most breeds to herd animals as long as you have the time and patience to do so. Bear in mind that due to the number of commands your pup must learn to follow, this is a complex chore for him to master. If you want to be successful, you need to have plenty of time to spend on training at first, the time spent will diminish as your pup masters the skill. 
Top
Defining Tasks
Herding involves more than one command with the ultimate goal of teaching your dog to move your skein (yes, that's what a group of ducks is called) around your property. In order to do this, you need to work with your pup and teach him the basic herding commands. These include 'walk up' which directs your dog to move to a position by the ducks. 'Away' is used to send your pup to the left side of the skein and move them to the right and 'come by' is used to send your pup to the right side of the skein and move them to the right. 
Your pup should already know the basics commands such as 'come', 'sit', 'down', and 'stay' as you may need to use them during the training process and as he moves your skein of ducks around. 
Top
Getting Started
Besides choosing a dog breed that has a natural herding instinct such as a Border Collie, German shepherd, Australian shepherd, or Corgi, you need to know up front that this training is going to take time and patience. A word of caution, there is always the potential for your pup to hurt one of the ducks, so until he is fully trained you should never take your eyes off him. Along with this, you need a few items:
Treats: You need plenty of these.

Ducks: Of course, you need a few ducks that are not afraid of dogs.

A pen: At least one training method requires a pen to work in.

A leash: This will help keep your dog under control and keep your ducks safe.

Time and patience: You are going to need plenty of both if you want this training to be successful.

Since there is a high risk of your dog getting carried away and attacking your ducks during the training sessions, be sure to keep him on a leash at first. Take your time, work slowly.
Top
The Start with Basics Method
Practice basic herding commands
Put your dog on his walking leash and have him walk around you in circles. While you are doing this, use the 'away' and 'come by' commands to have him practice changing directions on the move. Keep this up until you are sure he has them down.
Teach the 'walk up' command
The easiest way to teach this command is to have your dog sit by you and toss one of his favorite toys a few feet out in front of him. Give him the 'walk up' command and allow him to walk up to his toy. Give him a treat and praise him. Repeat this until he masters the command.
Teach the 'to me' command
This is the command you will use to have your dog herd the ducks directly to your position. You can practice this command using a big rubber ball and have your dog push it towards you using his nose.
Live training time
Place half a dozen of your ducks in the center of a small pen, you can use a pile of feed to keep them there. Bring your dog into the pen on his leash and give him time to get used the ducks while, at the same time, they get used to him.
Working your pup
With your pup on his leash give him the 'walk up' command and allow him to approach the ducks. When your pup gets to within 10 feet, use the commands to move the ducks around the pen. Start slowly at first, letting him get used to moving live ducks.
Moving out
Once he has mastered the art of herding the ducks in a pen, you can take the training outside and continue working with him until he becomes your right-hand man when it comes to herding your skein of ducks around the farm.
The Extended Leash Method
Gather your skein
Gather up a small skein of your calmest ducks in a nice open space in your yard. You can use feed to help keep them there while you get your dog ready to go.
Grab your extended leash
Attach your dog's long leash to him and let him use the slack to 'walk up' to the ducks. Keep him about 10 feet away.
Circle your ducks
Using the leash, walk your pup around the ducks in a circle until everyone has gotten used to each other.
Drop the leash
Next, drop the leash on the ground and work your dog around the skein using the 'away' and 'come by' commands to make him move the ducks. This part will take multiple practice sessions. At any time he seems to be ready to move towards the ducks aggressively, grab the leash and have him come to you and lay down. Resume training when he has calmed down.
Working the ducks
Now you can take off his leash and start working the skein of ducks using the appropriate commands to bring them to you or move them around the yard. Again, it will take him time to master these skills, but patience will pay off.
The Herding Whistle Method
Purchase a whistle
Start by purchasing a whistle. You can order a herding whistle online or in your local farm and feed store. Be sure that no matter what type of whistle you buy, it is very loud.
Get him used to the whistle
Blow the whistle around the house, around the yard, anywhere your dog happens to be so that he can get used to the sound. Try using the whistle as part of calling him to dinner, to play, anything that will help him learn to associate the sound of the whistle with being given commands.
No ducks first
Before you start to work your pup with your skein of ducks, you need to teach him to obey the herding commands using nothing but the whistle. There are specific herding whistle commands you can learn along with your pup or you can create your own. Just be sure they are distinctive. Match the command to the whistle sounds until your dog will obey your directions with either.
Bring on the ducks
Time to bring on the ducks. Start with a small skein of ducks and, using both your verbal and whistle commands, have your dog start moving them around. Each time he does what he is asked to do, be sure to give him tons of praise and a pretty decent share of his favorite treats.
Movin' on up
Finally, you can bring out more ducks and let your dog move them all around the yard until he can herd them anywhere you need them to go. Now you finally have that extra set of hands or, paws to help you out around the farm.
By PB Getz
Published: 11/16/2017, edited: 01/08/2021
---