How to Train Your Border Collie Dog to Herd Ducks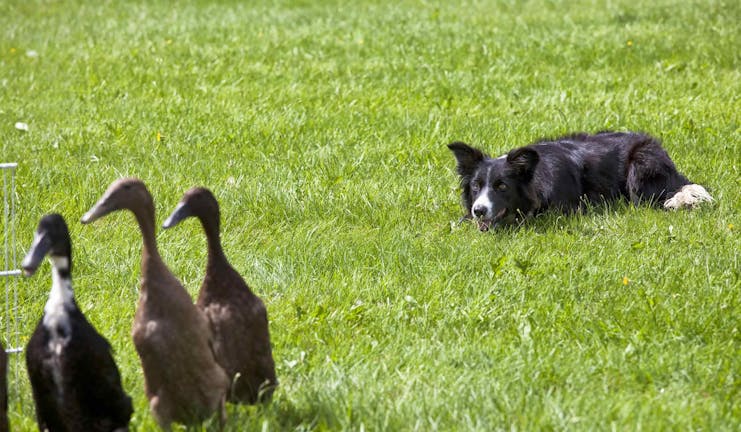 Introduction
There is something special about having ducks on your farm or hobby farm. Not only are they beautiful and fun to watch, but they lay some very tasty eggs. However, moving them around your property can be challenging at best and virtually impossible at worst. Unless, of course, you had a trained assistant like a Border Collie to help you out. The good news is that Border Collies are natural herders and with a little bit of hard work and training can be taught to herd your ducks on your property.
You will be teaching your pup to follow a series of complex commands, which will take a lot of time, effort, and patience on both of your parts. The good news is that Border Collies love to work and please their human companions, which should make the whole process plenty of fun for both of you. 
Top
Defining Tasks
Herding involves a series of commands given to your pup, which he will use to move your flock around the property. Although there are a number of more complex commands you can teach your dog at a later date, here we are going to concentrate on the basic commands. These are "walk up" to approach the flock and stop a couple of feet away, "away to me" to approach from the left, move to the right, "come by" to approach from the right, move to the left, and "to me" to approach from behind, move flock towards you.
Once your pup has mastered these basic herding commands, you can always teach him some of the more advanced commands used by herdsmen for decades. But these basic commands will be enough to get your pup started on herding your flock of ducks anywhere you need them to go. 
Top
Getting Started
The most important step to getting started training your Border Collie to herd is you need to wait until your pup has matured enough for his bones to become strong enough and for him to have learned the basic commands of 'come', 'sit', 'stay', and 'down'. You should be aware there is a high potential for injury to your pup and ducks. Be sure you keep your eyes on your pup at all times during the training process.  You also need a few supplies:
Ducks: Of course, you need a few ducks that are not afraid of dogs.

A pen: At least one training method requires a pen to work in.

A leash: This will help keep your dog under control and keep your ducks safe.

Treats: You need plenty of these.

Time and patience: You are going to need plenty of both if you want this training to be successful.

Top
Gather up the flock
Before you can start training your pup, you need to gather up a small flock of ducks, maybe 6 or so that are used to being herded around by a dog. Place them in the center of a small training enclosure if you have one. If not, you can use an open space in your yard. You may need to give the ducks a small mountain of food to help keep them in place.
It's leash time
Go ahead and hook your pup up to the long-leash, but keep it short while you give your pup the "walk up" command. Stop when your pup is about two feet away from the ducks and have him sit. Give him time to get used to the ducks and them to him.
The walk around
Use the leash to walk your pup around the ducks in circles and then try using the "come by" and "away to me" commands to get your dog to reverse directions as he walks. You need to practice these three commands over several weeks until you are confident your dog knows what to do.
Off the leash
Well, not quite. But you can drop the leash on the ground, giving your pup plenty of slack. Work him through the commands, but be ready to grab the leash if it looks like he is thinking about lunging towards the ducks. If he does, have him come to you and lay down until he calms down. Once he does, resume training.
On his own at last
Time to take the leash out of the equation and continue working with your pup until he has mastered the skills needed to herd your flock of ducks around the farm. Be patient, it is going to take a while for your pup to master these skills, but the payoff is well worth it.
The Train the Basics Method
Round and round
'Come by' and 'away to me' are two of the most commonly used commands in herding and should be the first ones you teach your pup. With your pup on a leash, have him walk around in you in circles. Using these commands, have your pup reverse directions in the circle. Keep practicing this until your pup will switch directions instantly on command.
THe approach
Take your pup out in the yard with one of his favorite toys. Toss the toy out in the middle of the yard with your pup on his leash sitting beside you. Using the 'walk up' command allow your pup to approach the toy, stopping him about two feet away. Each time he does this and gets it right, be sure to give him a treat and lots of praise. Practice this until he gets it right every time.
Grab the beach ball
Grab a beach ball and head outside. This time, using the 'to me' command, have your dog bring the ball to you by pushing it with his nose from behind. Again, keep practicing this until he perfects the behavior. Be sure to give him lots of praise and treats when he gets things right.
Bring on the ducks
Time to introduce your Border Collie to the ducks. Starting with a small flock of 6 ducks in a training pen, if you have one, or the middle of a large open space, introduce your pup to them slowly. Follow the exact same training routine as you did with the toys and start letting your pup work the ducks while he is still on his leash.
Mastering the commands
The rest is all about working your dog and the flock of ducks off-leash until he has mastered the skills of moving your flock of ducks around to your satisfaction. Be sure to use plenty of praise and treats to help encourage your pup to work hard.
You have to train first
For this method, you need to master the various whistle commands used in herding. There is a set of traditional commands, including 2 short blasts = walk up, 2 short, 1 long = come here, 1 long, 1 extra-long with a high pitch change at the end = come by, and 1 high pitch 1 low pitch = away to me. You can practice these around the house as this gives your pup time to get used to the sound of the whistle.
Obedience training
While working with your pup to teach him the various verbal herding commands, be sure to give both the verbal and whistle commands at the same time. This will help your pup to connect both types of command with the required actions. Take your time, this might take a while, if you need a training tool, try using a beach ball and having your pup move it around using his nose by your commands.
A small flock first
Start out with a small number of ducks that are used to being herded and allow your pup to walk up to them until he is about two feet away from them and have him sit. Let the dog and ducks get used to each other for a few minutes.
On the leash
Start out with your pup on his leash and use both verbal and whistle commands to have him start working the flock. Keep this up for several days until he seems to be very comfortable with moving them around.
On to the full flock
Now that your pup has shown his mastery of the basic commands, it's time for him to go off-leash and practice working them using the whistle commands to move the ducks around. The rest is all about working with your pup until he can demonstrate he has mastered the commands and is ready to go to work.
By PB Getz
Published: 01/18/2018, edited: 01/08/2021
---