How to Train Your Dog to Ignore Cats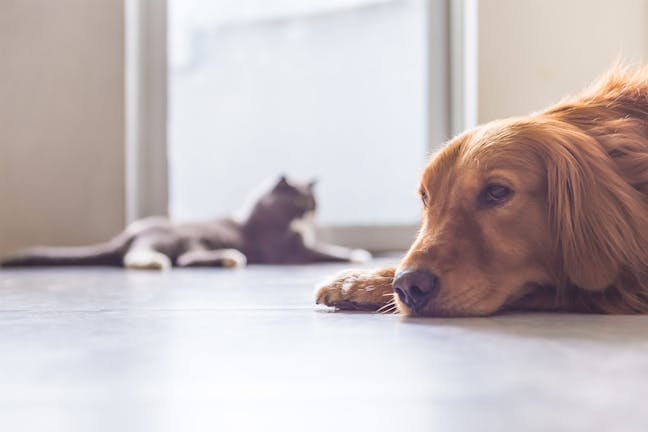 Introduction
Do you dream of living in a harmonious household, without any barking, meowing or yelling? If your dog is always bothering your cat and an altercation ensues where there's barking and hissing everywhere, then now is the time to teach your pooch to leave that cat alone. This will save you a load of worrying about what they're up to while you can't keep an eye on them, as well as keeping your two furry best friends safe by having them live in harmony. It will also keep your house safe. Surely, when your dog chases the cat there are furniture and household items that become casualties of the chase. Save yourself a lot of expense by preventing this. Also, imagine how cute it will be when both your four-legged friends can be friends with each other.
Top
Defining Tasks
If you live in a household with a cat, or you're thinking about getting a cat in a house with a dog, training will be required. Very serious incidents can occur if not, in particular, if your dog is a real hunter the cat can be very seriously injured by the dog. Or, sometimes dominant cats will give dogs a swipe when they bother them, resulting in nasty injuries such as eye ulcers in your pooch, so make sure this doesn't happen. Certain breeds are easier to train than others; in general, Labradors, retrievers and smaller breeds such as Pomeranians will be easier to train to ignore cats as, although every dog is an individual, these pups have less of a hunting instinct. Breeds such as German Shepherds, Greyhounds and Jack Russell Terriers will be more difficult to train, as they have natural hunting instincts. Puppies with an older cat will be easier to train also and will be less likely to cause injury to a larger cat, therefore it is advisable to train them young. The timeline for training is variable depending on age and breed, but is likely to take weeks to months.
Top
Getting Started
For this training, you'll have to be both vigilant and determined. If getting a new dog in a cat household, it is advisable that you take a few days off work to solidify initial training and prevent anything happening when you're not around. Keep the dog and cat separated nonetheless for quite awhile until you know your dog is not going to chase the cat. Make sure your cat always has an easily accessible safe haven to rest in. Grab a bag of delicious treats, appropriate for your pooch's age and breed or make your own delicious treats at home. Dogs love plain home-cooked chicken breast, cut into the correct size pieces. If you're clicker training your pooch, also grab your clicker to signify good behavior.
Top
Only if your cat is confident
Only use this method if your cat is confident, this is not fair for shy, easily stressed cats. If your cat is timid, you may see them disappear under the couch and refuse to come out for a while.
Get the cat carrier
Pop your kitty in their cat carrier with a favorite toy or catnip for distraction. Make sure the carrier is secure and comfortable.
Bring in the pup
Get your puppy in the same room, keeping your pup's attention on you by talking to him and giving him lots of treats, paying attention to reward calm behavior.
'Sit' and 'stay'
Get your pooch to sit and stay a few yards away from the cat. Keep practicing these commands (in other environments, too), as they will be important in introducing the pair without the carrier.
Best treats and reward
Give your pooch the most delicious treats when they don't pay any attention to the kitty, they need to know you're rewarding the behavior of ignoring the cat. Use the clicker to click when your pooch looks away from the cat, as well to signify the behavior you want him to display.
Keep him on a tight leash
First things first, put your pup on a tight leash to make sure he's completely under your control and can't physically chase. You want to prevent chasing behavior rather than stop it.
Tasty, exclusive treats
Have lots of tasty, strong smelling treats on you, only giving your pooch these treats for this exercise.
Keep it natural
Let your cat move around as much as they normally would, expressing normal behavior. The idea is that the cat catches your pooch's attention, but he becomes used to it and learns to ignore the feline.
Cat attention
Every time the cat makes any motion you think might get your pup's attention, click and give a treat to distract your pooch.
Cat equals treat
Give your puppy a treat whether he's calm and does not bark at the cat, look at the cat or anything else. You're teaching your pup that the cat being there means reward in the form of treats.
Wait for him to look to you
Once you've repeated the above step a few times, your puppy should start looking to you for a treat every time the cat is around, meaning his attention is on receiving a treat and not chasing the cat.
Keep practicing
Really get this behavior in his head, by keeping doing it for a few weeks, practicing every day for 5-10 minutes.
Safety first
Don't unleash your pooch until you're a hundred percent sure he gets it and won't chase your kitty.
Go shopping
Every pup loves a shopping excursion at their favorite pet supply store. Not only do they usually get a biscuit or two, but they also have the opportunity to meet other dogs. Most importantly, a new toy is on the agenda. Buy your dog a toy that really piques their interest.
Redirection
The aim of the lesson in ignoring cats is to have your dog redirect their interests elsewhere, other than the cat. Make sure that your dog's new favorite toy is close by.
Ignore the cat
Play a game within proximity of the cat (having the cat safely out of reach in a crate). Give your pup the new toy and engage them in play, completely ignoring the cat in the crate. Make sure the cat is not the type easily frightened by a dog.
Distract and block
If your dog tries to go near the crate, distract them with the toy and stand between them and the cat. When your dog gains focus on you again and ignores the feline, give them a high reward food treat.
Reinforce the ignore
Keep working on reinforcing the ignoring of the cat. You are teaching them that playing and high-reward treats are more fun that looking at the cat.
Rewarding good behavior
Eventually, you may have to introduce the dog and cat. After all, they will be existing in the same household. Give your pooch a treat and lots of praise if he gently sniffs the cat, ignores the cat, or doesn't try to chase your feline friend.
By Catherine Lee-Smith
Published: 12/08/2017, edited: 01/08/2021
---