How to Train Your Dog to Ignore Other Dogs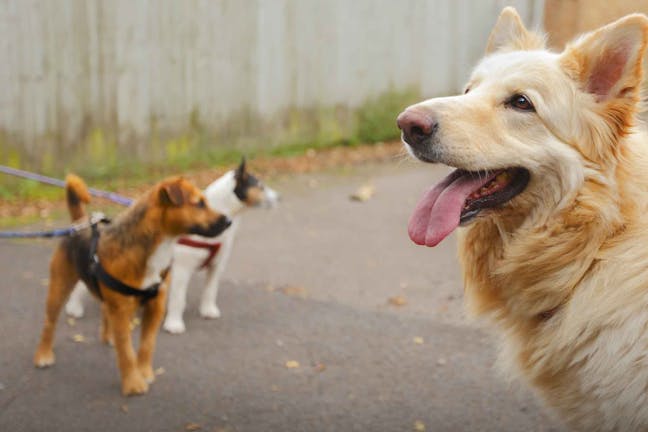 Introduction
First, let's set the scene: you and your pup are walking along the sidewalk and everything is peaceful and relaxed. Suddenly, up ahead another person is coming your way with their pup. Your dog starts to bark excitedly and lunges towards the other dog. Not only is this type of behavior unseemly, it could lead to someone or someone's furry friend becoming seriously injured.
Now let's look at it from a different perspective. You and your pup are walking along as above, but this time your dog calmly walks by your side as the other pair walk by on their side of the sidewalk. Doesn't this seem like a much better scene? It can be yours as long as you are willing to put in the time to train your dog to ignore other dogs. You can teach a dog of any age to behave in this manner as long as they are old enough to have mastered the basic commands. 
Top
Defining Tasks
In this case, you are training your dog to behave in a specific manner under certain circumstances rather than teaching him a new task or chore. While you may need to use some form of command word in the beginning, the intention is for your dog to ignore other dogs without having to be told. This is a very important behavior for your dog to learn as you need to be able to take for walks without worrying about his behavior. If you can't do this, it becomes far too easy for your dog to not get the exercise he needs.
You should teach your dog to ignore as young as possible, preferably while you are training him to walk on a leash. But at the same time, you can train an older dog to behave on walks, it might just take a little more time.  No matter what age your pup happens to be, learning to behave around other dogs could save him from serious injury or worse if he ends up in a fight.
Top
Getting Started
Not much is needed in the way of supplies when it comes to training your dog to ignore other dogs. But more than anything else, you will need the time to go for walks every day and preferably more than once each day.  But you will need these things:
Leash: For when you go for a walk.

Treats:  For when your dog behaves.

Time: Time for two or three 15-minute walks every day.

Patience: Your pup is going to get it wrong at first, be patient and never punish him for getting it wrong

Remember, training your dog to ignore other dogs is more about time and patience than anything else. Also, the more you jerk on the leash, the more excited your pup will become. The calmer you remain, the more quickly your pup will calm down and back off. 
Top
The Attention and Reward Method
Before you go
Before you go out for a walk, call your dog by his name. If he looks at you give him a treat.
Repeat the process
Do this several times around the house over the next few days until he always looks up at you when you call his name.
Distance walks first
Start walking your dog at a distance from other dogs. Note when first notices them and call his name. When he looks at you, give him a treat.
Slowly get a little closer
Start working your way closer to other dogs using the same method. Rewards if he behaves, move further back out if he doesn't and start again.
Keep going
Keep working closer until you and your dog can pass by others at close quarters without your having to worry about your pup misbehaving.
Go for a walk
Start by taking your dog out for a walk around the neighborhood.
Remain calm
As you walk, remain calm and relaxed. Your pup can sense this and will behave in the same manner.
No pull
If your dog starts to lunge towards another dog, do not pull on the leash, this will only make him pull harder.
Nudge him
Instead of pulling on the leash, anticipate the behavior and using your knee gently nudge your pup in the side to distract him. If he settles down, give him a treat.
Sharp tugs are better
If he doesn't back down, you may need to give the leash a short sharp tug to get his attention while calling his name. Reward him for good behavior.
Keep trying
It can take a few weeks for your dog to fully accomplish the change in behavior you are trying to teach him, be patient, it will happen.
Talk to a friend
Have several of your friends agree to bring their dogs over for training sessions.
Bring your pup in
Find a large area where you can put your pup on a leash and stand with him.
Conga-line time
Have your friends line up spaced about 20 feet apart with their dogs on leashes.
Ready, set, go
One by one, have your friends walk their dogs past where you and your pup are standing.
Each time he lunges
Each time your pup lunges towards the other dog tell him "No!" and make him sit. When he does, give him a treat.
Keep the line going
Keep the conga-line moving around in a big circle for training sessions of at least thirty minutes each day or at least several times a week. Once he has mastered this, you should be able to take him for walks in public and expect the same behavior.
By PB Getz
Published: 10/19/2017, edited: 01/08/2021
---