How to Leash Train a Beagle Puppy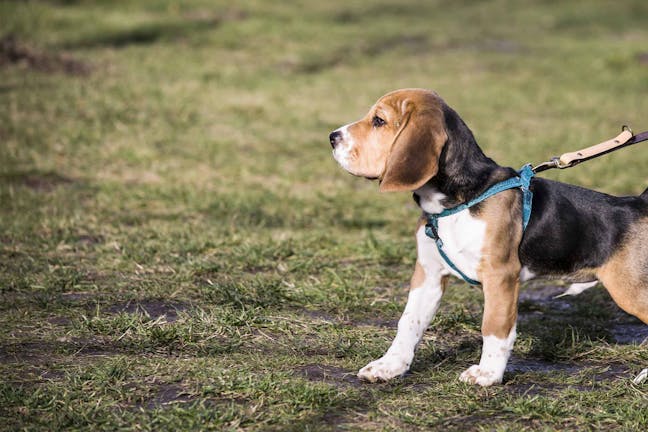 Introduction
Leash training your Beagle puppy is important for several reasons. You want to teach your new puppy manners, you want him to learn to follow your lead, and you want to make sure he doesn't pull on your arm when he becomes a bigger Beagle dog. Sure, it doesn't seem like a problem now. Your Beagle puppy is cute and small, and you can easily lead him where you want him to go. However, if he grows up straining on the leash and not paying attention to you, you might have a hard time changing these habits.
Good leash work is the foundation for a good relationship with your new dog. It's one of the first opportunities you have to really establish yourself as the leader of the pack and work on manners. By leash training your Beagle puppy now, you are saving yourself lots of worry, headache, and hassle later on. This training will take a little bit of time and patience on your part, but at the end, you'll have a happy puppy who knows what he needs to do on a walk and can be walked by any member of your family.
Top
Defining Tasks
While it's beneficial to train all puppies to walk on a leash, it's especially important to leash train your beagle puppy. Beagles are especially sensitive to smells, and if they pick up on something interesting outside, their instinct is to follow it no matter what. If your Beagle isn't on a leash he could get lost, run into traffic, or get into trouble.
Luckily, Beagles are often very food motivated. You can use tasty treats to make leash walking rewarding and exciting for your puppy. Remember that all puppies have short attention spans, so only work with them in short sessions, no longer than 15 minutes. It's easy to go overboard, especially when they are doing well. You want to end the session before they get frustrated and reward them with fun playtime. 
Top
Getting Started
It's never too early to begin leash training your Beagle puppy, just make sure you adjust your expectations for his young age. Progress slowly and make it part of your daily play. To get started you'll only need a few items.
A collar or harness
A short leash
Tasty puppy treats
Lots of patience
There is more than one method to leash train your Beagle puppy, so make sure you choose the right one for you. Read through the three methods below and then start training. After a few months, you'll have the foundation for a great relationship with your dog.
Top
The Fun Introduction Method
Bring in the collar and leash
Start by getting him used to wearing a collar and leash. Put the collar on first and start to play with him. Take it off after 15 minutes and then continue playing. Soon he won't even notice when he has it on. Do the same thing with the leash.
Call him to you
With his collar and leash on, call him to you as you are playing. Walk backward a few paces, and when he reaches you, give him a treat. Keep playing this game and treating him when he comes.
Walk beside him
Now that he's coming to you, start walking a few steps and encourage him to follow. Give him a treat when he comes along.
Pick up the leash
Add on to the game by picking up the leash as you take those few steps. Immediately drop the leash and treat him.
Walk a little farther
Increase the number of steps you take holding the leash. Drop the leash and give him a treat before he stops. If he stops, don't give him a treat and try again.
Begin to walk around the house
Slowly begin to walk around the house for longer periods of time. Start with 30 seconds, then move to a minute. Keep treating and praising and making it part of the game. Be patient, this will take a long time.
Take it outside
Once your leash game is getting strong, try taking the game outside. This works best if you have a fenced yard so you can drop the leash without worrying about him running off.
Go on a walk
Once he is playing the game and walking with you around the yard, you can take him on his first real leash walk.
The Good Association Method
Introduce the collar
Start by putting on his collar or harness just before you feed him. He'll begin to associate the collar with something all Beagles love: food!
Bring in the leash
Now that he's excited about the collar or harness, start to clip on his leash at mealtime to get him used to it.
Pick up the leash
Let him wear the collar and leash before mealtime and during play time. Practice picking up the leash and holding it for a few seconds. Don't pull or try to walk. Drop it and give him a treat.
Try to walk
Now it's time to take your first leashed steps. Encourage him to walk a few steps with you. Stop and give him treats and praise when he does. Keep practicing this.
Take longer walks
Slowly increase the time you spend walking on the leash around the house. Keep treating him for good behavior and stop after a few minutes so he stays excited.
Step out for the first walk
Once he's happily walking next to you in the house for several minutes at a time, take him outside for his first walk. Keep the walk time short and stop to keep treating him and praising him as he goes.
The Solid As a Tree Method
Desensitize your Beagle
Desensitize your Beagle to the collar or harness and leash. Put it on him while he eats or during playtime. Let him know it's fun.
Practice walking next to you
When you're inside playing, encourage him to walk next to you on-leash and give him treats.
Head out for a walk
Once your dog associates walking with you as a fun thing, take him out on a leash walk close to home.
Stand like a tree
Inevitably he will pull and want to go in another direction. When he does, plant your feet and stand as still as a tree.
Wait for him
Wait for your dog to stop and look back to you. When he does, treat him and keep moving forward.
Keep practicing
Each time he pulls in another direction, root yourself to the ground like a tree and waits for him to look back and slacken the leash. Be patient and don't move until you get the desired behavior, then treat him and move on again.
By Katie Smith
Published: 02/01/2018, edited: 01/08/2021
---