How to Leash Train a Rottweiler Puppy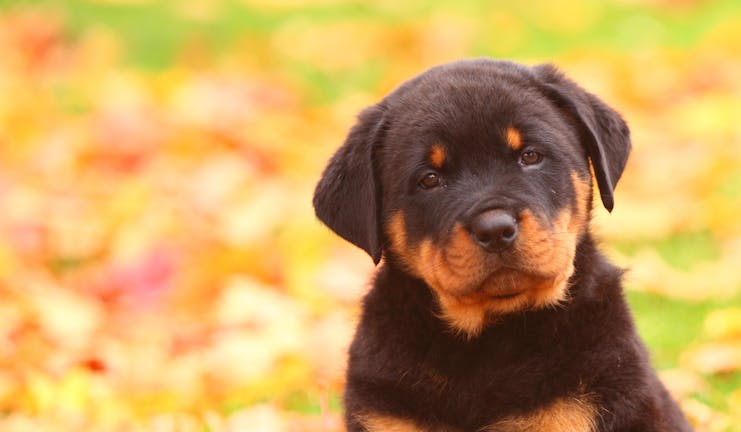 Introduction
He may grow up to be big and strong, but for now, your Rottweiler puppy is the cutest thing you've ever seen. He spends his days slipping across the kitchen floor and wagging his tail whenever you look at him. He even sends your partner all gooey eyed. However, it hasn't all been plain sailing. He does have one rather problematic habit. He hates his leash and walking anywhere on it. This is the last thing you want to be battling with in the mornings before work.
Leash training a Rottweiler puppy will save you from a serious challenge when he's a large, strong adult. So, getting this training right while he's young could save you from being dragged to the floor, or across the road, in a few years time. Not to mention you will be asserting your position as pack leader, making it easier to break his other bad habits.
Top
Defining Tasks
Telling all dogs they can't have the freedom to run around wherever they want is challenging. Rottweilers, though, are obedient and good-natured, so training him to walk on a leash should be much easier than if he were of some other breeds. The trick is to turn training into a game and to do that you need to find the right incentive. Fortunately, Rottweilers, like most dogs, have a soft spot for anything they can eat. Training then will consist of strict measures to keep him firmly by your side and making the leash something to look forward to.

Rottweiler puppies are fast learners. They are steady and eager to please, so you could see results in just a couple of weeks. If he's particularly stubborn then you may need to devote up to six weeks to training. Get this training right and dog walks will become an enjoying, stress-free endeavor.
Top
Getting Started
Before your new training regime can begin, you will need to collect a few bits. A short, training leash will be required. Because Rottweilers are so strong, you may also want to use a body harness. This will increase your control while reducing strain around his neck.
Stock up on treats, or break his favorite food into small chunks. You don't need to set aside specific time for training, you can train when you go out for your daily walk.
Once you have all that, just bring patience and an optimistic attitude, then work can begin!
Top
Play time
Make putting the leash on a fun game. Get animated and talk in a high-pitched voice. This will reduce any fear or worry he has when you fit the leash. Then let him wander around the house in the leash. After a while, he will barely notice he's attached to one.
Come
After a couple of days of him wearing the leash, you can introduce a cue. So, call him over with a 'come' command or his name. You can hold out a treat to lure him over and bend down so you are at his height.
Fit & reward
Use the treat to hold his attention and keep him relatively still while you fit the leash. Once it is secured, you can hand over a treat and shower him in verbal praise. Then after a couple of minutes, remove the leash and repeat the process. Do this for a few minutes each day and he will soon come straight to you and be calm when you fit his leash.
Start indoors
Outside is full of new and wonderful smells, which will make him even harder to control. So, start by walking him around the house for a few minutes each day. Only when he's calm and comfortable with this should you start taking him outside.
Up the stakes
Once he's relaxed on the leash inside, start taking him outdoors. If he gets overly excited, keep him on a very short leash to start with. You can also hold a treat at your waist height to keep him walking sensibly. Continue doing this each day until it becomes habit to walk calmly by your side.
Head out
Secure the leash and go out for a walk as you normally would. You want to keep him walking by your side. So, keep the leash relatively short, but still give him enough to walk ahead a few yards if he's feeling mischievous.
Stop
As soon as he walks past you, stand firmly still. He will eventually have to stop. At this point, he will probably stare up at you confused for a while, but after a little while he will return to your side.
'Heel'
At the same time as you stop, give a 'heel' command in a firm voice. You don't want to terrify him, but you do want him to know you mean business. Hold eye contact as you give the instruction and only give it once.
Continue walking
Once he has returned to your side, you can start walking. As soon as he pulls again you should stand still and issue the 'heel' command. It may be frustrating, but you need to do this every time. Consistency is key if you want swift results.
Increase his freedom
After a few days or weeks, he will gradually get into the habit of walking calmly by your side. At this point, you can start giving him a bit more freedom on the leash. Just continue to react each time he pulls.
The Positive & Negative Method
Secure him to his leash
Once you have fitted him to his leash, head out for your walk as you normally would. However, make sure you are ready to react if he pulls or lunges.
The 180
As soon as he pulls or walks too far ahead, turn around and start walking in the opposite direction. Don't yank him so hard you hurt him, just pull him alongside you firmly. This will let him know that you are in control of the walk and that he has to stay by your side.
Consistency
You must react each time he pulls in the same way. Failure to do so will only confuse him. So, be consistent and you will see results much sooner.
Treat lure
You can also use positive reinforcements to get your message across. Simply hold a treat out at waist height as you walk. Make sure he can smell it and knows it is there. This should hold his attention for a little while.
Reward
After he's walked 20 yards, hand over the treat and give him some verbal praise. Then next time, walk a little farther before you give him the treat. Keep doing this until it is habit to remain well behaved at your side. This combination of positive and negative reinforcement will give you the quickest results.
By James Barra
Published: 01/23/2018, edited: 01/08/2021
---