How to Train Your Dog to Look Where You Point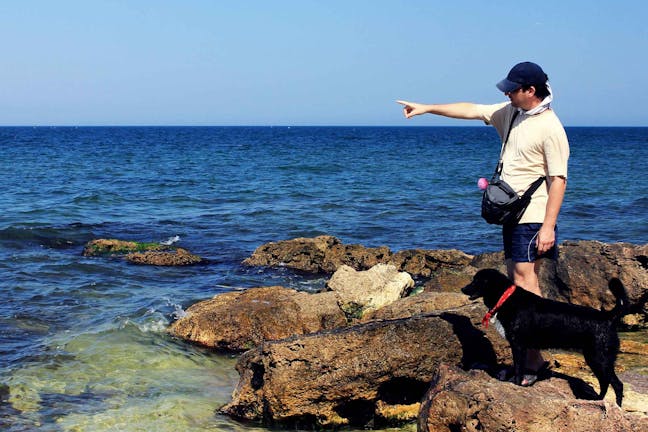 Introduction
Getting your pooch to look where you point can be a great way to teach your pup a variety of commands. For example, if they're misbehaving and playing up a bit why not point to their bed and teach them to go lie down? Teaching your pup to look where you point can also be useful in teaching pups their left from their right, as getting them to look where you point is the first step in this command. Teaching your pooch to look where you point is also a great way to teach obedience, as they are obeying your command and put their focus on pleasing you when you do this, making them understand who's boss. Another useful benefit of your pooch knowing to look where you point is that if you want them to fetch something they can't seem to find, all you would have to do is point to the object and your pupper would then know where it is.
Top
Defining Tasks
A nice thing about this command is that it's quite straightforward and should only take a few days for your pooch to master. However, it is important to learn as a basis for other basic obedience commands as mentioned above and for obedience training. Young pooches are the best to teach this command to and so they can be taught from as early as 9-10 weeks, so long as you give them a week to settle into their new home and be away from their mom. Adult dogs can also be taught this command, however, they may be a bit more set in their ways so be sure to persist a little harder with them. All breeds are suitable for learning the command, so long as their vision is good.
Top
Getting Started
No expensive equipment is required, simply treats, a good attitude, a little bit of patience for your pupper to get to grips with what you're explaining to them, and a clicker if you would like to do clicker training with your pooch. If teaching a young pup, make sure the treats are suitable or be sure to boil some chicken and cut the cooked meat into appropriately sized pieces. A quiet room that the pup does not associate with play would be the ideal setting for this command, make sure there are no distractions so that your pup pays you their undivided attention. It could also be favorable to have a good play with your pooch earlier on in the day so that they'll be less easily distracted for the training, but make sure they're not too tired so they can still concentrate.
Top
The Point and Treat Method
Get your treats
Line 5-10 treats up on top of a table.
Hide the treat
One at a time, place the treats into the palm of your hand so that your pooch can't see or get to it.
Point
To begin with, hold your pointing finger a few centimeters away from your pooch's nose.
Looking
When your pooch pays attention to you and looks where you point, either click or give a command such as 'look'.
Treat and praise
Give him a lot of praise and a treat when he does this.
Increase the distance
Once your pooch knows to look where you point, gradually keep increasing the distance using the same steps as before. Soon he should point where you look from variable distances and you have successfully taught him the trick.
The Everyday Pointing Method
Point with treats in your pocket
Say 'look' and point close to your pet's nose. Oonce he looks where you want him to, give him a treat out of your pocket and tell him he's been good.
Repeat, point and treat
It may take your pooch a few goes to get used to the idea that he needs to look where you point. Don't get frustrated with him, just keep going over it calmly until he understands what you mean.
Short training sessions
As you're likely training a young pup, short training sessions of 10-15 minutes will be best each day until he's learned the command.
Useful pointing
Incorporate the point command into your daily routine, pointing at your pup's bed when you want him to go to bed or upstairs when you're going upstairs, for example.
Remove the treats
Once your pup has really got the hang of it, you should be able to point anytime, anywhere, and they'll look and head to where you point with no treats required, as it has become a learned behavior.
The Away From Distraction Method
Use a favorable object
Find an object that your pooch is interested in such as a favorite toy. Toys that squeak can be useful in getting your pupper's attention.
Looking at you
Get your pooch's attention to make him look at you by calling his name and pointing at yourself.
Use the toy
Make the toy squeak or wiggle it so that it catches his eye.
Reward
Now point away from the toy, with a treat in the palm of your hand, giving him the treat when he looks away from his favorite toy and obeys you pointing.
Repeat
Repeat the previous steps with increasing distance from your pupper, removing the toy when possible.
Tell him to look
Next time you're out on a walk and he becomes distracted, use the 'look' command and point. He should now look away from that pesky squirrel he was about to chase.
By Catherine Lee-Smith
Published: 11/01/2017, edited: 01/08/2021
---