How to Train Your Beagle Dog to Not Bark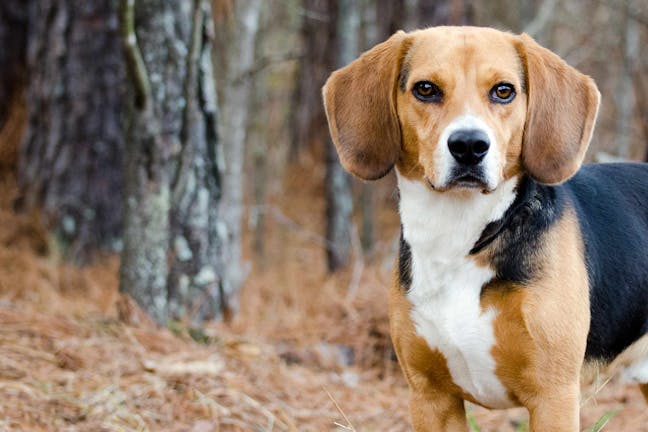 Introduction
Your Beagle is a character and no mistake, there's nothing half-hearted or mealy-mouthed about these furry individuals. One of the many things you love about your Beagle is how he embraces life and throws himself headlong into situations without a care in the world. 
Unfortunately, this can also mean he barks at the drop of a hat (literally) , which is made all the worse because he loves the sound of his own voice. Sometimes it sounds like you have a crazed hound trapped in the house, which doesn't endear you any to the neighbors. 
Top
Defining Tasks
Being vocal is a big part of the Beagle character. While you don't want to crush his spirit, it is important that the dog's barking is kept under control so that he doesn't become an antisocial canine citizen. 
This can be done with a little savvy training and the help of food to reward silence.  
At the outset know you are waging an uphill battle against Mother Nature, but with consistent instruction, patience, and repitition you will succeed and silence will reign.
Top
Getting Started
You are going to need a bucket load of patience in order to quiet down a Beagle! However, while this is a hard task it's not impossible. You can also help yourself by avoiding triggers to barking such as yelling at the dog to be quiet or giving him an unrestricted view of the street. 
Fortunately, you need very little equipment to teach a Beagle to stop barking. Most of the skill is in timing and motivation. Here's what you'll need: 
Pea-sized tasty treats
A treat pouch for easy access to those rewards
A cafe curtain or frost glass effect sticker
A collar and leash
A rolled up newspaper, a cardboard box, and sticky tape
Top
The Prevent Boredom Barking Method
Understand the idea
Beagles are notorious barkers and howlers. They love the sound of their own voice and need very little excuse to launch into a Beagle song. A bored Beagle is doubly likely to 'sing' as a means of entertaining themselves (plus there's no distraction to stop them from barking) so preventing boredom is key to a quiet household.
Pleasantly tired
An active Beagle is a happy Beagle (and a quiet one). Be sure to give your dog adequate exercise. Since the Beagle is a breed bred to run all day, you are going to need to have plenty of stamina...or else teach the dog to play fetch or catch so they do three times the distance you do. Take the dog out two or three times a day and exercise them to the point of being pleasantly tired.
A chewing outlet
A Beagle isn't bothered whether they exercise their mouth by barking or chewing. The clever thing is to provide your eager Beagle with a lasting chew toy so that he can settle down in silence rather than barking. Never leave a dog unattended with rawhide or other chews as they pose a choking risk.
Puzzle feeders
Provide vital mental stimulation by using puzzle feeders. Beagles are greedy dogs and will magic food out of a bowl in seconds. Extend their mealtimes by using puzzle feeders so the dog has to work out how to access his food. This alleviates boredom and makes for one less reason to need to bark
Toys and puzzles
Other boredom busters include leaving the dog with toys and puzzles. Since Beagles are food -motivated, try tricks such as enclosing some biscuits inside a rolled up newspaper and taping it together. The dog will then expend happy energy chewing his way to the goodies. Another good idea is to put treats inside a sturdy cardboard box and tape it closed, so again the dog has to chew their way to the reward...and then settles down to a satisfied sleep afterward.
The Eliminate Cues Method
Understand the idea
Barking is like breathing to the Beagle... something they don't think about before doing. Certain triggers are almost guaranteed to launch your Beagley pal into a volley of barking, so be sure to take steps to remove those triggers and peace will reign.
People passing the window
A Beagle will bark at people passing by. This is self-rewarding behavior as the dog perceives that his bark made the people pass on by. Short circuit this whole noisy charade by restricitng the dog's view of the window. This can mean placing furniture so that he can't sit on the window ledge, or using cafe-style half curtains or stick-on frosted glass to obscure the view.
Don't leave the dog in the yard
Avoid leaving your Beagle unattended in the yard for hours on end. He will quickly become bored and people walking past give him the ideal outlet for energy as he barks at them.
Don't shout at the dog to sttop
Tempting as it is, don't shout at the dog to be quiet. Bizarrely, this rewards the dog with attention (much like publicity, any attention is good attention in a dog's mind) and ramps up the excitement. In fact many dogs interpret this as you trying to bark along with them, which only makes them more likely to bark. Instead, ignore the barking or briefly acknowledge it with an "OK Buddy, thank you for telling me there's someone at the door."
Give the dog an alternative action
Prepare for that barking by teaching the dog an action, such as fetching a toy or going to lie on a mat. Most dogs will quiet down when they have another activity to do.
Understand the idea
By teaching the dog to bark (!) you can teach the opposite command of 'quiet'. This enables you to put "not barking" on cue as a behavior that gets rewarded, which makes it attractive for the dog to offer.
Teach the 'bark' command
First. put barking on command. Work out a way of triggering the dog to bark. Try using your fist behind your back, to knock on a door or wall. When the dog barks, praise him and say "Bark" in a happy, enthusiastic voice. Reward him with a small treat.
Practice 'bark'
Keep practicing. After several repetitions, say "Bark" ahead of knocking on the door. If the dog obliges, give him lots of praise and a reward. Keep working on this until the dog is reliably barking on command.
Now teach 'quiet'
Have the dog bark. While he's eating his reward, he's silent. Say the word "Quiet" and when he's finished chewing, gently hold his mouth closed, and repeat the word "Quiet". Then give him another treat. Repeat.
Alternate 'bark' with 'quiet'
Keep working on both commands alternately. Eventually, "Quiet" will become so ingrained that you can use it to silence the dog when barking for other reasons.
By Pippa Elliott
Published: 12/12/2017, edited: 01/08/2021
---