How to Train Your Collie Dog to Not Bark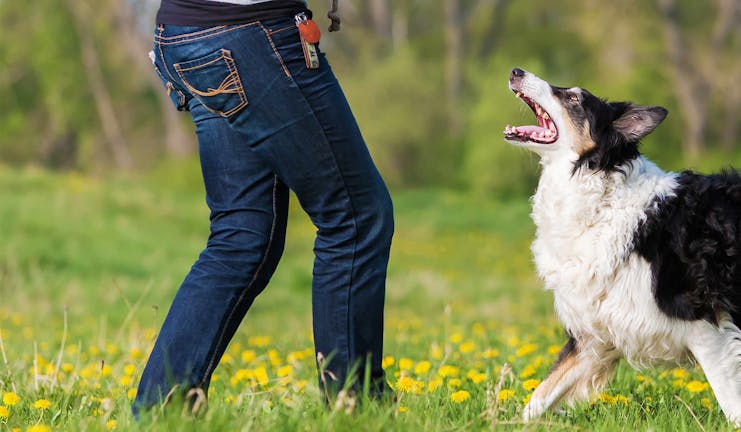 Introduction
Collies make wonderful farm dogs, herding dogs, and family pets. But like all dogs, they have a tendency to bark and not always for a good reason. Sometimes, it can seem as though your pup is simply barking to hear his own voice. Collies are active dogs with an easygoing temperament. They are highly intelligent and learn most new behaviors very quickly. However, you may find that when it comes to vocalizing their feelings, teaching your pup to be quiet can be more than a little challenging.
Collies can be taught just about anything, but they tend to be a bit on the stubborn side. If you want your pup to stop barking, you have to decide which method you are going to use and stick with it. You'll need to work with him every day in several short sessions for as long as it takes for him to finally figure out that barking when he feels like it is simply not acceptable behavior. 
Top
Defining Tasks
The first thing you need to do when you get ready to train your pup to not bark is to realize that there are times when do you want your dog to bark. These include when someone is at the door, if someone is trying to break in, or if there is a fire in your home. But of course, no one wants a dog that is going to bark like a madman for seemingly no reason. Most trainers believe the best way to teach a dog to not bark is to first teach him when it is okay for him to bark.
There is one thing about training your pup to be quiet that has to be taken care of first. Your pup needs to have mastered the four basic commands of 'come', 'sit', 'stay', and 'down'. This accomplishes two things: first, it establishes who is in charge and second, it gives you an idea of how quickly your pup can learn new things. 
Top
Getting Started
Unlike many tricks that require a long list of supplies like toys, leashes, dummies, etc. teaching your dog not to bark requires very little in the way of supplies. In fact, the only things you really need are plenty of patience, time for training, and a healthy supply of his favorite treats.
The rest is all about having plenty of time and patience to keep working with your pup teaching him when it's okay to bark and that he should be quiet the rest of the time. Ideally, you should have already taught your pup to speak on command.
Top
The Catch Him in the Act Method
Grab those treats
Pick up a bag of your pup's favorite chewy treats to use as rewards when he gets things right.
When next he barks
The next time he barks at the wrong time, keep an eye on him until he gets tired of hearing his own voice and stops barking.
The moment he stops
The moment he stops barking, be standing by his side so you can praise him and give him one of those treats. Do this several times to reinforce how when he stopped barking, he was praised and received a treat.
Add the command
The next time he barks, wait until he stops, introduce the command word "Quiet!" and then give him the treat. Repeat a few times to give him time to associate the command word with the action and the treat.
Stretch it out
At this point, you should start extending the time between when your dog stops barking, and you reward him. The more you work with him, the sooner he will learn not to bark when you say "Quiet!" and in time will only bark when he has a good reason.
On the leash
Call your pup over and clip him on his leash. This lets him know who the boss is. It also helps you maintain control of him.
Introduce the 'speak' command
Give your pup's 'speak' command, but the moment he starts to bark, tell him to be "Quiet!" in a firm, no-nonsense tone.
Patience, my friend
Patiently wait for your pup to stop barking. The moment he finally stops, praise him and give him a treat. Repeat this to help your pup associate the command with the action and the reward.
It's all about the timing
So, you've taught your pup to stop barking on command with an immediate reward. Now you need to teach him to hold his tongue for a longer period of time. The way to do this is to start stretching out the time between his stopping his barking and when he gets his treat.
Make it stick
The rest is up to you, you need to spend as much time as possible working with your pup. In time, he will learn that he should only bark at the appropriate times and the rest of the time you and your family can finally enjoy a little peace and quiet.
Pop some treats
Pop a handful of treats in your pocket that you can use to reward your pup when he gets things right.
Out to train
Take your dog to one of the areas that cause him to bark incessantly and spend a little time with him playing around.
When he barks
Each time he starts barking, simply turn away from him and completely ignore him. The idea here is for your dog to put 2 and 2 together or, in this case, the fact that when he barks you turn away from him.
When all is quiet
The moment your dog stops barking, give him your "Quiet" command and give him a treat.
And further on
Keep repeating this training, choosing different locations, with distractions and without them, and every time he gets it right, give him a treat. This method can take a little while, but your pup will eventually learn that there are no rewards to his crazy non-stop barking at everything.
By PB Getz
Published: 01/05/2018, edited: 01/08/2021
---