How to Train Your Dog to Not Bark at Neighbors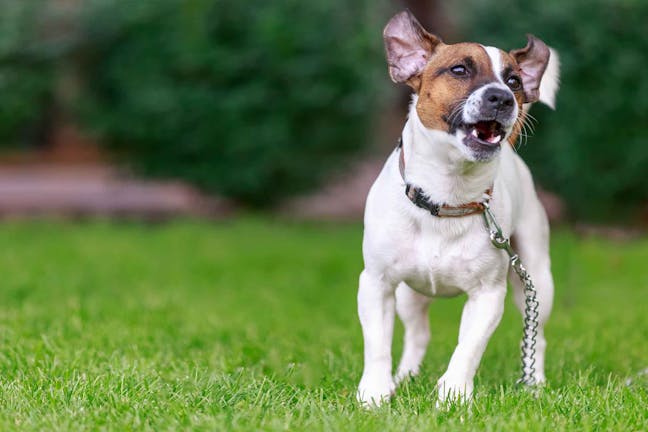 Introduction
Hey, we all know dogs are going to bark. It's their natural and only way to communicate with each other and the rest of the world. While most dogs will bark for a good reason, there are some that seem to bark for little or no reason, such as when the neighbors come out in their yard. Some breeds are more prone to excessive barking than others. Often, it is not the need to train your dog not to bark at all (this isn't likely to happen), it is the need to train your pup not to bark at specific times. Your neighbors are sure to appreciate the fact that they will finally be able to go out in their yard without your pup going ballistic. 
Top
Defining Tasks
Essentially, the concept is to stop your dog from barking at your neighbors. In order to do that, you first need to understand why your dog is barking in the first place. There are four basic reasons why your dog keeps barking at the neighbors.

Protectiveness: Your pup sees your yard as his territory and he is barking to let everyone else know it.

Fear: Maybe your neighbors startle your pup when they come out in the backyard.

Greeting: Maybe your pup is simply trying to say "Hi!" to your neighbors or their dog.

Excessive: This can be an indication that your dog's needs are simply not being met.

No matter the cause, your job is to teach your dog not to bark at the neighbors or, for that matter, anyone else who happens to walk by your house. Bear in mind, you should never yell at your dog to stop barking, this will only exacerbate the situation. Make training sessions fun and positive or your dog will not want to learn. 
Top
Getting Started
The simple fact is that you can teach a dog to stop barking in most situations. No, you will not be able to stop his barking completely (short of surgically removing his voice box, which is not recommended), but at least you can train him when it is okay to bark and when it's not. You can use a variety of commands such as "No bark!" or "Stop barking!" You will need plenty of your pup's favorite treats and, if you use one, a training clicker. The most important thing to remember is that you need to be consistent with your pup, anything less will only lead to confusion that will make the barking worse, not better. One last thing, a muzzle is no substitute for proper training and should never be used to keep your dog from barking. 
Top
Mark his barking
The minute your dog starts to bark, use a word like "Yes!" and give him a treat. It is vital you mark his bark as soon as he starts. If he won't bark, try making him bark using something that typically gets him excited enough to bark.
Add a cue to the bark
Now when he starts to bark add a cue word like "Speak". Then use the cue word to get him to bark and use the same mark and reward as in the previous step. Repeat this until your dog matches the command to the action. This helps your dog to understand that he gets a reward for barking on cue but at no other time.
Wait him out
Now you have to wait him out. No cue, no actions, nothing, just wait for him to bark. It won't take long since he has just learned he gets rewards for barking. When he does, do not reward him or use your mark word. Instead, treat him to a few seconds of silence and then tell him to "Speak!" and use your mark and reward. Again, repeat this step until he knows when to bark on cue and not to unless you give the cue.
End the barking
Now it's time to put an end to the barking. Give your pup the bark cue and when stops barking give him your quiet cue (You can use "Quiet!" or "Hush!" or anything else), it doesn't matter as long as you are consistent and give him a treat. Keep repeating this until you can anticipate when he is ready to stop barking, then give your quiet command and treat him when he obeys. This is going to take a while, so be patient.
Bark/no bark
Now that your dog has demonstrated his ability to speak only when he is given the command, you should practice this step frequently. Mix and match this with other skills to get him used to recognizing the commands and acting upon them the instant he hears them.
Going outside
Move the training outside and have your neighbor help you out by walking out into his yard and wandering around in a way that would normally make your pup bark. Use the quiet command to make him stop barking. Repeat until he no longer tries to bark when your neighbors are in their backyards. Just remember to be patient and never scold your pup when he gets it wrong, just use the quiet command and reward him when he behaves.
The Basic Concepts Method
Come inside
The last thing your pup wants to do is spend a lot of time out in the yard away from his "pack". Leaving him out in the yard for long periods can lead to a number of behavioral problems, including excessive barking at the neighbors.
Walk and play
Be sure to take your dog for long walks every day and play with him as much as you can. The more you can keep your pup tired out, the less energy he is going to have to spend barking at his neighbors.
Introductions all round
Since your dog seems to feel the neighbors are a threat and that his job is to scare them away by barking, it is time you introduce them to each other. Do so in a calm manner and let your pup get to know them so that he can see they pose no threat.
Train your dog to bark on command
Spend time working with your pup, teaching him to bark on command. Use a cue word like "speak" as he starts to bark and give him a treat. Repeat this until you can tell your pup to speak and he starts barking. Be sure to use lots of treats and praise.
Train your dog to stop barking on command
Now that you can get your dog to start barking on command, it's time to teach him to stop barking on command. You can practice this by catching him just as he stops barking and using the command 'quiet' or your choice of commands. When he does, be sure to reward him with a treat and plenty of praise. Keep working at this until he will only bark on command and stops the minute you tell him to. This will teach him to remain quiet in the yard unless you tell him to speak.
The Meet the Neighbors Method
Plan a dinner date
If you are on good terms with your neighbors, get together with them and plan a dinner date for them to come over to your home.
No contact
When your neighbors arrive, have them completely ignore your pup. This means no eye contact, no petting, just ignore him.
Give treats
Give your neighbors a handful of his favorite treats and have them slowly drop them one at a time on the floor.
Limited interactions
Once your pup seems to be comfortable with the neighbors, you can start to allow limited interaction between them.
Go outside and play
Take everyone outside and engage in a little fun and games. This is a great way to give your pup the time he needs to get to know your neighbors and will stop his barking at him.
By PB Getz
Published: 11/01/2017, edited: 01/08/2021
---