How to Train Your Small Dog to Not Bark When Someone Is at the Door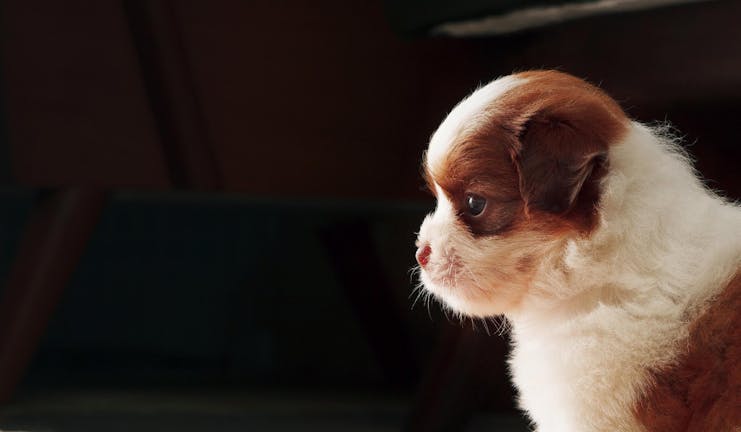 Introduction
There is nothing worse than having to listen to your pup bark his head off and go crazy every time someone knocks on your door or rings the bell. Not only is the noise annoying, it is very rude behavior and might scare off the visitor. Of course, this is a very natural behavior for your dogs as it is his way of letting you know there is someone at the door. At the same time, it is his way of letting the person on the other side of the door know he is protecting his den.
It might take a while for your dog to fully master this trick. The longer he has been getting away with barking at the door, the harder it could be to break him of this bad habit. Part of training your dog not to bark is figuring out why he is doing it. In this case, it is the act of someone knocking on the door or ringing the doorbell. 
Top
Defining Tasks
There may be more than one reason why your dog barks at the door; it could be he is protecting his territory, or it could simply be the noise. Some dogs are easily startled by loud noises such as a knock on the door or the doorbell itself. These sudden noises can startle him, at least until he gets used to them and has been trained to ignore them or how to behave in a proper manner.
Training your dog not to bark at the door consists of desensitizing him to the sound. There are, of course, several different ways you can go about this.  The good news is you can teach your pup not to behave in this manner. Then your friends, the UPS and FedEx drivers, and the postman will be able to knock on the door without fear of being attacked by your crazed little dog. 
Top
Getting Started
Before you can start teaching your dog to stop barking at the door, he must have first mastered the basic commands. This will make it much easier for you to work with your pup to stop him barking at every person that knocks on your door. Your goal is to stop your dog barking and at the same time redirect him to something else. There are a few things you need to make this task a bit easier.
Treats: to use as rewards

A bed or mat: somewhere for your pup to go when there is a knock on the door

An assistant: someone who can knock on your door or ring the bell.

Patience and time to train are the only other real requirements and you will need plenty of both before the training is over. Take your time, give your pup time to master this skill and you can enjoy the peace and quiet when the next person knocks on the door or rings the bell. 
Top
The Choose Your Word Method
Start by picking your command word
Start out by choosing your command word or phrase. It can be "quiet", "knock it off" or anything you choose, just make sure you stick to the same command each time.
Bring on the "stranger"
Have your assistant come to the door and either knock or ring the bell.
Give the command
Give your dog the "quiet" command and wait until he stops barking before giving him a treat and praising him.
Repeat the process
Repeat this, having your friend alternate between knocking and using the doorbell.
Each time
Each time your pup stops barking on command, be sure to praise him and give him a treat. The idea is to teach your pup that he only gets a reward when he DOESN'T bark at the doorbell or knock on the door. It will take a little time, so be patient and work with him.
The Ignore the Behavior Method
Bring on the friend
Have your friend come up to the door and knock or ring the bell.
Woof, woof
When your pup starts barking, ignore him. Just sit patiently and wait for him to stop barking on his own. Once he stops making a racket, praise him and give him a treat.
Come
Have your dog come over to you and make him sit beside you. Then get up and go to the door. If your dog follows you, return to your seat and have your dog go back to the spot where you had him sitting. This will be his "spot" when there is a knock on the door.
Do not open
Do not open the door until your pup has learned to stay on his spot quietly when there is a knock or the bell rings.
Open up
Now you should be able to go to the door and open it. If your pup comes bounding over to say hello, have your friend go back outside and try again.
Keep at it
Keep working at this until your friend can knock or ring the bell without your dog barking, and you can open it while your pup stays on his spot until you call him over to greet your friend. The rest is all about practice. The more you work with your pup on this, the quicker he will master it and you can enjoy peace and quiet when someone comes to the door.
Understand why your dog barks
To your dog, the sound of the doorbell or a knock on the door means someone is trying to attack either him or his human family. Naturally, his first instinct is to bark in an attempt to scare them off.
Start with calm sitting
Your dog should already have been trained to sit quietly while he waits for a treat. If so, you are already halfway towards the goal.
Assume the position
Call your dog over and have him sit. Once he has calmed down, give him a treat.
Ding-dong
Have a friend ring the bell or knock on the door. If your pup doesn't react to the sound, give him a treat.
If he barks or moves
If your pup starts to bark or move, let him smell the treat you have in your hand, but don't let him have it yet. Instead, redirect his attention with until he has calmed down. Then repeat the process only rewarding him when he doesn't react.
Keep repeating
Keep working with your pup over several weeks until he no longer reacts to the doorbell or when someone knocks on the door. Be patient, work with your pup and before long people will no longer fear knocking on your door.
---