How to Train Your Dog to Not Chew on Wires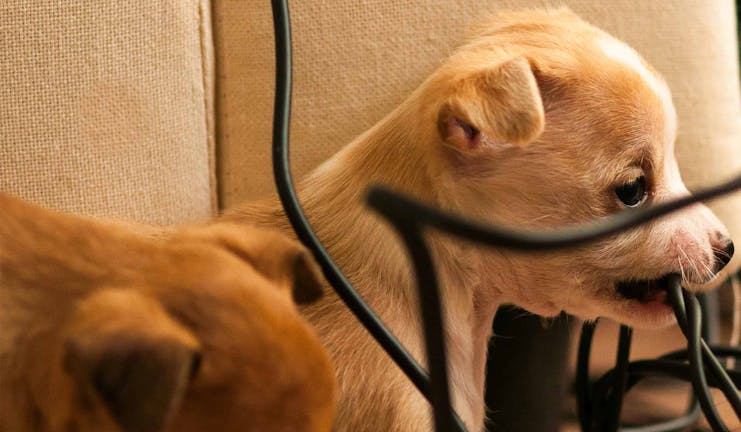 Introduction
He's brought nothing but joy into your home since he arrived. The kids love him, as does your partner and any friends that come to stay. I mean what's not to love? He's playful, friendly and super good at cuddling. He's always full of energy, so you do try and take him out for regular walks. However, it isn't all smooth sailing. Your pooch does have some bad habits. One, in particular, gives you cause for concern: he's started chewing wires. 
This could be a potentially huge problem. Firstly, there is the risk he hurts or even kills himself with an electric shock. But also, if you have young children in the house, you don't want them stumbling upon live wires. There is also the financial cost of replacing all the wires he keeps digging his teeth into and the risk of fire. Training him not to chew wires could well save his life.
Top
Defining Tasks
Training your dog not to chew wires is thankfully pretty straightforward. You'll need to employ a number of deterrence measures to keep him away. You will also need to find adequate ways of directing his energy elsewhere. This can be done by changing up his routine and introducing some new stimuli. Finally, you'll need to use obedience commands to regain control, so he stops chewing on wires when instructed.
If he's just a puppy he should respond to training swiftly. You could see results in just a week or two. If he's older and this habit has been developing for many years, you may need a while longer. It could take up to six weeks to fully kick the habit. Get this training right though, and you could save yourself from hefty vet bills at the very least.
Top
Getting Started
Before you can start work, you'll need to gather a few things. For one of the methods, you'll need a water spray bottle, a deterrence collar, and robust wire casing. You'll also need food puzzles and an array of toys.
Some tasty treats or his favorite food broken into small pieces will also be required. Set aside a few minutes each day for training, and try and be as vigilant as you can throughout the day.
Apart from that, you just need patience and a can-do attitude. Once you've ticked all those boxes, work can begin!
Top
Wire casing
Spend a morning securing all your wires with some robust casing. You can buy specific casing online that should keep dogs at bay. Alternatively, go down to your local hardware store and see what they have on offer. If your dog can't get to the wires, he can't chew them.
Baby gates
You can also try fitting gates in the doors of problem rooms. That way you can only grant him access to the room when you are there to keep watch. This will mean he can't chew wires when you aren't around.
'NO'
It's important you always react when you see him chewing. Rush over and give a firm 'NO'. Don't terrify him, but make sure he knows you mean business. This should make him think twice next time.
Water spray bottle
Keep a bottle close by and if you see him chewing, go over and give a quick spray near the face. He will soon start associating chewing the wires with negative consequences and lose interest. However, make sure you pull him away before you spray him. You do not want to spray water near the wires.
Deterrence collar
You can get remote controlled collars that emit an unpleasant spray of citronella when you hit the button. Use this every time you see him chewing and he'll soon think better of it.
Exercise
Many dogs chew on wires because they are full of energy. Focus that energy elsewhere by giving him a long walk each day. You can also throw a tennis ball for a few minutes each day. The short sprinting will leave him napping in the evenings, instead of chewing through your wires.
Attention
Make sure he gets enough attention from you. The chewing could be attention seeking behavior. So, dedicate 5 minutes twice a day, to playing around with him and stroking him. This may alleviate the problem.
Food puzzles
Give him food puzzles to get through. This will distract him from his bad habit. Some puzzles can keep dogs occupied for hours. He will soon forget about his other pastime.
Never punish him
It is important you don't punish him when you catch him. If you scare him then he may become aggressive or start acting out in other ways. You must always remove him calmly and deal with the situation in a controlled manner.
Reward
Give him the odd treat whenever you see him come away from the wires. If you see him wander over, but lose interest, it's vital you reward him. This will reinforce what is and isn't the right behavior.
Monitor
Make sure you are always keeping an eye on him when you are in the house. If you leave, try and ensure someone else is there to react if they catch him chewing on the wires. Consistency is key to stamping out the behavior quickly.
Remove him
When you do catch him chewing, take him calmly by the collar and lead him out of the room. Put him in a room without toys for 30 seconds. This is going to be his time out period, where he realizes he's done something wrong.
Release him
Once his 30 seconds is up, open the door and let him re-join you. However, keep a close eye on him incase he heads back for the wires. If he does, you need to be ready to act again.
Increase the sentence
If he does re-offend, take him back out of the room. This time, add another 30 seconds to his sentence. Add 30 seconds on each time until he realizes what he's doing wrong. He will soon get the message and give up chewing.
Encouragement
If you do see him heading for the wires, you can encourage him to come away. Hold out a toy or a treat. Then if he moves away, give him the reward and some verbal praise. The mixture of positive and negative reinforcement will speed up the process.
By James Barra
Published: 01/04/2018, edited: 01/08/2021
---