How to Train Your Dog to Not Eat Other Dogs' Food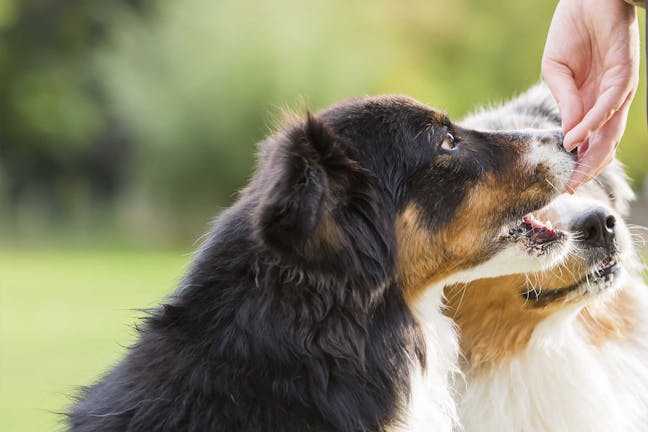 Introduction
If you have more than one dog, you may have come across the problem of one dog eating the other's food. This can occur because one dog has less of an appetite than the other and leaves his food for your other dog to clean up, or one of your dogs may be dominant over the other and takes the more submissive dog's food. This results in one dog getting too much food and one dog not getting enough. Not only is this unfair, but it can have long-term health consequences, with one dog becoming overweight, while the other may not get all the nutrients he or she needs.
Top
Defining Tasks
Dogs have hierarchical social structures, with some dogs being leaders and other followers. In a pack situation in the wild, lead dogs would eat first, followed by more subordinate dogs. This would be natural and would protect the integrity of the pack, which would need its leaders to be well fed to lead the pack. So if you have multiple dogs, it is not uncommon for a more dominant dog to exert that dominance by eating the other dog's food. Another issue can occur when you have a dog that is particularly food motivated, and one that is not, and your food motivated dog gets the lion's share of the food due to the apathy or inattention on the part of the other. If this problem develops, you will need to intervene to teach your dogs to respect each other's food and only take the food that is portioned for them individually. This is not a pack of wolves, after all!
Top
Getting Started
You will need treats to teach a 'leave it' command. Also, you will need to commit your time to supervise feeding and implement commands, to ensure both dogs get to eat their food. You may need a way of separating dogs from each other's food area while training is ongoing. A separate room, large crate, pen, or area cordoned off with baby gates or other barriers may suffice.
Top
The Claim and Control Method
Fill both bowls
Ensure that you are present to supervise when your dogs are eating. Fill both dog food bowls, but remove the dog that is getting his food stolen from the room temporarily.
Claim submissive dog's bowl
Let your food-stealing dog eat from his own bowl. When he approaches the other dog's bowl, push him away, by placing your body between the dog and the extra bowl.
Be verbal
Firmly say "leave it" or "off".
Reinforce surrender
When your dominant dog backs off, you can reward him with attention. Remove him from the situation and allow your other dog to eat from his bowl. Repeat at each feeding over a period of weeks.
Introduce eating together
Now allow both dogs to eat together. If your dominant dog attempts to push the other dog away from her bowl, insert yourself, and give the 'leave it' or 'off' command. Allow your other dog to complete his meal. Repeat over several days as required. Your dog will eventually learn that while your submissive dog may not claim his food, you will claim it on his behalf.
Present closed hand
Hold a treat in your closed fist and present it to your dog. When he sniffs your hand, say "leave it".
Reward 'leave it'
Wait until your dog stops investigating your hand and trying to reach the treat. When he retreats from your closed hand, say "yes" and open your hand to offer the treat. Sometimes give the treat without saying "leave it", to establish that your dog only needs to leave the treat alone when you instruct him to.
Challenge
Place a low value treat, such as dry kibble, on the floor and give the 'leave it' command. When your dog obeys, reward him with a high-value treat, like a piece of meat or cheese.
Provide distractions
Move the game to new locations and try leaving a treat in a chosen spot. Command your dog to 'leave it' when he finds the planted treat and reward him when he obeys.
Apply to other dog's food
Once well established over a period of weeks, use the 'leave it' command when your dog approaches your other dog's food dish.
Create schedule
Your dogs do not have to eat at the same time, or even the same time of day. You can train your dogs to each take their turn, eating at separate times, either one after another or with a time interval. Have a designated area for eating, setup with bowls for food and water. Your dogs should always have water available. You may need a way of keeping the other dog separated, such as using gates a door or a pen.
Create seperation of time and space
Starting with the more dominant dog, or the dog who is taking more food, feed that dog the appropriate amount in the designated area, while keeping your other dog or dogs from the area.
Feed dominant dog
Give the dog several minutes to finish his food, then remove him from the area and bring in the next dog. Fill their dish with the appropriate amount and give him an adequate amount of time to finish eating.
Feed other dog
If the dog is not finished after a certain amount of time, say 5 minutes, take the dish away and move on to the next dog.
Establish schedule and time
Eventually, your dogs will learn to eat their food in the time allotted, and because the other dogs are separated, the dog that is eating will not experience distractions or the other dog stealing their food. While the other dog is waiting for their turn, give them a chew toy or have them wait, performing a 'sit-stay' or 'down-stay' activity.
By Laurie Haggart
Published: 11/13/2017, edited: 01/08/2021
---