How to Train Your Dog to Not Eat Sticks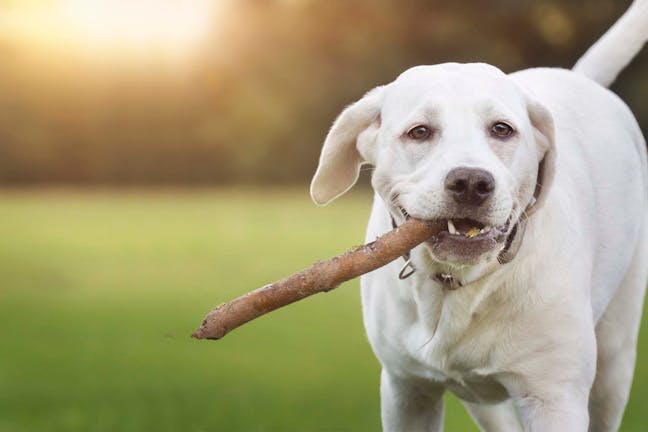 Introduction
As a dog lover and owner, you've probably seen those idyllic shots of someone else's precious pooch, romping across the yard, beach or path with stick in mouth. Maybe you've even exchanged in a game of fetch with your own Fido. While playing with sticks is all fun and games, the problems begin when your dog decides to upgrade from retrieving into chowing down on these chunks of wood.
Top
Defining Tasks
Many owners may find stick chewing harmless, but in reality, this habit could prove troublesome for the long-term health of your dog. Splinters of wood could break off in your dog's mouth or become stuck in his teeth, causing cuts, abscesses, infections and more. Large portions of sticks can become stuck in your dog's windpipe or esophagus, creating obstructions and sharp portions can cause similar issues in the stomach and intestinal tract.
Teaching your dog not to eat sticks is an important part of essential training for your pet. Depending on your individual dog and their love of chewing, you may need to keep vigilant until Fido is completely broken of the habit. It will be important to be patient through the process and avoid yelling or agitating your dog when you catch him chewing.
Top
Getting Started
For the most part, teaching your dog not to eat sticks won't require any special setting or tools. In fact, it will be important to train your dog "in the field", meaning the locations where he normally would encounter sticks in his daily routine, to establish the correct associations and build strong aversion and avoidance to sticks. You'll want to purchase several quality chew toys, treats, and snacks, as well as get your gardening and yard maintenance tools ready. Once you have these items gathered, it's time to select your method or methods of choice.
Top
The Eliminate Access Method
Patrol
First, you'll want to clean up your yard of any and all debris on the ground. Be thorough in your search for sticks, branches and shrubbery. Your yard will be doggie proof and look sharp.
Trim and prune
Next you should spend some time looking up in your yard. Overhanging trees can drop branches and sticks and should be thoroughly pruned to prevent future access to sticks.
Broaden your scope
Next it's time to talk to your neighbors. Sticks in neighboring yard or overhanging trees can also fall into Fido's space, creating easy access. Ask your neighbors if they can clean up trees or overhanging brush.
Keep an eye out
Once you've cleaned up your own yard you should focus on areas where you and your dog frequent. Dog parks should be free of sticks or other debris that could pose a health risk to yours or another person's pooch. These spaces are often maintained by the city or local organizations so be sure to get in contact if they need a little stick or branch upkeep.
Training yourself
Once you've eliminated access to sticks, the final step is to set yourself up for success by maintaining good habits and controlling future exposure. If your dog is not allowed to come into contact with branches and sticks it will be much harder to develop or re-develop habits of chewing.
The Distract & Redirect Method
Observe
Start off this method of training with increasing levels of difficulty to set your dog up for success. First, observe your dog in the back yard and watch for him to start chewing on a stick.
Trade
When you see your dog chewing, immediately offer to exchange the stick for a safe toy, bone or other chewable item.
Monitor and repeat
Carefully monitor your dog's behavior. If he tries to pick the stick back up, immediately offer another treat or toy in its place.
Pre-empt
As your dog gets used to exchanging toys for sticks, up the difficulty by distracting him before he can pick up a stick in the yard. Offer a stick or toy immediately before your dog starts to pick up the branch, wood or stick.
Stay stocked
Finally, as your dog learns to avoid sticks and exchange them for toys, ensure that your pooch has access to plenty of alternative healthy sources of chewables. Consider leaving a box full of toys, knot ropes and bones where your dog has access at all times.
The flexibility of 'leave it'
Teaching your dog to 'leave it' is a helpful method for getting an object--such as a stick--out of his mouth. The command can be used to teach him to avoid picking up sticks to eat in the first place.
Lure
Start off with a treat in your closed hand. Make sure your dog knows the treat is visible or that your dog can smell it is there. Pieces of cheese or hot dog work well for this.
Wait
Keeping your hand closed, allow your dog to sniff and mouth, trying to figure out how to get the treat out of your hand. The first time your dog backs up, pauses or stops licking at your hand, immediately open your hand and give your puppy the treat.
Add commands
Soon your dog will learn that he only receives the treat when they don't mouth at your hand. When your dog starts waiting patiently, add in the "leave it" command and "take it" command when you allow him to eat the treat.
Open hand
Once your dog is doing this with your closed hand, it's time to move to an open hand method. Place the treat on your open hand and say "leave it". If your dog tries to eat the treat, close your hand. Do not give your dog the treat until he waits patiently while your hand is open. Once this occurs, say "take it" and allow your dog to have the treat.
Practice
Repeat 'leave it' and 'take it' in a variety of situations and treat levels. Graduate to using 'leave it' with objects placed on the floor, out in the yard or in the dog bowl. Remember to always provide a 'take it' command and follow up with plenty of praise and bonus treats for long term training success.
By Kimberly Maciejewski
Published: 01/29/2018, edited: 01/08/2021
---