How to Train Your Dog to Not Go Upstairs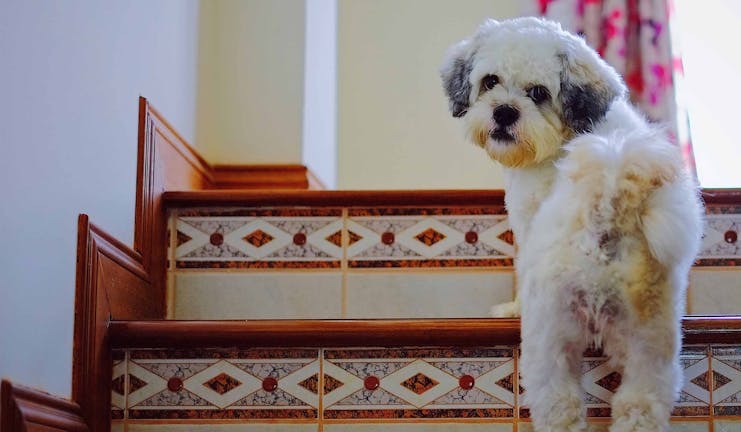 Introduction
Most dogs just want to be wherever you are. However, you may want to limit your dog to certain parts of the house for various reasons. Often bedrooms are upstairs on a second floor, and you may want to keep bedroom areas dog and dog hair-free, especially if someone in the family has respiratory or sleeping problems that could be disturbed by your dog wandering around spreading his doggy fur haphazardly around your sleeping area. Another concern may be that an elderly dog that has previously gone upstairs, is now having trouble negotiating staircases. It may not be that hard for a senior dog to get up the stair,s but getting down may be a wreck waiting to happen. In this case, teaching your dog that he or she can no longer go upstairs may be necessary, and a bit of a challenge if they were used to going upstairs in the past. There are a few ways, however, to train even an older dog that is used to having access to all parts of the house not to go upstairs.
Top
Defining Tasks
If your dog previously had access to upper floors, you will need to establish that the stairs are now off limits. This can be a bit more involved then teaching a young dog not to go upstairs that has never negotiated the stairs before, and may already be reticent of this area of the house. You may choose to teach your dog a verbal command to prevent him or her from stair climbing behavior, use deterrents or extinguish stair climbing behavior. All can be effective, and combinations of these methods will be especially successful at preventing your dog from climbing the stairs, keeping an elderly dog safe or establishing desired boundaries in a younger dog.
Top
Getting Started
You may choose to use treats or play time to reinforce verbal commands to avoid stairs. Deterrents such as double-sided sticky tape, tin foil, or mats may also be used. Blocking your dog with gates, crates or confinement in a designated part of the home will require some planning and making sure that methods to contain your dog are safe and secure.  Be consistent and make sure everyone in the house understands the plan.
Top
Place deterrents
Place carpet runner, pointy side up, tin foil, or sticky shelf liner, sticky side up, on the first few stairs of your staircase.
Supervise
Allow your dog access to the stairs and supervise to capture stair climbing behavior.
Provide verbal command
When your dog approaches the stairs, provide a verbal command, such as "no stairs".
Allow deterrent
If your dog approaches the stairs at an unsupervised moment or proceeds past your verbal command, he will experience an unpleasant sensation from the surface of the stairs when he places his paws on the stairs.
Switch or remove
Leave deterrents in place for several days, until your dog starts to avoid the stairs. Once your dog has come to associate the stairs with an unpleasant sensation, you can remove the deterrent or switch to another type so that your dog does not think that with the removal of one type of deterrent, he can now use the stairs. By switching it up you will convince your dog that the stairs are just not somewhere he wants to go.
The Verbal Command Method
Be ready
Supervise your dog. Have treats or a toy ready.
Introdue command
When your dog approaches the staircase provide the verbal command such as "No stairs".
Prevent stairclimbing
If your dog proceeds upstairs, recall him and block the stairs with your body until he retreats.
Reinforce 'no stairs'
If your dog moves away from the stairs, provide a food treat or play with toy, say "good", and provide praise and affection.
Practice and prevent
Repeat to establish. When you are not able to supervise your dog to prevent stair climbing, put up a barrier such as a baby gate.
The Set Boundaries Method
Determine dog areas
Establish dog-free zones in your house. Starting with a young dog that has not already made himself at home everywhere works best.
Use crate
Put your dog in a crate when you are not home or are unable to supervise, like at night. Young dogs quickly become adapted to their crates, learning they are a safe "den" for them to rest. You can put a soft blanket and a toy in the create to make it comfy.
Block stairs
Put baby gates or pet barriers up to prevent your dog from going up the stairs.
Lure away from stairs
When your dog approaches the stairs say "no". Lure your dog away from the gate and reward him in his area with a teat, attention and play.
Establish
Repeat over several weeks, eventually you should be able to remove gates. Continue directing your dog as necessary
By Laurie Haggart
Published: 12/26/2017, edited: 01/08/2021
---