How to Train Your Herding Dog to Not Herd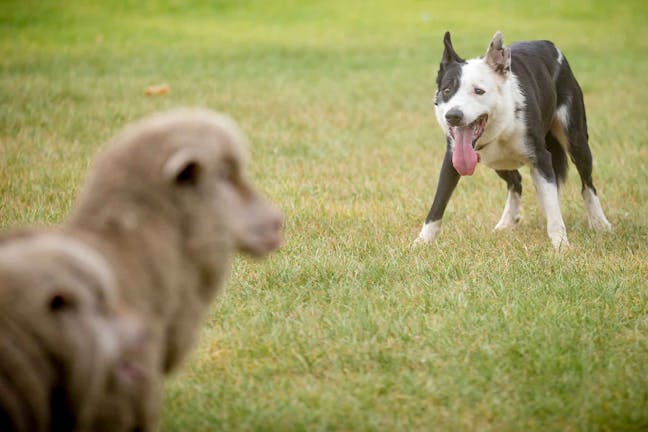 Introduction
So you have a herding dog, like a Collie or Blue Heeler,  and your neighbor down the road has a herd of prize-winning Angus cattle. It's spring, the field is icy, the cows are very pregnant with expected calves, and your herding dog thinks it would be good entertainment to go for a visit and chase the herd of cows around. Big problem! Frightened cows trying to get away from an aggressive herding dog could slip on the ice, and a pregnant cow could lose her calf from a fall. 
Most farmers will not tolerate this with their valuable livestock at risk, nor should they. Dogs must learn not to herd livestock when they are not supposed to, or they are at risk of being destroyed by producers protecting their livestock!  So if you have a herding dog, you will need to make sure he does not try to herd other people's livestock, or your own, when he is not required or directed to do so.
Top
Defining Tasks
While herding dogs have been bred for generations to want to herd livestock naturally, and this is a great talent that can be harnessed and very useful to farmers, a dog that herds when it is not supposed to is a danger to livestock and himself. Not only can frightened livestock be injured if they fall or are chased through an obstacle or across rough terrain, but the dog is in danger of being destroyed as a nuisance animal or injured by large livestock trying to protect themselves. Herding dogs that are not exposed to livestock may try to herd small animals or children or even adults!  Ironically, teaching your dog to herd on command and giving them an outlet for such behavior may be a good way of controlling it, by teaching the dog that they only herd when directed. Other methods of controlling instinctive herding involve teaching your dog a different association and behavior with livestock, such as the 'leave it' command or an alternative behavior so that a dog exposed to livestock, small animals, or children ignores them, backs away, or performs other behavior to receive reinforcement.
Top
Getting Started
You will need lots of treats to teach 'leave it', and alternative behaviors to dogs that are motivated to herd. You will need to contain your dog during training to ensure they do not inadvertently try to run livestock. which is a self-rewarding behavior and will make the habit harder to break. Training to put herding on command is another alternative strategy that will require exposure to livestock, such as sheep that can be herded. Both will take a significant time investment and involve controlling your dog to prevent unsupervised herding, which could result in injury to your dog or to livestock.
Top
Present treat
Hold a treat in your hand and present it to your dog. When he reaches for the treat, close your hand and say "leave it."
Reinforce 'leave it'
Your dog will continue to investigate your hand. When he stops, provide him with an alternate treat of higher value or play time. Repeat.
Increase temptation
Start leaving treats around the house and yard. Command your dog to 'leave it'. If he leaves treats, reward with higher value treat.
Expose to targets
Introduce your dog to livestock or small animals that he wants to herd, like other pets or chickens. When your dog approaches them to herd, command him to 'leave it'.
Establish 'leave it'
If your dog leaves off herding, reward, if your dog proceeds to herd, recall, reprimand, and repeat the 'leave it' command. Reinforce 'leave it' until your dog responds appropriately.
Teach herding commands
Teach your dog herding commands like 'come bye', 'away to me', 'stop', 'back', etc. using a ball or toy.
Introduce livestock
Introduce your dog to small livestock such as sheep or chickens.
Apply commands
Use commands to direct your dog to gather livestock and direct them. Work on teaching 'back' and 'stop' commands.
Restrict herding
Practice often. Exercise your dog daily when not herding so that excess energy is burned off. Keep your dog contained when not herding on command.
Associate herding with direction only
Dogs that are trained to herd on command will learn not to herd when not being directed, as they come to associate herding with directed work and handlers being present and establish leaving off of livestock when not being directed.
The Alternate Behavior Method
Watch
Observe your dog around the object of his herding behavior, children, pets, livestock, etc.
Get attention
When you see your dog make eye contact and lower his stance into a herding posture, call or distract him with a noise.
Direct alternate behavior
Provide the command for an alternate behavior such as 'sit-stay', 'look at me', or even a trick, like 'roll over' or 'beg'.
Reward
When your dog performs the behavior, give him a high value reward such as meat, or play time with favorite toy.
Establish association
Repeat until the alternative behavior is established when your dog is exposed to the object of his herding focus.
By Laurie Haggart
Published: 11/30/2017, edited: 01/08/2021
---