How to Train Your Bird Dog to Not Kill Chickens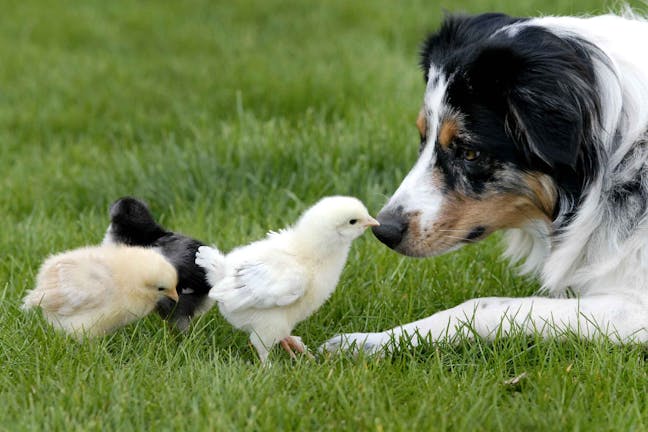 Introduction
You're out hunting and the chase is on. Accompanying you on the hunt is your trusty bird dog. You are trying hard to develop a working relationship, where you shoot the birds and he retrieves them for you. 
You are specifically training him to hunt and retrieve birds and game, but preventing him from chasing your chickens and killing them is easier said than done. You want him to feature in your Snapchat story and play a prominent role on your Facebook, but if he has a dead chicken hanging from its mouth in every photo, you might not stay so popular on social media.
Top
Defining Tasks
It's in a bird dog's nature to target and retrieve birds, so getting him to fight that urge is going to be no easy feat. Fortunately, there are a number of methods used to tackle this behavior. One method looks to train him to 'sit' and 'drop'. Using obedience commands to combat this behavior will not only prevent the killing of chickens but will make teaching him other commands easier too. 
Other methods concentrate on familiarizing him with chickens, so he can differentiate between chickens for dinner and chickens as work or as friends. The command itself will be easier to teach if he is a puppy, as older dogs are usually more stuck in their ways. 
The key to this type of training is consistency. It may require weeks and possibly months before you can fully trust your hunting pal around chickens. 
Top
Getting Started
Before you begin, you need to ensure your chickens are secured before bringing your dog out around them. You will also need some treats on hand to praise him for good behavior, and to distract him from the chicken dinner he'll have in mind. 
You will also need enough outdoor space to ensure a safe distance between your dog and the chickens to start with. The only other things you'll need are a proactive attitude and patience!
Now you're armed with all the essentials, it's time to get to work!
Top
The Critical Distance Method
Identify the critical distance
Once he comes within a certain distance of the chickens he will bark or lunge--you need to establish where that line is. So ensure the chickens are secure and with him on a leash, slowly approach until he reacts.
Reward
You now need to try and slowly decrease the distance between him and the chickens before he reacts. So constantly praise the chickens as you head towards them and stop and turn around as soon as he display signs of aggression.
Edge foward
You need to continuously try and edge forward with this technique until he can be within 10 feet without wanting to sink his teeth into the chickens. Note it may take 15 minutes of practice every day for 6-8 weeks before he is desensitized enough to get that close to them.
Pet the chicken
Once you can get within a few feet, get someone else to hold the leash, then pick up a chicken yourself and pet it in front of him. If he remains passive, reward him. If he lunges, have the other person turn around and walk him away.
Repeat
The key to success with this method is patience. Stick to rewarding passive behavior and pulling him away when he show signs of aggression. Slowly but surely he will learn, and one day you may feel confident enough to let him off the leash around chickens.
Get him to sit
Before you can train him to drop, he needs to be able to sit. So with a treat hidden in your hand, slowly rotate your hand over his head until he naturally sits down. Repeat the command 'sit' each time you do this.
Praise and reward
As soon as he is sitting down, reward him with a treat and shower him with verbal praise. Repeat this training every day for 15 minutes, until he sits for you every time. Also, slowly reduce the number of treats and the amount of praise you give him, until they are no longer needed.
'Drop'
You now need to repeat the same process to teach him to lie down. Hold the treat in front of his mouth, and then use it to slowly bring him to the ground, saying 'drop' just before he lies down. Once down, reward him with treats and praise. Slowly reduce the use of treats and praise until he drops every time without the lure of food.
Time to meet the chickens
Put him on a leash and slowly take him towards the chickens. Praise him and give him physical attention for as long he remains passive on the way to towards the chickens. As soon as he display signs of aggression, halt all praise. This will teach him that he only get rewards and praise when he stays calm.
Body language
As soon as he looks like he might go for a chicken, issue the 'sit' and then 'drop' command. You may also need to use the leash to restrain him to start with. Every time he sits and drops, reward him with a treat and praise. Repeat this process daily for as many weeks as it takes. During that time, slowly reduce the number of treats and amount of praise you give, until you can fully trust him.
The Noise Aversion Method
Ensure your chickens are secure
Once secure, put your dog on a leash and head slowly over to the chickens' pen, keeping a firm grasp on the leash at all times.
Approach slowly
Allow him to walk around the chickens, sniffing and investigating. But as soon as he lunges or barks, give him a firm 'NO' command and pull the leash back. You can use any sound he dislikes, from a high pitched noise to a compressed air can. He will soon associate aggressive behavior with that sound and stop doing it.
Continuous praise
Just as you say 'NO' when he does show signs of aggression, be sure to praise him and play with him while he is being passive. This will reinforce the benefits of good behavior.
Lose the leash
After weeks of the leash, once you feel confident he won't go for the chickens, take him off the leash. It is important you are in a quiet area because your voice will need to be enough to control him. Also keep the chickens securely penned in, you don't want to risk their lives!
Continually monitor and supervise
For the first couple of months at least, it is worth always being around him if chickens are out, so you can respond to any outbursts swiftly. Consistently keeping up with the training is essential for long-term success. So be patient, they will and do learn eventually.
By James Barra
Published: 11/13/2017, edited: 01/08/2021
---