How to Train Your Dog to Not Kill Small Animals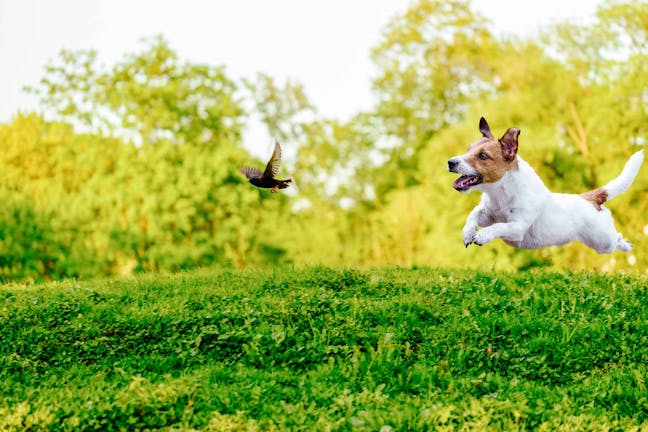 Introduction
You're out on a walk enjoying the pleasant weather and unusually quiet surroundings, when all of a sudden your dog nearly pulls your arm out of its socket as he leaps towards a small rodent. You could forgive him if it was just the once or twice, but he has developed a habit of chasing anything small, furry and breathing. That includes your daughter's pet hamster, rabbits, and even other dogs. 
While it all seemed like harmless fun to start with, he has sunk their teeth into a variety of small animals, including the odd pet, and has now developed a taste for the kill. This behavior is serious, if he attacks and kills other small pets, he runs the risk of being put down or making you liable for hefty vet bills.
Top
Defining Tasks
Thankfully, getting a handle on this killing behavior is achievable in just a few weeks with rigorous obedience training and by taking a number of steps to limit his attacking ability. If your dog is a puppy he will likely respond to the training swiftly, if your dog is older he may be more stuck in his ways and require an additional couple of weeks to finally kick the habit.
While getting this training right is essential if you want to prevent unnecessary death and avoid significant vet bills, there is also another serious reason to put an end to your dog's killing streak. Dogs that start off killing animals can find the experience so stimulating that they start attacking humans as well. If he does attack a human or other pet, he runs the risk of a court ordering his destruction. 
Top
Getting Started
Before your training campaign kicks off you will need to get a number of things together. Treats or your dog's favorite food will be needed to incentivize and reward him. You will also need a quiet outside space, free from the distraction of small animals.
A long leash and a muzzle may also need to be used until you have got the aggressive behavior under wraps. If he is big and strong, a body harness may help you keep control and reduce strain on his neck.
Once you've got all of the above, you will just need 15 minutes a day for training, a proactive attitude and then you're ready to get to work!
Top
Setting up
Secure a small animal such as a rat, chicken, or pet in a cage. Once the animal is secure, take your dog outside on a leash and bring a pocket full of treats. You are going to slowly familiarize him with small animals and drill positive behavior into him.
Head towards the animal
Slowly walk towards the small caged animal, holding onto the leash firmly. With every step you take that he doesn't lunge for the animal, praise him and give him a treat. You are showing and reinforcing to him how to correctly behave around small animals.
React promptly
As soon as he shows signs of aggression, pull him firmly in the other direction and walk away. By pulling him away you are showing him that if he displays signs of aggression he won't be able to go in the direction he wants. Once he has calmed down you can head back towards the animal, repeating the positive reinforcement.
Practice
Practice this routine every day for 15 minutes and slowly edge closer to the animal. After several days of the above routine he will be able to get closer to the animal before displaying signs of aggression. Continue with this routine every day until you can walk him within a few feet of the caged animal without him trying to attack them.
Lose the rewards
As he becomes totally calm even when he is close to the animal (which may take several weeks), slowly reduce the frequency of treats. Continue with this until no longer needs the promise of food to behave around small animals. Do not let him off the leash or out of his muzzle until you are fully confident he won't lunge towards any animals. It may take many weeks but this rigorous training will slowly break his bad habit, so be patient!
Preparation
Take a bag full of treats and take him into a quiet room, free from distractions. You are going to teach him to fall to the ground as soon as he displays signs of aggression. This will also cement your position as the pack leader and increase the control you have over him in other aspects of his life.
'Down'
Hold a treat in front of his nose and firmly say "down". Don't shout at him, as you don't want to scare him, but ensure he knows you mean business from the tone of your voice.
Guide him
Lead him to the ground and reward him with the treat as soon as he lies down. You may need to encourage him the first few times by gently pulling his legs down, but he will soon catch on. It is important he gets the reward as soon as he lies down, so he associates the food with the behavior. Practice this training every day for 10-15 minutes until he becomes a 'down' pro.
Introduce distractions
You now need to practice the training even when there are distractions around. You can use a small cuddly animal toy, another dog on a leash or even a family member. Just have him walk 10 yards away from you and have your dog lie down as soon as he shows signs he want to run over to them. Keep practicing this and rewarding him until other dogs and people can walk closely by and he'll still drop to the ground.
Cement control
Slowly reduce the frequency of treats when you are confident you have cemented your control with 'down'. When he still responds to you even with distractions around, you can cut down on treats until he drops without the promise of food. Keep him on a muzzle for the first few walks, but when you feel confident that the 'down' control always works, you can lose the muzzle and leash too.
The Focus Training Method
Head out
Take a hand full of treats and head out to a quiet field. You are going to train him to frequently be looking to you and to quickly come running to you when called. If you have total control over him you can stop him dead in his tracks as soon as he even looks at a small animal.
Cue
Make a sound, such as a whistle or a clicking sound. This sound will be the cue for him to look at you and return to you, so pick something you can use with ease whatever the situation.
Reward
As soon as he looks at you and comes over to you, give him a treat and shower him with praise. It is important he receives the treat as soon as he looks at you so he associates the reward with the behavior. You may need to be patient the first few times, so don't worry if it takes 30 seconds before he focuses his attention on you, he will quickly pick it up.
Practice daily
Practice this training everyday for 10-15 minutes. It is important you religiously practice this training until he quickly responds to your sound. As you become confident he is getting the hang of training, introduce distractions such as other people and then a pet he is already familiar with. You may want to keep him on a long leash to start with, or a muzzle.
Cut down on treats
Once he responds to your sound every time, even with serious distractions around, slowly reduce the frequency of treats. Continue reducing treats and rewards until he comes to you without the promise of food. When you are fully confident he will respond, you can lose the leash and muzzle when you are out on walks.
By James Barra
Published: 11/06/2017, edited: 01/08/2021
---