How to Train Your Dog to Not Lick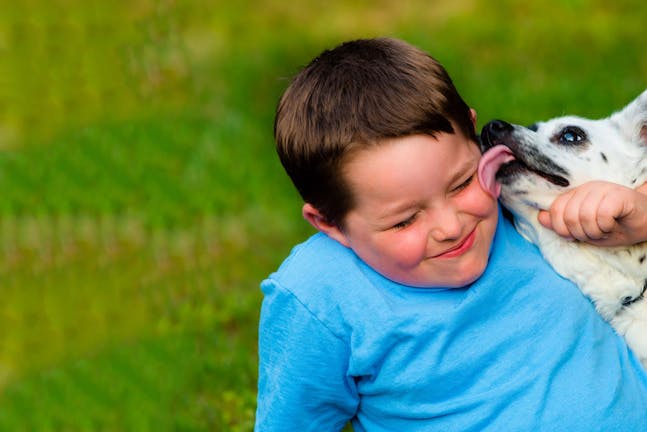 Introduction
The behavior of a dog licking is very natural. When they are puppies, dogs are licked by their mothers to encourage movement, to show love, to keep them clean, and to provide affection. Dogs grow up using their mouths to explore the world. If your dog licks your face as he greets you, it is because he is saying hello in the way that is most natural to him. Your skin is soft and smooth, which is comforting for your dog. Your skin may even taste salty and yummy for your dog, as much as it may be annoying to people.
Top
Defining Tasks
Dogs also naturally lick their own wounds to encourage the healing process. Dogs will lick their paws excessively or their skin excessively to groom, clean, and to feel better. Excessive licking can not only be annoying to watch and hear, but it can also pose problems on your dog's skin. Licking wounds could cause potential bacterial infections or even pull stitches out if your dog has had recent surgery. Licking a paw excessively could indicate an injury you may know nothing about. At the same time, obsessively licking an injury could cause more damage.
Once you know your dog is safe, not injured, and only licking because of habit, you may want to begin to correct compulsive licking.
Top
Getting Started
To ensure your dog is not licking his body excessively for medical reasons, be sure to have your dog evaluated by your veterinarian. Your veterinarian can check for things such as hay fever and allergy-related skin conditions. You can also talk about obsessive-compulsive disorders such as stress and separation anxiety.
Once your dog is cleared medically, if he is licking you to provide sweet puppy kisses or licking his body simply as a compulsive behavior you can address these problems with some retraining, positive reinforcement, patience, and lots of treats. Licking is a habit that takes time to forget. It might take your dog several weeks to forget this bad habit and replace it with a new habit.
Top
The Kisses Greeting Method

Turn away
If your dog is used to licking you as a greeting, turn your face away to encourage the dog not to lick your face.
Reward
The moment your dog's tongue is withdrawn and away from your face, offer him a treat and attention by way of petting.
Offer alternatives
You can train your dog alternative ways of greeting such as the "give me your paw" command or a "sit" command, so you have a chance to pet and greet your dog without being licked in the face.
Practice and reward
As you are training these commands, turn your head away from your dog's face any time he tries to lick you. Once your dog pulls his tongue in and away from your face, give him a treat and some affection by way of petting.
Reinforce
Over time, your dog will be used to an alternative greeting such as remaining calm with his tongue in his mouth or sitting and waiting for a good petting from you.

Retraining
If your dog is always licking his own body, you will need to begin to retrain and provide distractions.
Offer alternatives
When you see your dog licking his paws incessantly, for instance, offer him a toy to chew.
Encourage
While your dog chews on his toy, offer him a petting and a treat for every few minutes he is not licking his body.
Repeat and reward
Repeat this process every time you see your dog licking obsessively. Be sure to reward good behavior with treats when he pulls away from licking his paws or other areas on his body.
Reinforce
Eventually, your dog will find entertainment elsewhere, such as a toy, and recognize the reward in treats when he is not licking obsessively.
Sit
Ask your dog to sit and offer a treat when he obeys. If your dog does not sit immediately, go back and revisit this command with your dog so every time you say the command, "sit," he knows what to do.
Introduce a treat
Holding a treat in one closed hand show it to your dog but don't allow him to eat it.
Introduce command
Give the command, "give me your paw," and wave the treat in your closed hand under your dog's nose.
Wait
Wait patiently for your dog to paw at your hand trying to get to the treat inside your closed fist. Your dog may sniff your hand, but stand firm and wait for that paw to come up to try to open your hand to release the treat.
Reward
Once the paw comes up and touches your hands to release the treat, tell him good boy, open your hand, and allow him to eat his reward.
Practice
Practice this several times until you can have an open hand with a treat sitting on top, and when you say the command, "give me your paw," your dog touches your hand with his paw before eating his treat. This training may take several days several times a day to practice, but eventually when you say the command, "give me your paw." your dog should put his paw up in your hand before expecting a treat reward
Add the alternative to your greeting
As part of the greeting process, before you allow your dog to lick your face to say hello, put your hand out and use the "give me your paw" command. Once your dog comprehends the command, use this as a greeting every time you see your dog to avoid the puppy kisses.
Get support
Ask anyone who greets your dog not to allow puppy kisses and face licking but rather to ask your dog to give them his paw as a greeting. Once your dog has been trained to use shaking your hand as a normal greeting, he will expect everyone who crosses his path to shake instead of offering sloppy wet puppy kisses.
By PB Getz
Published: 09/20/2017, edited: 01/08/2021
---