How to Train Your Dog to Not Poop in His Crate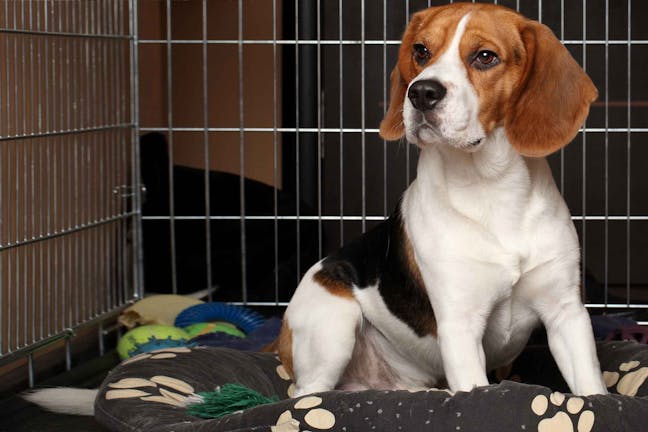 Introduction
You've brought the cutest little puppy into your home, he fits snugly in your hands and he forces even the grumpiest of individuals into a smile. While he is adorable and everything you imagined he would be, you don't enjoy coming downstairs in the morning to the smell of excrement. It just isn't the way you want to start your day! It might be manageable if it was just once in the morning, but when you're regularly greeted by the sight of a stool when you open his crate, then well, something needs to be done.
Apart from the obvious offense to your eyes and your nose, having all that bacteria sit next to your puppy isn't good for his health. Puppies immune systems are vulnerable and having excrement in the place where he sleeps only increases the chance of him contracting an illness.
Top
Defining Tasks
Every puppy goes through a transitional stage when they move into a new home and get used to their crate, so going about his business in there isn't uncommon. Thankfully, training him not to defecate in his crate is relatively straightforward. While you will need to use some straightforward obedience commands, training centers more around adjusting his environment and creating a routine.
Puppies are so receptive when they're young that they quickly get the hang of training and many dogs stop going about their business in their crate in just a few days. Even if he does prove slightly stubborn, you can expect results in a matter of weeks. 
Getting this training right is essential for the health of your dog. You don't want him picking up early illnesses and you definitely don't want the hefty vet bills that come with medical problems.
Top
Getting Started
Before your toilet campaign kicks off, there are several things you will need to get hold of. A leash will be essential as you introduce your dog to his new outdoor toilet. You will also need treats or his favorite food to incentivize and reward him.
A quiet place, free from distractions where he feels relatively comfortable will also be required. You may also need to invest in a new, better-sized crate for one of the methods below and some new bedding.
Once you have collected the above, set aside some time each day and just come with a can-do attitude and you'll be ready to get to work!
Top
The Crate Alterations Method
The right size
Head over to your crate and make sure it is the right size. If his crate is too big then your dog may feel there is enough space to defecate in the corner rather than going outside. The crate should be big enough for him to stand up and turn around in, but it shouldn't be much bigger.
A new crate
If your crate is too big, order a smaller one online or head to a local pet store to buy a new one. Measure the crate before you go and have an idea of what sized crate you need before you head out to make a purchase. Often a simple crate change can stop the habit on its tracks.
Feed him his meals in the crate
This may seem odd at first, but dogs don't want to go to the toilet in the same place they eat. So place his bowl in the crate and leave the door open. It usually takes just a day or two before he will associate his crate with an eating area and will look elsewhere to defecate.
Change the crate bedding
Introduce some new blankets and bedding into the crate. Dogs don't usually like going to the toilet in an area they enjoy sleeping in. If he currently poops and hides it under the bedding, remove the bedding altogether. Not having somewhere to hide it may well deter him from defecating there in future.
Deal with accidents promptly
If he can smell previous stools, he will feel more comfortable going to the toilet there again. So quickly remove him and clean the area thoroughly with antibacterial spray. You don't want him associating his crate with a suitable toilet area.
The Consistent Schedule Method
Meal routine
Feed him meals at the same time each day. By creating a regular schedule, you will be able to predict when he will need to go to the toilet, enabling you to remove him from the crate before he gets a chance to go.
Take him out regularly
This is particularly necessary for puppies who need to be let out every hour if they are under 12 weeks old. It is always worth taking him out within 20 minutes of him eating a meal as this is the time the bowels are stimulated.
Head back home
If they do not go to the toilet as expected, take him in for 15 minutes and then head back out. If you know a number 2 is likely to be imminent, don't be put off if he doesn't go straight away, simply head back out again promptly. It is crucial you always have your dog outside when he needs to go, this will get him into a habit of only going outside.
Timing
As your puppy gets older, increase the time between taking him out. When he is about 6 months old he will only need to go outside every 3-4 hours. Ensure this still ties in with taking him out after meals. This will slowly train his body clock to tie in with your toilet schedule and soon he won't ever need a number 2 when he is in his crate anyway.
Never punish
Don't punish him when he does defecate in his crate. Dogs do not respond well when they are terrified. He may even start defecating in his crate out of fear, so simply take him out of the crate when he does have an accident, clean the mess up thoroughly and return him.
The Postive & Negative Method
Be treat ready
Arm yourself with treats whenever you take him outside. To start with, you need to be prepared to shower him with praise and treats whenever he doesn't go to the toilet in his crate.
Reward promptly
When you're outside, give him a treat within 3 seconds of finishing his business. It is important he gets the treat as quickly as possible otherwise he won't associate the treat with going to the toilet. Also make sure you don't stare at him waiting for him to go, puppies in particular will be nervous to start with and need to feel comfortable to go about their business.
Lose the treats
As he starts to poop outside regularly, slowly reduce the frequency of treats. When you are confident he is getting the hang of the toilet training, it's important you reduce the treats and praise, you don't want him piling on the pounds!
'NO'
When you see him about to poo in his crate, say 'NO' loudly and firmly. Use your body language and voice to convey your disapproval, but be careful not to overdo it, you don't want to terrify him. Only do this if you catch him about to go to the toilet, if you tell him off hours after the deed he won't make the connection between the behavior and your angry response.
React swiftly
Take him out until he has have gone about his business. As soon as he has, be sure to praise and reward him as part of the positive reinforcement outlined in the steps above. Using a combination of both positive and negative reinforcements will quickly teach him where it is and isn't acceptable to go to the toilet. His days of going to the toilet in his crate will soon be over!
By James Barra
Published: 11/06/2017, edited: 01/08/2021
---