How to Train Your Dog to Not Run After Cats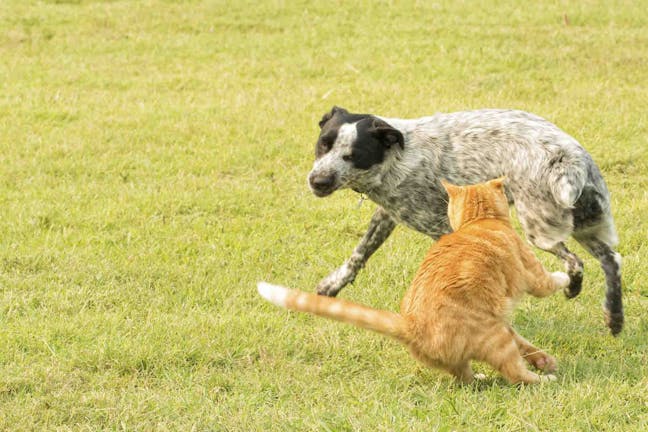 Introduction
Ever heard the expression "fight like cats and dogs"? Does it have to be true? 
No, it doesn't. In fact, many households count both cats and dogs as family members that get along famously, play, cuddle, eat, and sleep together. But the cliche that dogs hate cats and love to chase them is fueled by the fact that dogs who have not been socialized or trained not to chase cats, do have a natural tendency to run after cats, especially if the cat will run away. Dogs are predators that are naturally inclined to run after anything smaller than them that runs away. After all, it might be good to eat. However, this can make you and your dog very unpopular with your neighbor and her cat!  
Training your dog not to chase cats is important if you are introducing a cat into your home, to maintain good relations with your cat-owning neighbors, and to protect your dog from running into hazards while chasing a cat--hazards which include traffic or a cat that chooses to defend itself from unwanted attention. It is also important to protect the cat, who is doubtless someone else's beloved pet.
Top
Defining Tasks
The best way to prevent your dog from chasing cats is to socialize your dog with cats at a young age, so he learns that cats are companions, not prey. If a more mature dog develops the habit of chasing cats, the habit can be harder to break, as it is a behavior that is fueled by natural instinct, and it can be difficult to control the opportunities your dog has to chase cats. You may need to enlist the support of your cat-owning friends to teach your dog that cats are friends, not chase objects. Your goal will be to have your dog either ignore cats, or approach them in a friendly manner, and not to run after a cat even if it flees the scene!
Top
Getting Started
Before training your dog to stop chasing cats, you will need to make sure that there is a safe, controlled environment for your dog and any cats involved in the exercise. A restricted area that your dog can not run from, for example into traffic, is recommended. Also, if your dog has shown aggression to cats while running after them, you should consider making sure the dog can not hurt your feline helper by putting a basket muzzle on your dog for the training session. You can also use a crate to keep your feline assistant safe and give the cat a feeling of protection during training. A long leash to maintain control and treats will be required for some exercises.
Top
The Reinforce Ignore Method
Contain cat
Put your "volunteer" cat in a hard sided carrier for protection. You can give the cat a toy or catnip to keep him happy during the training time. Try to find a brave cat that will not become unduly frightened by an excited dog trying to reach him.
Introduce dog
Introduce the dog or puppy into the room. Give the dog lots of treats and attention to keep him focused on you. Play with the dog and practice obedience commands in the presence of the cat in the carrier.
Discourage unwanted attention
If the dog lunges towards the cat or pays attention to the cat say "no". You can insert your body between the cat and the dog to regain his attention.
Reinforce ignore
As soon as the dog pays attention to you, and not the cat, resume giving attention, play, and treats. Wait until your dog learns to ignore the presence of the cat in the carrier.
Increase access
Start allowing the cat in the room, out of the carrier. Put your dog on a leash and repeat previous steps until your dog learns that ignoring the cat means reward, running to the cat means no reward.
The Desensitize to Cat Method
Set up scenario
Find a safe place, such as inside a house or in an enclosed yard. Attach a leash to your belt with your dog, and have treats available in your hand. Your dog should already have mastered the 'sit' command.
Provide distraction
Have your cat, or a friend's cat, present. When the cat appears, ask your dog to sit and look at you. If your dog sits and gives you his attention, give him the treat. If he does not, pull the dog away from the cat and repeat the 'sit' command. Repeat until you are far enough away from the cat that your dog obeys your 'sit' command, then give a reward.
Close the distance
Repeat this until you can be close to the cat, give the 'sit' and 'look at me' commands and the dog responds appropriately. When the dog starts sitting and looking at you automatically in response to seeing the cat, you can put your dog on a longer, lighter leash 8-10 feet in length.
Provide distance from handler
Attach the long leash to a fixed point and move away from your dog. When the cat comes into view, your dog should sit and look at you. Give your dog a treat if he remains focused on you. If he charges for the cat, go back to the previous step.
Practice off-leash
Take your dog off the leash and allow him to be free in the room with the cat. If your dog sits and looks for his treat, reward him. If he goes back to chasing the cat, go back to the previous step and practice. During the training period, make sure your dog never has the opportunity to chase the cat. This may mean separating them if they live together.
The Negative Reinforcement Method
Set up consequences
If your dog is aggressive towards cats in the neighborhood and there is little opportunity to work on socialization in a controlled environment, you may need to use negative consequences to deter your dog from chasing cats. Fit your dog with a remote training collar and use a whistle.
Set up
Supervise your dog while off leash and near a cat in a controlled, fenced area. The dog should be muzzled and the cat should have an escape route so that the dog can not chase him.
Warn
When your dog approaches the cat, let out a blast on the whistle.
Trigger
As the dog continues towards the cat, engage the shock collar at its lowest effective setting.
Move away
Call your dog back to you. When he returns, walk off in another direction with him. You may need to attach a leash to get your dog to retreat.
Continue negative consequences as required
Repeat this exercise several times, over a period of many days. If the dog responds to the whistle alone, call him and give him a treat for returning to you without chasing the cat. If the dog chases the cat after hearing the whistle, engage the shock collar. Repeat until your dog does not approach cats, indicating he has come to associate cats with negative consequences.
By Laurie Haggart
Published: 11/14/2017, edited: 01/08/2021
---