How to Train Your Border Terrier Dog to Not Run Away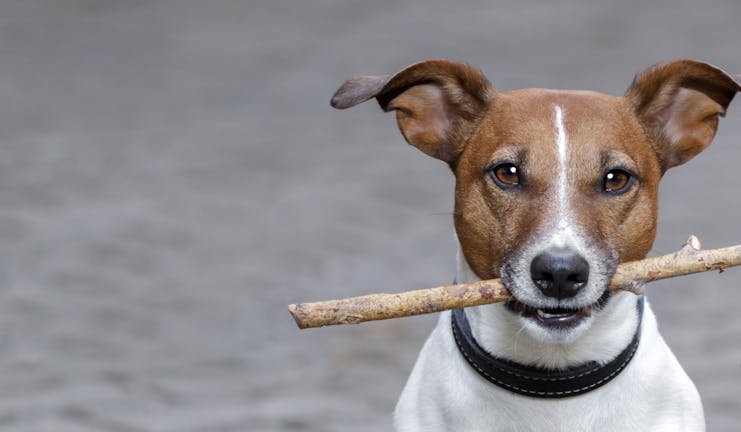 Introduction
Why are Border Terriers so good at escaping?  Border Terriers were bred to hunt vermin. Because of this, they are intelligent problem solvers that can squeeze through tight spaces. All the makings of a good escapee! 
Border Terriers are outdoorsy and highly motivated to investigate squirrels, birds, the neighbor's cat, whatever moves!  So whether your Border Terrier is behind a fence in your yard or out on a walk, he is likely to want to investigate and run after small animals. Because he is a slender-bodied hunter, he is fast--he can be gone before you have time to react--and can fit through small openings in a fence or gate.  
Because they are high energy, independent dogs, many owners of Border Terriers like to be able to exercise their dogs off-leash or let them have outside time in a yard. But because of their natural tendency to become distracted and run away, this can be hazardous if your loose Border Terrier decides to head for the hills!  To make things a little more complicated, Border Terriers are expert diggers, something they developed as a way to go after rodents and other small prey that might hide in burrows or holes. Border Terriers can apply this skill to burrowing under fences--think Steve McQueen in the Great Escape!  So how do you train your Border Terrier not to run away?  
Top
Defining Tasks
When teaching your Border Terrier not to run away, good off-leash recall will be your best tool. Remember, however, that off-leash activity is inherently self-rewarding. If you leash your Border Terrier every time you recall him you are inadvertently punishing him for coming to you. You will want to avoid this--call your dog and reward him with play or more off-leash time, do not always leash and leave an area your dog is enjoying. Establish that coming to you is a good thing, and that you are the pack leader, will be the most effective way to get your Border Terrier to respond to off-leash commands and not to run away.  
By practicing obedience commands and setting boundaries you help establish yourself as the dominant pack member, making your Border Terrier less likely to run away from you, and more likely to follow you or stay nearby.  This is how your dog is wired--to stay with the pack leader. You want your Border Terrier to stay with you when off-leash and obey your recall commands, but also to stay in an enclosed area like a yard or house. This will mean setting some boundaries, teaching your dog to only exit gates and doors when invited, and providing alternatives to escaping and digging behaviors.
Top
Getting Started
Make sure your dog is microchipped or well identified with a tag before working off-leash, in case you accidentally become separated. Ideally, train in a safe enclosed area that your Border Terrier cannot escape from. You will want to use treats to reward not running away, and also provide toys and activities to act as an alternative. Figure out what motivates your Border Terrier and tap into that; does he like to play tug of war with a rag, chew on a Kong or rawhide bone, play fetch? Use these props to provide alternatives to running away.
Top
The Off-Leash Commands Method
Start in safe location
Start a young dog early learning off-leash commands. Practice in an enclosed area where your Border Terrier cannot escape. Start in a small area like a room, then house, then yard, then on walks on a long lead, then off leash
Teach 'come'
Teach your dog to come when called. Call your dog and give her a treat when she comes to you. Once established in a variety of environments, vary providing treats with praise, toys and play.
Teach 'touch'
Teach your dog to run to you and touch your hand with her nose by calling out "Touch". Always provide a high value treat. This is not an everyday command like 'come', which is not always rewarded with a treat. In an emergency situation, you can call out "Touch" and get a more sure response as your dog will always expect a great reward for responding. Also, because your dog actually touches her nose to your hand, she is in close enough proximity to get a grip on a collar and restrain her in a dangerous situation .
Teach 'stay'
Teach your dog 'sit-stay' and 'down-stay'. Provide treats to reinforce. Start in small area and work up to a large area with distractions until reliable.
Practice on and off-leash
Take your dog out on a long leash and provide off-leash commands in the presence of distractions. Reward with treats, toys, praise and play to keep your dog interested and never knowing how she will be rewarded, except for 'touch' which is an emergency recall, and should always be rewarded with high value treat like chicken or hot dogs. Once responding wel,l your Border Terrier can practice off leash.
Provide for needs
Be the leader. Be consistent, firm, and gentle. Make your Border Terrier look to you for direction. Provide exercise, food and toys.
Be interesting
Do the unexpected to maintain your dog's interest. Produce a toy or treats suddenly on walks, or run away so your dog chases you. Be interesting.
Do not inadvertent punish recalll
After recalling your Border Terrier, do not put him on a leash all the time. Instead, provide treats and play; you should only leash him to leave a fun activity once out of several recall events, so your dog does not associate coming to you with leaving a fun activity.
Hide and seek
Play hide and seek with your dog to teach him to look for you. Provide treats and play when your dog finds you. Start in the house, move to an enclosed outside area, and eventually start playing off-leash in open areas.
Do not chase
Avoid chasing your dog or yelling repeatedly to get him to stop running away. This provides weak energy and your Border Terrier will not respond to it or view you as a leader. If your dog is running away, try getting his attention and running the other way. Your Border Terrier is more likely to run to you and see what is happening then you are likely to catch him if he runs away.
The Set Boundaries Method
Own exits
Teach your Border Terrier to respect exits. Never let your Border Terrier proceed you out of a gate or door. If your dog rushes to a door when it is open say "No", or "Stop", put your body between the door and your dog. Physically block your dog--own the space. Wait.
Reward waiting at exits
When your dog backs away from the exit, say "good" and give him a reward.
Invite through exits
Teach your dog to follow you out doors and gates, not to go in front of you. Call your dog through the door and reward him. If your dog tries to precede you out of the door, correct him, make him wait, then call him out the door for praise and a walk or play.
Direct digging
Supervise your Border Terrier in an enclosed yard. When he starts investigating the fence or digging near the fence, call him and provide an alternate behavior. Teach him to dig in a specified area of the yard to find a toy. Fill a hole with sand and a toy and let your dog uncover the toy as a reward for digging in his designated spot, not near the fence.
Stimulate
Provide stimulation for your Border Terrier when loose in a yard, such as toys, chew toys, and puzzles to distract him from investigating the fence for opportunities to escape.
By Laurie Haggart
Published: 01/19/2018, edited: 01/08/2021
---