How to Train Your Dog to Not Run into the Street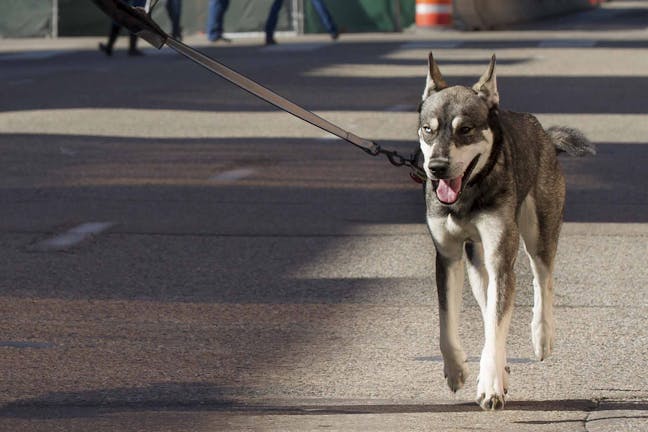 Introduction
Every year,  over a million dogs are hit and killed by motor vehicles in the US.  Many more are hit and severely injured. The tragedy and trauma experienced by families who lose a pet to being hit by a car is not something any pet owner should have to experience. Even dogs that survive such an encounter can end up with lifelong impairments, and cost their owners thousands of dollars in veterinary expenses. 
The problem is, dogs are not born with any instinctive fear of vehicles, they do not know what a road is, as opposed to a sidewalk, and there is little to naturally deter them from running out onto a road, unless specifically taught not to do so. While the safest method to prevent your dog from running out onto the street is to keep your dog on a leash, even the best-laid plans can go awry. Leashes break, yard gates get left open, people accidentally drop leashes, knots come untied, there is a myriad of ways your dog could be put in a situation where he is free to run into traffic. So, teaching your dog not to run into the street, even if you always keep him on a leash, is a great idea to prevent the unthinkable.
Top
Defining Tasks
Training your dog to avoid roadways should be done as early as possible. Puppies are unpredictable and can be easily distracted chasing a ball or squirrel out onto a roadway. Adult dogs that have not developed a healthy caution of roadways should also be taught not to run out on the road. This is a critical safety issue for your dog. There are several exercises that can be used to gain control over your dog and prevent them from running out onto the street, which include teaching your dog to distinguish the street from the sidewalk and providing alternate behaviors and off-leash commands.
Top
Getting Started
You will need a leash and a relatively safe roadway, in a quiet neighborhood, with little traffic to ensure your dog's safety during training, and some time to walk your dog and expose him to streets and traffic. As an added benefit, all that exercise will be good for you, your dog, and your relationship! You can work on leash walking manners while you are at it, teach your dog to heel, and practice being in control around other dogs, people and new experiences. You should take along some treats to reward your dog for obeying commands and following your directions. If you are in a rural setting, or in a situation where your dog could be unsupervised with access to streets, you may choose to create a negative association with a shock collar and whistle. Read all instructions with a shock collar to ensure you understand its correct usage.
Top
Stop at all curbs
Take your dog out on a leash in a relatively quiet neighborhood with little traffic. Whenever you come to a curb, stop.
Have dog sit at curbs
Tell your dog to 'sit' and and wait for him to sit and to look at you. If your dog knows the command for 'look at me', you can give this command. Give your dog a treat for stopping, sitting, and waiting.
Attach a command to proceed
When your dog is sitting and looking at you, and when it is safe to do so, give a command to proceed onto the roadway, such as 'let's go'. Avoid using just "go" as it sounds a lot like "no" and can be confusing for your dog.
Establsih stopping and proceeding
Step off the curb and cross the road. Repeat this exercise multiple times over several days. Gradually move to areas with higher traffic. This will help your dog become aware that a street is different from a sidewalk, and he they should only go on the road when commanded to do so.
Teach commands at distance
Start having your dog wait at the curb. Do not give the 'proceed' command, instead tell him to 'wait' or "'stay' while you step out onto the street. Do this while there is no traffic around. Cross the street and and return, reward your dog, then give the command to proceed. If your dog steps out on the street without being commanded, say "no" and take him back to the curb and start again. This teaches your dog that they are not to go out on the road unless they receive the command, even if you are across the road.
The Control Commands Method
Teach 'come'
Teach your dog to come when called. Call your dog and give her a treat when she comes. Eventually, you will not give treats to your dog for coming to you, but will provide praise.
Teach 'touch'
Teach your dog to come and touch your hand with her nose by calling out "touch". Always provide a high value treat when performing this command. Do not use this command as often as 'come', which is for everyday use, and is not always rewarded with a treat. In an emergency situation you can all out "touch" and get a more sure response as your dog will expect a tangible reward for responding. Also, because they actually touch their nose to your hand, she is in close enough proximity for you to get a grip on a collar and restrain her in a dangerous situation, such as when noisy traffic is nearby.
Teach 'down'
You should also teach your dog to go 'down' from a distance. Working in an enclosed area, free from hazards, while off-leash, teach your dog to lie down. Reward her with a treat when she performs this task at a distance. Add distractions such as other dogs, throwing balls, etc. and give the 'down' command, so that your dog learns to respond to this while off-leash, even when distracted.
Use long leash
Use a long leash, 20 feet or more. A flexi leash may be useful. Walk your dog in a relatively quiet, safe neighborhood. Let your dog approach a roadway or street. Give the command to 'come', 'down', or 'touch', before he steps out on the road. Reward your dog for responding.
Establish
If your dog goes onto the road without obeying your command, say "No" firmly. Use the leash to restrain your dog, repeat the command until you get a positive response, then reward to reinforce the response to the verbal command. Repeat these exercises over several days to establish good voice control over your dog that can be applied even when off-leash.
The Negative Reinforcement Method
Set up negative reinforcement
This may be necessary for dogs that are in an environment where unsupervised access to roadways is more likely to occur, such as for rural dogs. Fit your dog with a shock collar and have a whistle on hand. Supervise your dog during training while off leash near a quiet roadway where there is no traffic.
Warn
When your dog approaches the roadway, let out a blast on the whistle. If the dog comes to you or avoids the roadway, give your dog a treat.
Trigger
If your dog proceeds out onto the road, activate the shock collar. Shock collars should be adjusted to the minimum setting needed to elicit a response.
Retreat
Call your dog back to you, away from the road.
Repeat negative association
Repeat this exercise multiple times over a period of several days. Avoid allowing your dog access to the roadway during the training period when he could wander onto the road without receiving a negative association, which will confuse and slow down training, or worse-- when he could be struck by oncoming traffic. Repeat until your dog does not approach roadways, as he will have come to associate streets with negative consequences.
By Laurie Haggart
Published: 11/13/2017, edited: 01/08/2021
---