How to Train Your Dog to Not Walk in Front of You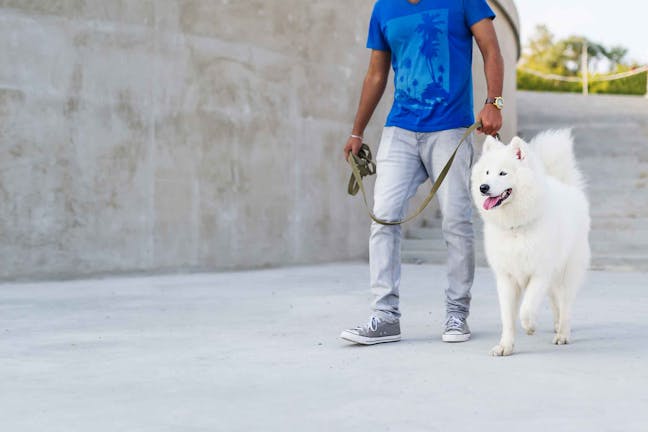 Introduction
Anyone who owns a dog knows that regular walks are a large source of enjoyment for both you and your pooch. Not only do walks enable you and your canine buddy to get a much-needed dose of fresh air and critical exercise, walks also strengthen the bond of friendship between pet and their human. Most dogs we've known can barely contain themselves when the word "walk" accidentally slips in a conversation and we won't even mention what happens when the collar and leash come out.
Given the fun and beneficial nature of walks, it's important that they remain productive and stress-free to both dog and owner. Teaching your dog to not lead the way in your daily walk is helpful for safety reasons, as well as useful for avoiding obstacles, allowing the human to control interactions with other dogs and establishing the owner as the pack leader who provides guidance as to route choice. Good thing for dog owners, teaching your dog not to walk in front of you is also a relatively simple training task!
Top
Defining Tasks
Whenever you set out to teach your dog to "not" do something, owners should realize that dogs have a hard time understanding the word "no" without context. If you want to teach Fido to not walk in front of you, instead of making them stop the behavior, your goal should be to teach alternate behaviors instead. This positive reinforcement method is useful for cementing behaviors in your dog's brain, teaching your dog how to learn generally and improving morale for both humans and canines by making training sessions more about fun and less about yelling "no" or "don't do that" repeatedly.
Top
Getting Started
Before setting out on your first walking and training adventure, you and your pooch are going to need a few basic supplies. A sturdy collar and leash are essential in any outdoors training activity, especially one involving walking. Even if you walk your dog off leash, you should teach new behaviors on leash to help avoid distractions. A flat buckle collar and appropriate length leash should work well for you and your pooch.
You will also want to acquire a treat pouch and fill it up with plenty of tasty, bite-sized treats. The pouch should fasten easily to your belt or waist to allow for easy access when you're juggling the leash in your other hand. Treats should be no more than a bite to allow for quick eating and so that your dog doesn't get filled up and uninterested before your walk is over. Once you've rounded up these items, it's time to choose your method of teaching your dog to not walk ahead of you.
Top
Start out on the left foot
Teaching heel is a great behavior and keeps your dog positioned at your side during walks instead of out ahead of you. Start off with your dog sitting down on your left side. Hold a treat in your hand and start walking forward, luring your dog with the treat to follow.
Praise and treat
Once your dog has followed for a few steps, release the treat and praise your dog.
Repeat and add cue
Repeat holding a treat in your hand and having your dog follow until they are doing this reliably. At this point, add in the 'heel' command, saying 'heel' when you drop your hand with the treat and start out walking.
Lengthen and strengthen
Begin to lengthen the amount of time your dog walks alongside you after the giving the heel command until you provide the treat. Start out with several paces and work up to 10, 15 and 30 seconds and then a whole minute. Very slowly, over multiple sessions, increase the time.
Remove the lure
Once your dog is solidly staying by your side, remove the treat lure and use only the command. If need be, go back a step or shorten the time if your dog seems confused or regresses. Practice in varying locations and you'll have a heel-tastic dog that doesn't walk ahead of you in no time.
The set up
'Watch me' is a great command to help teach your dog not to walk ahead of you since they'll have to turn around to watch. Dogs will naturally fall to your side and not head out on their own. Start by finding a quiet spot to train and gather plenty of treats.
The lure
Show your dog a treat and slowly bring it up to your face until it is between your eyes. Hold the treat there until your dog makes eye contact. Immediately praise and treat.
Work in the cue
Repeat step two, bringing the treat up in between your eyes until your dog is reliably making eye contact to get the treat. At this point, add in your cue word, "watch."
Solidify the cue word
Repeat using the cue word and the lure. Eventually, begin to remove the lure and use the cue word sporadically on its own. Continue doing this until your dog is reliably making eye contact when you say watch.
Prectice
Repeat using the cue word, interspersed with the lure, in multiple locations to strengthen your dog's response. Start working in the watch command when you're walking with your dog by your side to keep them engaged and interested in you and not out ahead.
The Red Light Green Light Method
Find the right walking spot
Start out training this behavior in a quiet, familiar area to help avoid distractions. The more your dog focuses on you, the easier it will be for them to learn and process your commands.
Getting ahead of your pooch
While at a stop, throw a small treat on the ground as a distraction. When they've eaten it, start walking slowly in a direction that puts you in the lead ahead of your dog. Your pup will quickly follow behind you.
Be a tree
Walk at a normal speed as long as your pooch is at your side or behind you. The moment they start walking ahead of you stop. Be careful not to pull back. You should aim to be a tree. Your dog may act frustrated at first, but eventually they will either come back to you or lose interest and sit or lay down.
Move out
As soon as your dog is either still or by your side, start walking again. Keep walking slowly until they move ahead of you. Treat your dog occasionally if they stay by your side while walking and don't forget to praise.
Repeat, repeat, repeat
Repeat steps 1-4, slowly increasing distractions and length of time. If your dog seems to regress, don't panic, simply move back to a calmer, more familiar environment. Your pooch will be a walking pro in no time.
By Amy Caldwell
Published: 10/17/2017, edited: 01/08/2021
---