How to Train Your Dog to Not Whine When You Leave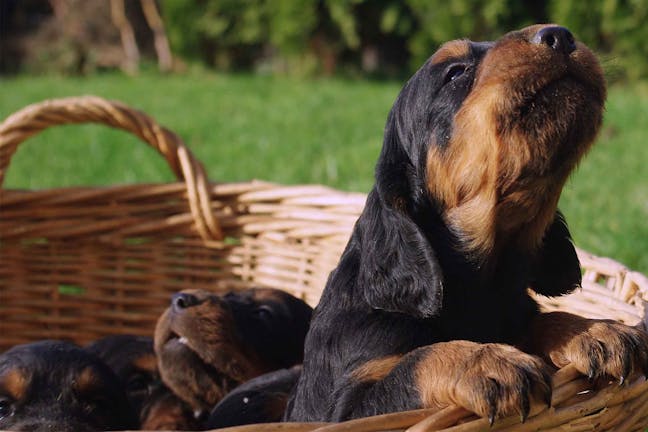 Introduction
If your dog whines when you leave, loiter outside the closed door and listen for a while. Or, if in doubt, ask the neighbors what happens after you're gone.
If the dog whines but soon quiets and settles down to sleep, then your work is done. He's already learned that crying isn't rewarded (you don't come back) and after a brief whinge, he stops. This is an acceptable state of affairs because interfering could backfire badly and make him cry more.
However, the alternative scenario is the whine is just the beginning, and after you are gone the whine gets louder and crescendos into a full-scale howl or bark. You wouldn't be the first pet parent who has a dog that suffers from anxiety in your absence and makes a noise in order to call you back to end the isolation.
This is a worry for the wellbeing of your best buddy, but it's also bothersome to those in adjoining apartments. To keep the peace, you need to know how to train your dog not to whine when you leave.
Top
Defining Tasks
You can teach a dog the "Quiet" command, but this may only quiet him while you leave and after you're gone he may resume barking. Instead, it's best to create a new way of being alone where the root cause of the whining is addressed by teaching the dog to be content when alone.
This can be difficult to do since the behavior may be deeply ingrained and, in some cases, prescription medication from the vet may be necessary. However, if the dog has merely gotten into bad habits, then there are steps that will quiet him.
Be aware that accidentally rewarding the whining will reinforce the behavior. Thus it's important to ignore the dog when he makes noise, so he learns it is of no benefit to him. The other side of the coin is to respond and praise the dog when he is being actively quiet, so he learns this is a good thing to do.
Some dogs learn to deal with separation better when crate trained. If your dog is otherwise calm then consider this. However, if your dog's whining spirals into chewing and destructive behavior when you're gone, he may become unduly distressed by being confined and it may make matters worse. If in doubt, consult a qualified animal behaviorist.
Top
Getting Started
Get set for success by equipping yourself with the following:
A crate: Crate training can provide a sense of security that comforts the dog when you aren't there.

A super-tasty, long-lasting treat or a puzzle feeder: This is to occupy the dog and distract him while you leave so he doesn't notice the moment of departure.

A TV or radio: The volume left on low can work wonders for some dogs.

A special toy: This is given to him when you leave and removed when you come home. This is the doggie equivalent of having a written note saying you will return.

Top

Shake things up
Before leaving, you tend to do things in the same order, such as putting on your shoes and coat, reaching for the car keys, and picking up your bag. These act as cues, which tell the dog it's time to start whining. Instead, throw him off the scent by doing things in a different order.
Desensitize him to leaving
Again, try wearing your shoes in the house (so he doesn't only link them to being left) or walk around holding the car keys. The idea is to break the link between the keys and leaving, so he take these things in his stride and ignores them.
Short abscences
Practice leaving him for ultra-short times - such as putting the rubbish out. Only come back in when he's quiet, so you reward the silence.
Don't make a fuss about leaving
Drop the habit of reassuring the dog you'll be back soon. The dog will all too easily read this as he's right to be concerned because you're about to go. Instead, be totally nonchalant and ignore the dog when you go...and return.
Low-key reunions
Don't make a big thing about coming back, In fact, don't immediately greet the dog but putter around while ignoring him, until he's calmed down. This reduces the significance of comings and goings, making him less likely to whine when you go.

Quiet place
Set up the dog's bed or crate in a quiet part of the house. The idea is for him to have a safe place he feels secure and won't be disturbed by outside noises.
Pheromone therapy
Plug in a DAP (Dog Appeasing Pheromone) diffuser beside his bed. This gives off soothing hormone messages that keep the dog chilled
Draw the curtains
A dark environment is calming. It also muffles noises from the outside world that make him reactive.
White noise
Leave a radio or TV on with the volume low. This provides a blanket of noise to quiet him.
Ultra-tasty treat
As you leave, give the dog a long lasting ultra tasty treat (One that is safe in your absence, such as a Kong stuffed with peanut butter). This distracts him so he's too busy licking to whine when you leave.

A tired body
Some dogs whine when left because they have plenty of energy and would prefer to go with you, for a walk. Make sure the dog is pleasantly tired when left, by giving an appropriate amount of energetic exercise.
Exercise before you leave
In addition, consider walking the dog immediately before you leave. When he returns home tired he's more likely to snuggle down for a snooze than complain he's left behind.
Mental exercise
A bored dog may whine when left, after all, it's going to be pretty dull when you're gone. Instead, make sure he has plenty to keep his mind occupied during the day, so a break is a welcome relief. Training is a good mental workout, as is giving his meals in a puzzle feeders. Also be sure to play with him and give lots of one-to-one attention.
Daily training
Regular daily training sessions can work wonders, as they also makes him feel more secure and understand you are in control.
An "I will return" marker
Some dogs settle when they understand you're coming back. This can be achieved by giving him a toy that he only has when you're gone and you remove on your return. Since you always come back to retrieve it, the dog waits patiently in the knowledge your intention is to return.
Provide a distraction
Give the dog a Kong, or similar puzzle feeder, stuffed with wet food. This will distract him while you leave, so he doesn't whine. Then hopefully with food in his tummy, he'll settle down to sleep.
By Amy Caldwell
Published: 10/17/2017, edited: 01/08/2021
---