How to Obedience Train a Poodle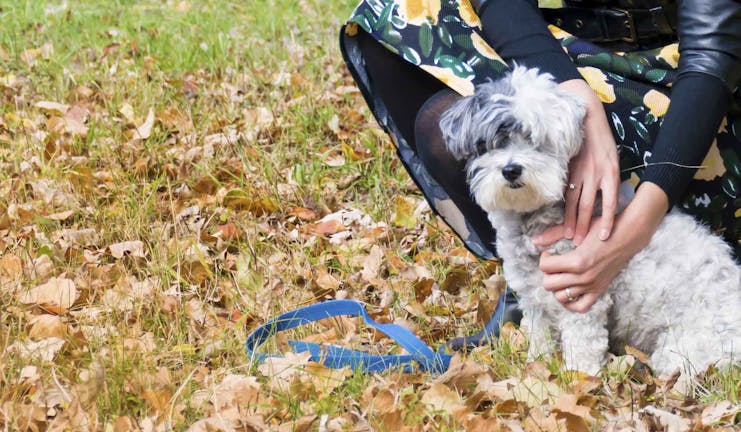 Introduction
Jojo was Grandma's purebred Miniature Poodle. While Poodles have a reputation for being hyper, emotional dogs, JoJo, like all Grandma's previous Poodles, was beautifully behaved and listened well to obedience commands. He was a joy to be around, and great with the grandkids. 
So why do Poodles have a reputation for hard-to-control, excitable dogs?  It all depends on the training that their owners invest in them, and the environment they are raised in. Poodles are very smart dogs, second only to Border Collies, and they are high energy people dogs. This can make them easy to train obedience to, as long as they are kept calm and focused. Poodles do not do well in stressful environments where they can get confused and upset and have trouble understanding what is expected of them. Being firm, calm, and gentle is the key to successfully training your Poodle obedience commands.
Top
Defining Tasks
The basic obedience commands are 'come', 'sit', 'stay', 'down' and 'heel'. You can use the English words, or the equivalent words in any language, it doesn't matter. Your Poodle will not understand the language or the words, he simply learns that when he hears that particular sound he is supposed to run over to you, sit his bottom down, not leave the spot he is in, lie down, or walk next to your left leg at the same speed you are moving. You should provide commands in a clear, firm, voice. Do not yell, as this is distressing to your dog, but make sure you speak clearly so your dog can hear you. Many owners find it useful to add hand signals as well as verbal commands to obedience behaviors. Hand signals give you an alternate way to command obedience and can be used when your dog is unable to hear you, or when you are trying not to make any noise. A Poodle can start learning obedience commands very young, as a puppy of 6-8 weeks. Your young Poodle may take a while to learn all the obedience commands, but never underestimate your smart little Poodle dog, he may surprise you with how quick he takes to obedience training.
Top
Getting Started
Training your Poodle obedience will require treats and a leash for learning to heel. Be sure to train your sensitive, high energy poodle when you are in a calm, positive mood, and when your Poodle has had some exercise so that your dog is able to focus on training and not be distracted by excess energy or your mood. Always use positive reinforcement, not negative reinforcement, to obedience train your poodle. Keep training sessions short, especially for young dogs, so they do not become frustrated or bored.
Top
The Capture and Shape Method
Start with the simplest command
Have a clicker and treats available. Start with the simplest obedience command for your people-oriented Poodle: 'come'.
Reinforce 'come'
Wait for your Poodle to run over to you. When he does click and treat, say "come". Repeat frequently until your Poodle responds to the command "come". Gradually remove clicker and treat.
Reinforce 'sit'
Wait with a clicker in your hand. When your dog sits down, say "sit", click and treat. Practice frequently.
Reinforce 'down'
Once your dog has mastered 'sit', wait while he is in the sitting position for him to lie down, add the "down" command. Practice.
Reinforce 'stay'
Teach the 'stay' command by saying "stay" waiting a few seconds while your dog is in place, then clicking and treating. If your dog moves, do not click and treat but position your dog again and repeat the "stay" command until your dog is successful at staying in place. Gradually increase length of time required for your dog to stay in place before clicking and treating.
Reinforce 'heel'
Hold a clicker and treats while you walk your Poodle. When your Poodle trots along at your left leg, click and treat. Do not reinforce if your poodle lags behind or pulls in front.
The Lure to Obedience Method
Lure to come
Hold a treat out and call your dog by commanding "come". When your Poodle runs over to you, provide the treat, praise and affection. Repeat often.
Lure to sit
Stand in front of your Poodle holding a treat above and slightly behind his head. In order to reach the treat, your dog will move back and onto his bottom. Say "sit" and provide the treat when your dog sits. Practice frequently.
Lure to lie down
Ask your dog to sit, then hold a treat down on the ground in front of your Poodle until he lies down on the floor to reach the treat. Say "down" and provide the treat.
Lure to stay
While lying down or sitting, ask your dog to "stay". Hold a treat but do not provide it yet. Wait a few seconds, if your poodle remains in place then reward with the treat. If your dog moves, re-position and repeat until he is successful. Gradually increase the time your dog needs to stay in place to get his treat.
Lure to heel
Hold a treat in a closed hand at your side and walk with your Poodle on your left side. Lure your poodle to stay at your left side by letting him smell the treat in your closed hand. Periodically provide the treat as your Poodle walks beside you. Replace with another, hold and continue.
Pair hand signal for 'sit'
Hold a treat in your hand, palm up. With your Poodle in front of you, move your palm up to your chest. As your dog tracks your movement he will tend to sit down. Say "sit" and provide the treat when he is successful. Eventually you can stop using the treat and just say "sit" and use the hand signal.
Add hand signal for 'down'
Hold a treat between your fingers with your palm facing down and your Poodle in front of you. Move your palm down to the floor and say "down". When your dog follows your hand and lies down on the floor, provide the treat.
Signal 'come'
Hold your hands out parallel to the ground straight out from your sides with a treat in one hand. Call your Poodle to come and bring both your hands together at your chest. When your dog runs over, provide the treat.
Add hand signal for 'stay'
To teach your Poodle the hand signal for stay, hold your palm out toward your dog while he is sitting and say "stay". Provide a treat when your dog stays for a few minutes. Gradually increase time, continue pairing the hand signal and verbal command.
Signal and reinforce 'heel'
Tap your hip with your hand while asking your Poodle to heel. Reinforce heeling with treats, praise and affection.
Alternate verbal and hand signals
Gradually practice using either verbal or hand signals individually. Decrease using treats and use praise and affection for reinforcement instead.
By Laurie Haggart
Published: 02/01/2018, edited: 01/08/2021
---