How to Train Your Dog to Only Eat from His Bowl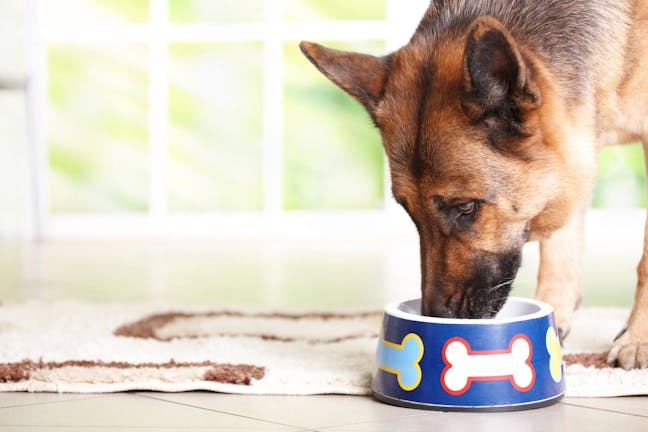 Introduction
You love him, the family loves him and so does anyone that visits the house. Apart from the mother-in-law, but you're secretly quite happy he scares her a tad. However, while your dog is fantastic in so many ways, he does have a rather bad habit. He eats from anywhere and he eats anything. Unfortunately, that includes jumping up at the table to steal food. It also includes eating out of the cat's bowl. Which has meant their relationship has turned somewhat sour.
Training him to eat only from his bowl can only bring benefits. You'll no longer have to keep food high up or in the middle of the table. You'll be able to leave him in the kitchen unattended. Not to mention your cat might become considerably happier. Succeed with this training and the only people that will suffer is your kids when they no longer have a way of discarding their vegetables.
Top
Defining Tasks
Training your dog to eat only from his bowl won't be a walk in the park. It's particularly difficult if his bad eating habits have developed over many years. You'll need to take a number of steps to deter him from eating anywhere else. You'll also need to use obedience commands to regain control and cement your position as pack leader. You'll then need to use food and treats to motivate him to only eat from his bowl in future.
If he's a puppy and the habit is relatively new you could see results in just a couple of weeks. If he's older and been running the show for many years then you may need up to six weeks. Get this training right and you may have a hygienic house where all the pets actually get on.
Top
Getting Started
Before training can start you'll need to gather a few bits. You'll need a nice clean and appealing food bowl for him. You'll then need baby gates, a deterrence collar and a water spray bottle for one of the methods.
You'll need to get your hands on a decent supply of treats, or break his favorite food into small pieces. You'll also need to set aside a few minutes each day to training.
Apart from that, just bring a pro-active attitude and you're ready to get to work!
Top
Baby gates
Fit gates to the kitchen door and anywhere else that food is stored. While you get this habit under control you need to restrict his access to food when you're not around. If he can't get to it, it won't be on the menu.
Deterrence collar
You can pick up remote controlled deterrence collars from a range of online and local pet stores. When you see him going to eat anything that isn't from his bowl, hit the button and an unpleasant spray of citronella will be fired towards his face. This will quickly make him think twice in future.
'NO'
If you do catch him eating something not in his bowl, rush over and say 'NO' in a loud and firm voice. Don't scare him, but make sure he knows he's done something wrong. You can then pull him out of the room by the collar and don't give him attention for a few minutes.
Spray bottle
Carry a water bottle with you at all times. Whenever you see him eating something outside of the bowl, rush over and give a short spray near his face. You can do this at the same time as giving the 'NO' command above.
Move food
On top of the gates, try and keep food out of reach as much as possible. Store it in a high place and don't leave food on the table. If you have a cat or another pet, make sure their food is also not accessible to him. If you follow all of these measures you'll soon break the habit and he'll give up trying.
Routine
Make sure you give him his meals at the same times each day. If you're in a consistent routine he'll know when to expect food and he'll be less inclined to go searching for it elsewhere. As soon as his eating schedule gets out of sync, hunger will drive him to scavenge.
Remove the bowl
When it isn't a meal time, make sure you move the bowl out of sight. You want him to associate the bowl only with food, so don't keep it around when it's empty. He'll quickly realize that if there's no bowl around, then food isn't on the menu.
No feeding at the table
Get the family together for a canine meeting. Make sure you enforce a 'no feeding him anywhere but the bowl' rule. That means no feeding him at the table, no feeding him when you're sat on the sofa. Zero, nothing, not even a crumb. If you can't stay disciplined you can't expect him too either.
Distractions
If you see him sniffing around and heading for food that isn't allowed, distract him. You can do that by getting him to perform a trick. Have him 'sit', 'roll over' and anything else you like. Then afterwards, give him a treat in his bowl.
Exercise
Make sure he gets plenty of exercise each day. It may sound unrelated, but many dogs hunt for food purely out of boredom. If he's knackered because he's been on a long walk, he'll spend the afternoon dozing instead of causing trouble. Alternatively, take him out and throw a ball for 15 minutes. The sprinting will quickly tire him out.
No teasing
Talk to everyone in the house and make sure they don't tease him with food. If you eat your food in front of him while talking to him in a happy, upbeat voice he's not going to be pleased. He'll think he's doing the right thing and still not getting any food.
Bed at meal times
At meal times, make sure he isn't hanging around. Send him to his bed and make sure he stays there for the whole meal. You don't want to encourage any form of begging.
Reward
If he stays in his bed for the whole meal, place some treats or some left over dinner for him in his bowl. Then give him some verbal praise while he eats. You're showing him that the right thing to do is stay away and wait patiently.
Treats in the bowl
You also need to only give him his treats in his bowl. That means no giving him treats out on walks. It also means if he performs an obedience command inside, that instead of throwing him the treat you take him to his bowl and put the treat in there. Follow all of these steps and you'll reconfigure his mindset as to where and when he gets food.
Don't punish him
If you do catch him eating food he shouldn't be, don't punish him. If you shout at him and scare him you may find he becomes aggressive. It's much easier to deal with a dog that eats too much if he's not defensive and potentially dangerous.
By James Barra
Published: 12/05/2017, edited: 01/08/2021
---