How to Train Your Rescue Dog to Pee Outside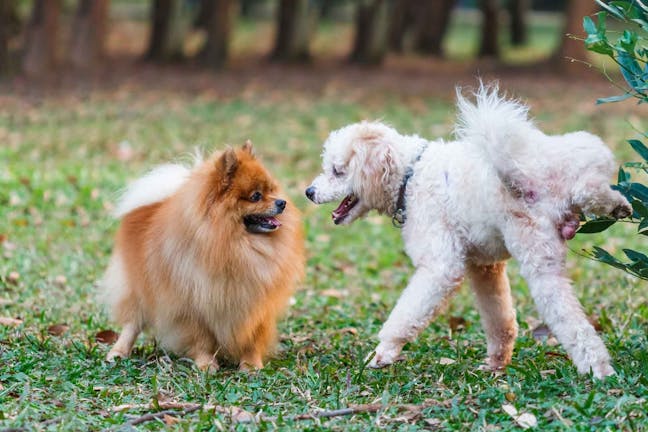 Introduction
If you've got a heart of gold and are looking to adopt a new dog, then you'll be looking to get a rescue dog. Giving a dog in a rescue shelter a second chance is an extremely meaningful and rewarding experience, as you'll be helping with the problem of overpopulation on the streets, and most importantly giving a dog a second chance that they may never have gotten without you. 
However, owning a rescue dog is certainly a challenge. Of course, every dog is an individual and some will be easier to train than others. But as rescue pups are generally not puppies and will likely have an unknown background, they may have been a street dog for a long time and as such will have likely picked up bad habits. As your four-legged friend won't be used to toilet training, it will likely be necessary for you to teach them to pee outside.
Top
Defining Tasks
Toilet training a rescue dog is very important for a range of reasons. Teaching him or her to pee outside is a form of obedience training and as such, if you successfully train them, they will respect you more and appreciate that they need to listen to your commands. Cleaning up pee is an unpleasant experience and if you train them to go outside you'll save a lot of time and expense in not having to clear up after them or buy new items of furniture or clean the carpets. Urine contains a lot of harmful substances such as ammonia and it isn't very hygienic for you or your family to be inhaling those fumes. Exposure can be detrimental to health if urine is not thoroughly cleaned and disinfected--another reason to get your pet to go outside. Also, cleaning up urine is an unpleasant experience and may result in you becoming frustrated with your pooch, without them knowing what they've done wrong. Therefore, training them to go outside can strengthen your bond.
This command can be quite difficult as your rescue dog is likely set in their ways, and although will hopefully only take a few days, it could take a couple weeks for them to learn.
Top
Getting Started
To get going, you'll definitely need a patient but determined attitude, as rescue dogs can be that bit trickier to train than a new puppy with no prior experience of the way the world works. Delicious treats as a reward for going in the correct place are important. Sort out what your pooch's favorites are, however, high-value treats such as chicken, sausage or cheese can be good, as they're extra tasty to puppers. A crate is also a valuable tool for toilet training your pup, make sure the crate is the right size for your breed and weight of pooch. Finally, make sure you also get a hefty supply of potty training pads for your pooch, they should be readily available at your local pet store, they will ensure that the clear up is much easier for you and will help save your carpets from urine staining.
Top
The Smell Association Method
Clean up accidents ASAP
Make sure that if your pooch has an accident, you clean it up straight away with an antimicrobial disinfectant that gets rid of any remnants of the smell of urine. If any trace is left, your pooch will recognize the scent of his pee and want to go there again. Tip: stay away from ammonia-based disinfectants as these smell a bit like pee.
Same urination station
Always take your pooch to the same spot outside, so that he knows that it becomes routine and he remembers this is where he likes to go.
Leave soiled pads at the station
The scent of his old pee will encourage him to go in the same spot again, dogs are creatures of habit after all.
Meet his needs
You'll need to make sure you're taking him out enough for his breed and size; you can't blame him for having accidents if he's not going out enough. Look up how much your type of pooch needs to go out and take him out double the amount to begin with to be on the safe side.
Treat and praise away
Give your pooch lots of treats and tell him what a good boy he's been when he gets it right. If he goes in the wrong place, try not to scare him by telling him off angrily, but disrupt his flow by making a loud noise and taking him outside to the correct place.
The Healthy & Happy Pup Method
Vet visit
First things first, be sure to take your pooch to the vet, to rule out any problems he or she may have. For example if your pupper has a urinary tract infection or kidney disease (more likely in older dogs), they'll be much more likely to pee inside as it hurts and they can't hold it.
Make him at home
Going to a new home is an exciting and frightening experience for new dogs, making them more likely to have accidents initially. Make your dog at home by giving him safe spaces. Also, you could buy a pheromone diffuser, which will remind them of when they were a pup and with their mom, which is likely to calm him down a bit.
Use a crate
A crate can be a safe space for your pup and you can put toilet pads in the crate until he stops having accidents. Pooches don't like to eliminate in the spaces they eat and rest in so they're less likely to go in there.
Let him out regularly
However, he will go in his crate if he can't hold it, so make sure you let him out regularly. How often your dog will need to pee will depend on his breed and size, also on his health status, as if he has an issue with his kidneys he'll need to go more. Make sure the amount you take your pup out meets his needs.
Reward him when he gets it right
Make sure you give him a tasty treat and lots of praise when your pooch gets it right.
Be with your pooch
Take some time off from work if possible, or get a relative or a friend to be with your pooch in the first week at their new home, as you'll want to establish a routine.
Eight bathroom breaks per day
Taking him out more than he needs initially will ensure that your pooch's bladder is never so full that he needs to go inside.
Time the breaks
Time the breaks so that they're all roughly at the same time throughout the day, for example one before breakfast, after lunch, after dinner etc.
Treats and praise
Give your pooch lots of treats and praise when he gets it right to let him know he's been a really good boy. If you're clicker training him, give him a click and a treat at the exact time he gets it right.
Don't punish if you didn't see it
Don't punish your pooch if he's had an accident and you weren't there to witness it. If you catch your dog in the act, give him a clap to get his attention and stop him, then take him outside so he knows this is where he's supposed to go.
By Catherine Lee-Smith
Published: 11/22/2017, edited: 01/08/2021
---