How to Train Your Dog to Play Hide and Seek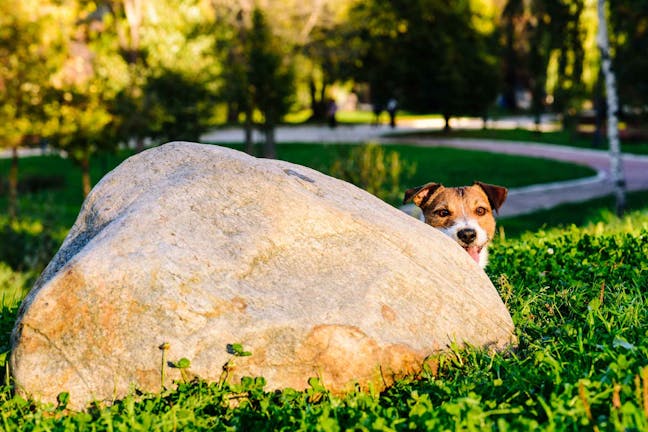 Introduction
You're stuck in the house on a stormy, cold, day and your dog is bouncing off the walls, full of energy and unable to go for his daily walk. What to do to burn off that energy? What about a good old-fashioned game of hide and seek? Not only is this a different and fun game for your dog, but it engages both his body and his mind--your dog will get exercise and he will have to think and problem solve to locate you. An added bonus is that hide and seek engages your dog's sense of smell to locate you. Because humans are not great smellers, this is something we forget is important to our dogs. Letting your dog use his nose is stimulating and fun for him. This game is great for the whole family to participate in, can be played indoors or outdoors, and gives everyone involved lots of exercise and entertainment.
Top
Defining Tasks
Young dogs or old dogs can enjoy playing hide and seek.  You hide and your dog finds you and gets a reward, either a food treat, or a toy, and play. You can teach your dog to find you or someone else by using the command "find" or "search" and letting your dog use his senses, including his nose, to locate the hidden person. Most dogs learn this game pretty easily. Young dogs especially are motivated to stick with their pack leader, that's you, and love to play, so getting them motivated to find you comes naturally. An added bonus is that the hide and seek game is a fun way to teach your dog their name, and 'come to me' commands to strengthen recall behavior.  A dog that thinks coming to you when called is part of a great game is more likely to come to you even when distracted.
Top
Getting Started
Having an assistant to help hold your dog while you hide, unless your dog has very strong "stay" behavior mastered, will be required to teach hide and seek. Part of the game is getting your dog very excited about finding you, so an assistant that can hold your dog on a lead, while excited, and while you hide is invaluable. You can use treats or a toy as a reward for finding you. Make sure you practice in a safe place where your dog can not get hurt or lost if he is off lead, and free from distractions so your dog can focus on finding you. A crowded dog park may not be the best choice!
Top
Let your dog see you hide
This method is good for a young dog or puppy that is highly motivated to know your location. Young dogs are always looking for their pack leader. Have an assistant hold your young dog on a leash. Talk excitedly to your dog while you go and hide behind a tree, bush, or piece of furniture. Let the puppy see you hide.
Reward for find
Command your puppy to "find me". Have your assistant take the puppy off the lead or follow him on a long lead. The puppy will run to you, mostly using his sense of sight, as he saw where you hid. This establishes the game. When your puppy finds you, reward him with praise and play with a toy.
Make it harder
Make the game harder. Increase the distance you hide from him, the complexity of the hiding spots, and do not let the dog see where you are hiding. Let the dog search and use his sense of smell, hearing, and sight to guide him.
Ignore mistakes
When your dog finds you, reward him with play and attention. Ignore your dog when he's off track. Do not punish or interfere with him.
Transfer targets
Have your assistant command your dog to 'find'. Start substituting yourself for another person that hides while you direct your dog to find. Reward your dog for finding the new target while you are the handler.
Find a trail
Find a trail with lots of trees or other obstacles like large rocks or buildings where you can walk your dog. Take an assistant with you. Using a trail serves to direct your dog towards you.
Hide close
Have your assistant hold your dog on a leash while you run ahead down the trail and hide behind an obstacle, like a tree. Don't go too far at first.
Call
Call your dog's name, loud so he can hear it.
Let your dog find you
Have your assistant say "find" or "seek" and let your dog off leash, if they have good recall, or let out slack on a long lead so your dog can run to you with your assistant following behind.
Reward find
When your dog finds you, give him a treat and praise. If your dog goes past you and does not realize his mistake, make a noise, or call again.
Make it more difficult
Continue to practice, increase distance and complexity of hiding spots.
Have assistant direct
Instead of calling the dog yourself, have your assistant command your dog to 'find', so your dog needs to use his nose and searching behavior to locate you and can't use hearing as an aid. Make sure you end the game if your dog loses interest so it remains fun for him.
The Incorporate Play Method
Present toy
If you have a dog that loves to play with a toy, use the toy as motivation for seeking instead of food. Have an assistant hold your dog, show him you have his toy, get him excited about the toy.
Hide
Go hide in another room in the house, or in an enclosed area outside.
Call
Call your dog and have your assistant let him off the leash and encourage him to look for you. If your dog gets really lost you can make a noise or call again.
Play
When your dog locates you, give him the toy play with him for a while.
Make it more difficult
Repeat, making hiding places more complicated.
Have assistant direct
Hide and do not call your dog. Have your assistant tell your dog to 'find' or 'search' and release the dog while you are hidden.
Replace assistant with stay
If your dog is good with a sit/stay command, substitute the assistant holding your dog for sit/stay. Then hide and call your dog so you can play hide and seek without an assistant.
By Laurie Haggart
Published: 10/20/2017, edited: 01/08/2021
---