How to Train Your Dog to Play Tug of War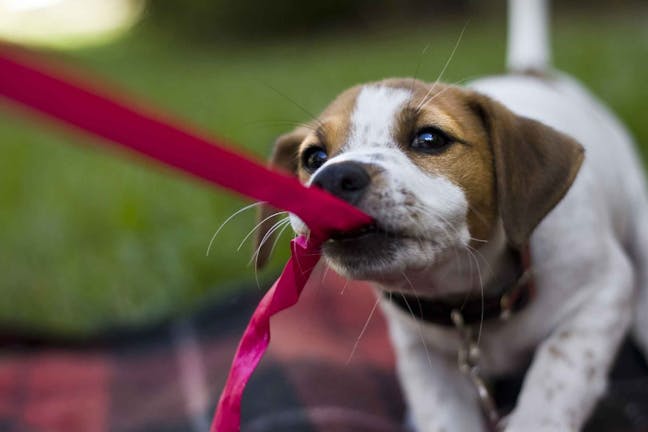 Introduction
You've had a long day at work and as soon you walk through the door, your pooch is leaping up and down trying to get your attention. You can barely sit down, he's so excited. While you're glad he's happy to see you, 30 seconds to gather yourself first would be appreciated. This over-excitement manifests itself in other ways too. He likes to nibble and bite your hands and arms when you play. It started off being cute and humorous, but when he snapped at another dog on a walk recently, you feared the harmless habit has turned into something dangerous. 
If you can train your dog to divert that energy elsewhere though, like into a game of tug and war, you can avoid any biting problems. Not only will it tire him out so he spends more time napping than he does biting, it will also help him understand what he can and what he cannot bite.
Top
Defining Tasks
Training him to play tug of war is nice and easy. The main thing you need to do is get him excited about playing and motivate him to sink his teeth into a toy. Throw in some tasty treats to reward him and he'll be wanting to play tug of war every day. If he's a puppy and full of energy, this could take just a couple of days to teach him. If he's older and not as energetic or switched on as he once was, then he may need up to a week before he catches on.
Get this training right, and you'll have a fun game to play with him, and a great way to tire him out. If walks don't do the trick, then tug of war will certainly leave him dozing in the afternoons. It will also reduce the risk of him excitedly biting anyone and channel his nibbling behavior into something safe.
Top
Getting Started
The first thing you'll need is a tug of war toy. These can be bought online or from a local pet store. If he's big and strong, you may need a heavy duty toy. You can even make a toy out of old clothes, tied together. 
Treats or his favorite food will also be essential for incentivizing and rewarding him. Set aside 5-10 minutes a day for the next few days for training. 
Apart from that, just bring some energy and come in a playful mood and you're ready to begin!
Top
Getting set up
Head to a quiet, large space with your toy, your dog, and some treats in your pocket. You're going to use a verbal command to get the game going.
Hold the toy in front of his mouth
Play with it, dangle it, and encourage him to put his mouth or paws on it. It will also help if you're on your knees at his height. If he's not interested, pull a treat out to get him focused.
'Tug'
As you encourage him to play, issue the 'tug' verbal command. This will be the cue he will learn to associate with the behavior. Ensure you say it in a playful voice, he will pick it up quicker if the thinks it's all a big game.
Wait for contact
As soon as he touches the toy with his mouth, give him a treat and praise. It's important you reward any signs of interest in the toy to start with. As he gets the hang of it, you can begin to play properly.
Consistency and difficulty
Repeat this process, but don't give him the treat until he shows more of an interest in the toy this time. Keep repeating this until he finally starts to properly pull on it. Then give him a treat only when he's really played tug of war for 30 seconds. It may take a few days, but when he's got the hang of it, you can cut down on the frequency of treats. The verbal cue alone at this point will be enough to signal to him what you want him to do.
Play with the toy throughout the day
Before you play tug of war, you need to get him familiar with the toy. So mess around with it frequently and let him get used to it. If you're waiting for the kettle to boil, take it to his bed and encourage him to sniff and bite it.
Find a safe space
After a day or so, take him to the tug of war arena. Try and pick somewhere where nothing is likely to get broken and where there won't be any other pets trying to get their paws in the game.
On your knees
Get down on his level and dangle the toy in front of his mouth. As soon as he holds onto it, gently start to pull it. Keep it upbeat and playful. If it's a game, he's more likely to want to play again.
Reward
As soon as he starts to pull back, give him a treat and lots of verbal praise. It's important he's rewarded as soon as he shows any signs of pulling, this will encourage him to pull it harder later on.
Make it harder
Now start to pull the toy harder and see if he reciprocates. Always make sure you let him win though. If he loses, he will quickly lose the motivation to play again. Continue to reward and praise him until he doesn't need a food incentive to want to play with it.
The Biting Distraction Method
Close monitoring
Keep an eye on his behavior for a couple of days and look for situations that trigger the biting behavior. You're going to distract him every time he bites with a game of tug of war instead.
Introduce the toy
Leave the toy in his bed and play gently with it for a couple of days. You want it to smell like him and be a toy he's interested in playing with and having around him.
React quickly
As soon as he bites, snaps or displays signs of aggression, quickly take the toy to him and encourage him to put it in his mouth. As he does, pull gently on the other side to get the game going. Don't say a word as you do this, you need to be calm, you don't want to encourage his aggressive behavior, just channel it away from other people and pets.
Praise and reward
Once he's played and pulled on the toy for a while, give him a treat and praise. You are reinforcing to him that if he bites the toy he gets food. If he bites anything else, he gets no attention or reward.
Be consistent
You must be there at every situation that he starts to bite. The toy and game must be used consistently, otherwise the habit will take longer to form. Play the game each day and he will soon seek the game out because he knows he gets treats. He'll stop going to bite other people and pets, instead he'll go to find the toy and bring it to you for a game of tug of war. At this point, you can slowly cut down how many treats you give him. One more thing: always let him win. Just like humans, if he wins he's more likely to want to play again!
By James Barra
Published: 10/18/2017, edited: 01/08/2021
---