How to Train Your Dog to Play Volleyball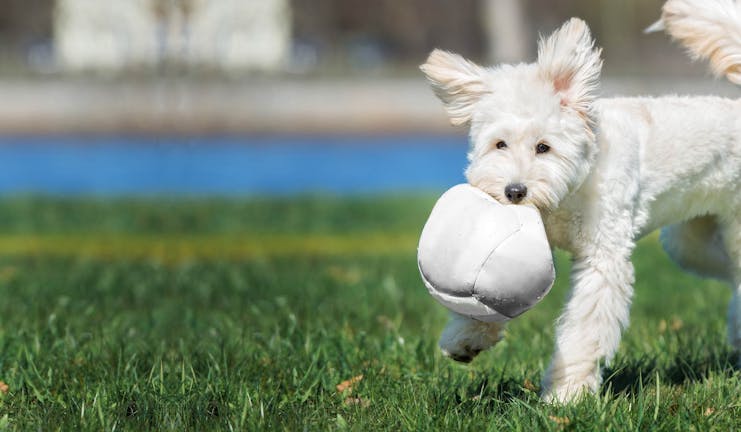 Introduction
If you've got a sporty dog on your hands who loves to learn and is ball obsessed, training her to play volleyball is a fun trick to tackle. You can utilize her natural energy and add an element of mental challenge to play time. Playing volleyball with your dog is a unique way to switch up your daily game of catch and will impress your friends and family.
Once you've mastered basic skills, don't let your dog's training end. Keep her motivated with new tricks and sharpen her mind with challenging skills. Teaching your dog to play volleyball is the perfect next step, and it could become your new favorite game together.
Top
Defining Tasks
Any dog can learn how to play volleyball, but dogs who already love playing fetch and have high energy are the best candidates. If your dog would rather stop and smell the flowers, you might opt for a less demanding trick. However, if your dog has boundless energy and loves nothing more than chasing after balls, playing volleyball might be the perfect activity for you.
There is no way to teach your dog all the rules of volleyball or expect that she'll be spiking your opponent, but you could get her to set up a ball for you nicely or at least get in a few volleys. The most important part is that your dog will get plenty of exercise, both mentally and physically, and you'll get to bond with your dog.
Top
Getting Started
You don't need too many items to teach your dog to play volleyball, but you will need a few things to make training easier and keep things fun. Here is a short list:
An open area to play
Special treats
A foam, playground, or beach ball that is slightly deflated
A balloon
A volleyball net
A good sense of humor
Teaching your dog to play volleyball is an advanced trick, so make sure you already have a good training foundation under your belt. Check out the three training methods below, grab your dog and a volleyball, and soon you'll be volleying with your best friend. 
Top
Choose the right ball
You want to use a larger ball that bounces well. It's a good idea to keep it slightly deflated at first.
Choose an open space
Start in a wide open space with no distractions. This could be your yard or a park without too many people around.
Play with the ball
Start by getting your dog excited about the ball. Toss it and let her chase it. Start to get her energy up.
Toss her the ball
Ask her to sit and walk a little distance away and toss the ball as you say "get it."
Give her praise
When she starts to jump towards the ball or taps it with her snout, give her lots of excited praise and treats.
Volley the ball
Once she understands that you want her to tap the ball back to you, start to be selective with treats. Only treat her for a volley, when she bumps the ball back to you, or for a big jump.
Play volleyball
Eventually the joy and fun of tossing the ball to you will be all the reward she needs. You can work on keeping the ball up in the air for as many volleys as possible.
Pick a quiet but open area
You'll need to start in a quiet area with no distractions. A large living room or playroom is a good start, Make sure there are no electronics or valuables around that could be knocked down.
Introduce the ball
Pick a soft ball with a good bounce. A beach ball is a good bet. Make sure it isn't fully inflated to start.
Reward the bump
Place the ball on the ground and encourage your dog to play. When she bumps it with her nose, give her a treat. Keep practicing until she's bumping the ball across the floor.
Try a toss
Once she knows bumping the ball with her nose is the right action, try tossing the ball to her. Encourage her to reach out and bump the ball with her nose.
Keep practicing
Let her know bumping the ball to you is the right thing to do. When she makes contact, get excited and give her treats. As she starts to bump the ball back, let her know that's what you want.
Encourage the volley
When she's consistently bumping the ball back to you, try to bump it back to her. Encourage her to keep bumping the ball in the air and see how long you can keep the ball from hitting the floor.
Take it outside
Now you're ready to take it outside. If you're feeling ambitious, set up a volleyball net and see if she can hit the ball over.
Start slow
For dogs who might have plenty of energy, but are a little shy or nervous around a big ball, you can start with an inflated balloon.
Introduce the balloon
Start in a quiet place and introduce the balloon as a fun and non-intimidating toy. Make sure you keep it up at eye level and don't give her a chance to pop it on the ground.
Let it drift down
Once she's comfortable with the balloon, tap it into the air and let it slowly drift down. Encourage her to sniff it.
Treat a bump
As she gets curious and taps the balloon with her nose, give her a treat and let her know that's what you want.
Encourage bigger bumps
Up the excitement now. Encourage her to bump the balloon back in the air and get excited when she does.
Introduce a larger ball
Once she's comfortable bumping and playing with the balloon, you can introduce a ball. A beach ball usually works well. Let her play with it and get used to it.
Toss it back
Once she's confident with the new ball, up the stakes by bumping the ball back to her after she taps it to you. See how many times you can volley the ball back and forth. Soon any timidness will be forgotten in a fun, new ball-chasing game.
By Katie Smith
Published: 02/02/2018, edited: 01/08/2021
---