How to Train Your Gun Dog to Point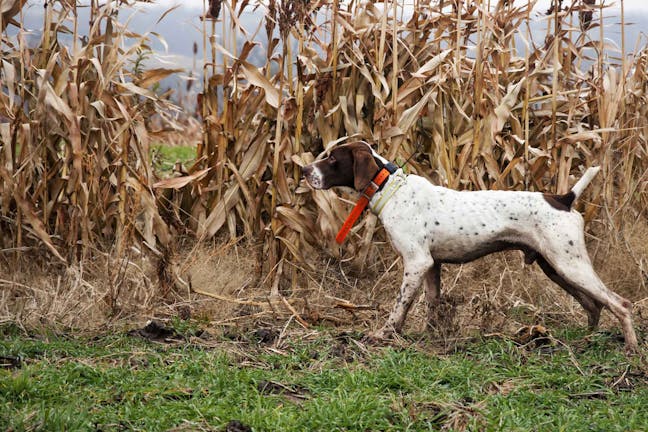 Introduction
Your Irish Setter is happily bounding through the park, getting his morning exercise, his nose lifted in the air investigating the air for scent, when suddenly he freezes, and looks intently into the woods, cocking a front leg and holding motionless. Following his gaze, you notice a wild grouse at the edge of the trees, also frozen still. Both animals are doing what comes instinctively, the pointing gun dog was bred to locate game with his nose and then freeze to direct you to the quarry, the bird is frozen hoping that you won't see him, as his plumage blends almost perfectly with his surroundings.  If only you had a shotgun with you, you'd be eating wild grouse for dinner tonight! 
The pointing behavior is bred into dogs such as the Irish Setter, English Setter, Pointer, and Gordon Setter and these dogs will naturally stop to point at birds, rabbits and all sorts of interesting prey, even butterflies and insects. Training a gun dog to point at the right distance is important, or the animals will "flush",  fly off or run, which will not allow a hunter to get off a good shot at the moving target.
Top
Defining Tasks
Pointing gun dogs were bred to locate game, usually birds, by scent and then freeze so as not to frighten and flush the bird. A pointer or setter then points at the location of the bird with his muzzle and sometimes by lifting a front leg and holding it suspended, pointing at the bird with its leg and nose. 
Teaching your gun dog to point effectively means teaching him to obey off-leash commands, to keep your dog scenting within range, and teaching him to know what distance to freeze and hold position and point at so as not to frighten prey. Sometimes, if the wind is not cooperating, a pointing dog will accidentally bump prey, by getting too close before they pick up the scent and location of game, resulting in the bird taking flight. This may be unavoidable, but you want to train your pointer to search and be alert so as to minimize this happening, and not to be too aggressive or excited so that he gets too close to quarry and frightens it. The goal is to "set" the game, causing it to freeze, in order to avoid detection, so that hunters can get an accurate shot at a still target. Sometimes this means teaching your gun dog to overcome his natural inclination to catch the prey himself. Even once the prey breaks, you will want your gundog to hold position so as not to get in the way of a shot. Verbal commands such as "whoa" are often used to teach your gun dog to hold position and point at prey. While young gundogs can and should be exposed to outdoor environments where they can practice pointing, the discipline needed to hold point may need to wait until the dog is more mature.  
Top
Getting Started
To train a gun dog to point in the field, experience is necessary. There will be a lot of trial and error, so be prepared and patient. If your dog prematurely flushes game, you will have to stop and correct your dog if you want him to learn--you will not be able to pursue the hunting opportunity, retrieve a downed bird and train your dog all at the same time. Instead, be prepared to relinquish the opportunity for the sake of correcting your dog. Time will be involved. Be prepared, it will pay off in the long run as a well-trained pointer/setter is a valuable hunting companion. Training your dog to be familiar with the outdoors and follow off-leash commands is important so as to avoid losing your dog, or having your dog run wild scaring everything in sight!
Top
The Learn as You Go Method
Expose to outdoors
Take your young gun dog out frequently on excursions outdoors. Let him investigate with his nose and point at whatever takes his interest. At first this may be squirrels, butterflies even small insects.
Teach commands
Teach off-leash recall and obedience commands; get your gun dog used to obeying even when distracted.
Expose to game
Take your gun dog out into locations where there are birds present.
Correct dog
If your dog freezes and sets a bird, harvest game and praise your dog. If your dog rushes, bumps or flushes the bird, stop hunting. Go get your dog or recall him. Bring him back to the spot where he located game and tell him to "whoa". Make him stay still in the correct spot where he should have stayed frozen to avoid flushing the game. Reward your gun dog after an appropriate amount of time for staying at the correct point location.
Practice
Repeat frequently, correcting when the dog bumps or flushes game, rewarding for setting up game.
Rig check cord
Attach a check rope, available at an outdoor sport store or gun dog supply store, to your dog's collar. Run it down his side under his belly and up over his back, slide the end of the cord under itself on your dog's back. This forms a half hitch, leave the tail of the rope dragging behind. When you pull on the tail end, the loop will tighten on your dog's flank.
Pair 'whoa' with check cord
Walk forward with your dog nearby, say "whoa" and step on or pick up the tail of the rope to make your dog stop. Make him stand for a period of time. Start with short periods of time, several seconds, and work up to longer time periods.
Expose to game
Once established, take your dog into an environment to practice where prey is present.
Check near game
When your dog scents and points at quarry, say "whoa" loud enough for your dog to hear, but not so loud as to frighten game away. Pick up the end of the rope to encourage your dog to stay.
'Whoa' to flushed game
Have a partner flush the prey. Your dog should remain in point, if he does, reward him with praise. If he breaks for the flushed prey, pull him back, position him and repeat "whoa". Make him stay in position. Practice often until your dog is responding to the 'whoa' command. Then you are ready to remove the cord.
Stand on table
Start a young gun dog standing still on a table. Praise him and give him treats to teach him that being still is a good thing. Stroke his sides to reinforce further.
Balance on barrel
When the dog is 4 -6 months old, place a barrel on its side, and put your gun dog on the barrel. Hold him and give him support to get his balance. If he moves, the barrel will rock. If he holds still, the barrel remains still. Give the dog treats to reinforce this. Stroke the dog to get him used to being touched while holding still.
Associate command
Start introducing the word "whoa" to associate it with standing still on the barrel.
Practice on ground
Put a check cord on your gun dog and put him on the ground. Ask him to 'whoa'. If he breaks, grab the end of the cord, pull him back and repeat "whoa". Stroke his sides to reinforce standing still in 'whoa'.
Practice on hunts
Start practicing staying still outdoors on walks and eventually on hunts, reinforce 'whoa' and being still.
By Laurie Haggart
Published: 01/11/2018, edited: 01/08/2021
---