How to Train Your Dog to Poop on Newspaper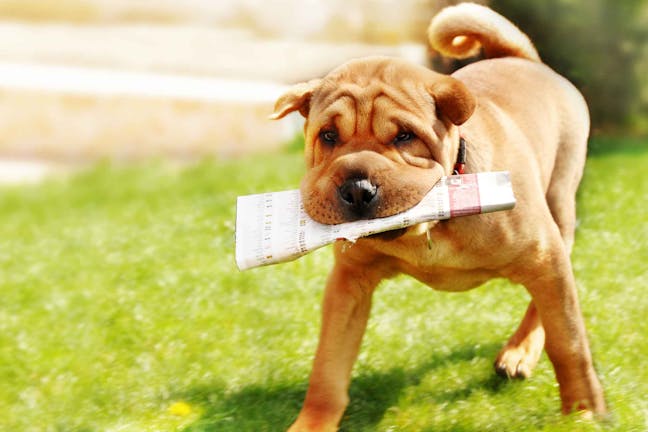 Introduction
In a perfect world, every dog would have easy access to an outdoor yard in order to relieve himself. However, even those dogs lucky enough to live in such a home, still have to contend with rain, snow, and ice when they toilet outside in all weathers. Since this isn't a perfect world, one solution can be to teach a small dog to poop on newspaper. 
Also, pooping on newspaper is one solution for the high rise doggy, living in an apartment block where getting outside just isn't practical. Alternatively, a senior citizen or a disabled person may find the convenience of a dog pooping on paper enables them to keep a dog, whereas the challenge of getting a canine companion outside might otherwise prevent this. 
Whatever the reason, learning to poop on newspaper is a transferable skill, because the dog can be taught at a later date to go on a different surface or an alternative location. 
Top
Defining Tasks
Teaching a dog to toilet on newspaper is part of house breaking. You may choose to teach this skill to a new puppy as his first step in being clean in the house or to an adult dog when access to outdoors is not practical.
In a young dog, you need to be aware of the limitations of the puppy's body, since he may yet have to learn bowel control and how to hang on. For an adult dog, bowel control isn't so much of a problem, and you may wish to add the refinement of teaching the dog to go on command. Again, this is super-useful when time is short and you need the dog to 'perform' ahead of your leaving for work or settling down for the night. 
Whatever your need or reason for teaching a dog to poop on newspaper, know that success depends on how clearly and consistently you get the message across to the dog. If he is struggling and things aren't going well, then take a close look at what you're doing to see how you can be more consistent. 
Top
Getting Started
Teaching a dog to poop on newspaper is not difficult, but does require considerable time and dedication. As well as the basic materials, you'll need to able to spend time supervising the dog so that you are there to praise him at the appropriate moment. 
You will need a lot of newspaper (depending on the size of the room and your puppy!) so ask neighbors to save up their papers for you. 
Newspaper...and plenty of it!
A small room to confine the dog to
A crate
Treats
A treat bag you can wear on your belt 
A collar and leash or longline
Plenty of time and patience
Top
Understand the idea
Puppies have an inbuilt instinct not to soil their nest or near where they eat and drink. By confining the puppy to a room and papering the floor with newspaper, the puppy will pick a toilet spot. You can then reward the puppy for using this spot and slowly remove the surrounding newspaper. Eventually, the puppy learns that pooping on paper is what's required of him.
Set up a room as a puppy den
Choose a small room with an easily washed floor. A small washroom or laundry room is ideal. Cover the floor in the newspaper. Now set up the puppy's bed and toys in one corner, with food and water bowls in the other. Introduce the puppy and make sure he is comfortable and settled.
Reward pooping on paper
When the dog empties his bowel (or indeed pees) praise and reward him. This helps him understand that toileting on the paper is OK. Keep the room clean by immediately removing soiled paper and replacing it with fresh sheets of newspaper.
Watch for a favorite toilet spot
The puppy will get into the habit of toileting in one area, away from his bed, food, and water. Once he is regularly going to this area, start removing sheets of newspaper from the 'clean' area around it. The idea is to leave sufficient newspaper for the puppy to use his chosen spot. Continue to praise and reward the puppy when he uses the spot.
Add a cue word
Now the puppy has learned where to go, start adding a cue word as a command. This will give you some control over when the puppy goes, which can save you a lot of waiting around. Good words to choose include "Toilet time" or "Get busy." As the puppy squats to poop, say the cue word in a happy voice, and then reward him when the task is complete. This builds a link between "Get busy", and the relief of an empty bowel.
Increase the puppy's freedom
Once the puppy is regularly targeting a smaller area of newspaper, you can allow him to roam other rooms. Be constantly alert for signs the puppy may need to go to the toilet, and pop him straight back onto the newspaper and use the cue word. Reward him when he does the job.
The Potty Training Method
Understand the idea
This method works with the puppy's natural urge to toilet, in order to maximize the opportunity to praise and reward the puppy when he goes. In turn, the puppy learns he gets a treat when he poops, which has him saving up his bodily functions to 'spend' it on command for a treat.
Supervise the puppy
Let the puppy play in one or two rooms, so that you can watch him at all times. It can be helpful to keep pup on a collar and leash, attached to your wrist so that you know where he is. At the first signs of sniffing or sidling up to furniture, which could indicate he wants to toilet, pop him onto the designated spot covered with newspaper.
Crate train the puppy
Teach the puppy to be happy confined in a crate, by hiding tasty treats inside the crate. When you aren't able to be present to supervise the puppy, confine him in the crate so that he doesn't toilet where he shouldn't, which can lead to bad habits.
Give the pup plenty of opportunity to poop on paper
By regularly putting the pup onto the newspaper, he will eventually poop there. When this happens, you praise the pup (in a happy voice, but not so excited that it stops him pooping) and then give a tasty treat reward. Increase your chances of success by putting a young pup onto the newspaper every half an hour. In addition, place him there after each meal, as eating stimulates bowel movements. Also, when he's just woken or has spent time in the crate, offer him a newspaper toilet break.
Add a cue word
When the penny has dropped and the dog is looking to toilet on the paper, start adding a cue word such as "Get busy" or "Toilet time." When the puppy links the cue word to the act and understands it earns a reward, it is an incentive to improve his bowel control. In addition, he will learn to poop on command, with is a helpful skill for a dog to have.
The What NOT to To Do Method
Don't free feed
A disadvantage of free-feeding is that makes it more difficult to predict when the puppy needs to go to the bathroom. Instead, make things easier for yourself by feeding at set meal times. The puppy should then need to toilet a short time later, making it easier to pop the pup on paper and score a successful poop.
Never punish the puppy
When the puppy gets things wrong and goes where he shouldn't, never punish him. Shouting or smacking the puppy will only make him wary of you, as he won't link the punishment to the crime (pooping in the wrong place.) The outcome is that he'll be more likely to sneak off somewhere to toilet, rather than go in front of you, which adds difficulty to paper training your pup.
Don't be inconsistent
The puppy will become confused if you don't consistently apply the rules. Unfortunately for you, this does mean dedicating time to watching the pup, so that you can spot the signs of needing to toilet. If you allow the puppy to free range and he toilets where ever he wants, it will take longer to make the link to a specific toilet spot (the newspaper.)
Don't leave the dog unsupervised while out of the crate
When using the toilet training method, don't leave the dog unsupervised when out of the crate. This would allow him to squat where he wanted. The odor from the toilet can get into the flooring and act as a strong 'marker' to draw him back to use that spot again. Should the puppy have an accident, then thoroughly deodorize the spot so that any lingering scents are cleaned away.
Avoid indoor and outdoor training at the same time
If you are training to use newspaper, then stick with this for starters. Now is not the time to teach the pup to toilet outdoors as well because it will only confuse things. Once he is toileting on newspaper or on cue, you can then place newspaper outdoors and use a cue word, then slowly phase out the paper.
By Pippa Elliott
Published: 10/26/2017, edited: 01/08/2021
---