How to Train Your Dog to Protect a Child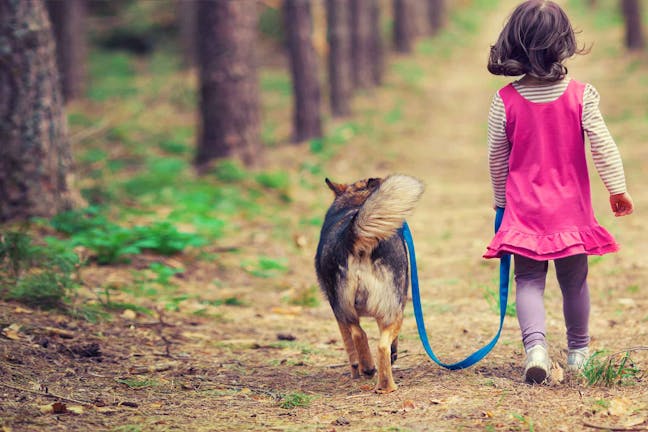 Introduction
Most dogs will instinctively act in a protective manner towards their master and the rest of the family. In some instances, they will even act in a protective manner towards close family friends or others who are frequent visitors to your home. But, at the same time, you can also train your dog to protect your children from harm. Bear in mind that training your dog to protect your child is not quite the same as training him to behave like the traditional guard dog all the time, they can also take on other roles.

While it is best to start training your pup at an early age, you can train also train an adult dog to protect your children. It's just a little harder and may take more time. Bear in mind, you instill a sense of loyalty by the way you treat your pup. The more loyalty he feels towards you and your family, the more naturally protective he will be and the easier it will be for you to train him. 
Top
Defining Tasks
Your dog is already a valuable member of your family, but when you train him to protect your children, he becomes literally indispensable. He will work hard and do his best to protect the rest of his pack (aka your family, especially the kids, who he sees as cubs in the pack). Training your dog to guard your children can take a few weeks of hard work or longer. To a certain degree, it depends on the breed as some like German shepherds, Doberman pinschers, and Rottweilers are more suited to being guard dogs.
However, this doesn't mean you can't teach many other breeds to protect your kids. The big thing you need to know is that there is a big difference between guard dogs and attack dogs. In this article, we are talking about guarding, not attacking. Just remember: training your dog to guard or protect your kids is going to take some time and patience. 
Top
Getting Started
Before you can train your dog to protect, he must first have mastered the basic commands, 'come', 'sit', 'stay', and 'down'. If possible, you may want to work on training him to 'speak' or bark--and be quiet--on command. Your dog should also be well socialized with other people and dogs. This will go a long way towards helping your dog learn to differentiate between the good guys and the bad guys. Supplies needed for this training include:
Treats: As a reward for the right behavior.

Leash: For training and keeping your dog under control.

Places to train: You will need to train your dog in several areas where there are other people and dogs.

Time to train: Training your dog to be protective is going to take some time.

Patience: As with any type of training, you need to be patient, your pup will get it figured out soon enough.

The big thing about training your dog to protect your kids is that you are, in reality, teaching him to do something that already comes to him naturally. Remember: the goal is to train him to protect your kids, not to be an aggressive attack dog. 
Top
Dog on leash
Time to put your pup on his leash and take him out for a walk.
On your way
As you go walking try to introduce your dog gently to "safe" people by allowing him to get close enough to them that they can pet him. This will help him learn to recognize people who he can allow to get near you.
Teach him who to look out for
Now as you walk along, each time you see someone you feel is unsafe and your dog starts to walk towards him, give him a gentle tug on his leash. This will let him know that the person may represent a threat and it is his job to protect you from this type of person.
Keep practicing
You need to keep practicing this step over and over with different people until your dog will automatically move to protect you when he deems it necessary.
Now it's time for the child
Now it's time to go for a walk with your child, this time let your kid hold the leash, if appropriate. Have him or her repeat the same training steps as you were using. Your dog should instinctively move to protect your child. This training will also teach your dog to protect the kids when they are playing out in the yard.
Social training first
Before you try to teach your dog to protect a child, you need to take the time to make sure he is fully obedience trained and well-socialized. This means taking the time to take your dog out in a wide range of environments where he will encounter lots of people, objects, other animals, sounds, and sights. You need to know that no matter what distractions you are around, your dog will obey your commands. He needs to know you are in charge.
Coach his barking
In most cases, dogs will naturally bark when someone they don't know is approaching. You can put this to good use by teaching him when to bark and when to stop. Each time your dog barks at a stranger, let him bark 2 or 3 times and then tug on his leash and give the command "Quiet". When he does, be sure to give him a treat and praise him. This lets him know no when he should bark and when he shouldn't.
Leash work
With your dog on a leash, have a friend come to the door and ring the doorbell. Encourage your dog to bark (if he isn't already doing so). After three barks, give him the 'quiet' command and a treat when he does so.
Bring on the child star
Now repeat this same process with your child holding the leash while the friend rings the bell. Teach your child to use the 'quiet' command. When your dog obeys, have your child give him a treat.
Move out to the yard
Move the training out to the yard with your child holding the leash and have a friend or two who your dog does not know dress and act in a threatening manner towards your child. When the dog barks at the "stranger" have your child give the 'quiet' command and give him a treat when he does. Keep repeating this training until you feel your dog is ready to stand and protect your child.
Pick an alert word
Start by choosing your "alert" or "panic" word. Be sure to choose one your child will easily remember and that is simple enough for your dog to understand its meaning.
Be enthusiastic
Each time you give the command word, be as enthusiastic as possible. Also, be sure to use the same word every time.
Practice giving the alert word
In most cases, the average dog will bark any time a stranger approaches. Have a person your dog doesn't know come to the door with you and your child standing behind it. When your dog starts to bark, give him the command.
Repeat the step
You will need to repeat this step over the course of several days until he associates stranger and barking. Use treats as rewards each time he barks.
Going out
You are now ready to take your child and dog outside for a little extra training session. Have someone your dog doesn't know approach your child. Your dog should start barking and when he does, give him a 'quiet' command and reward him when he does. The rest is all about practice until he will protect your child any time a stranger gets near him.
By PB Getz
Published: 11/16/2017, edited: 01/08/2021
---