How to Train Your Dog to Pull a Skateboard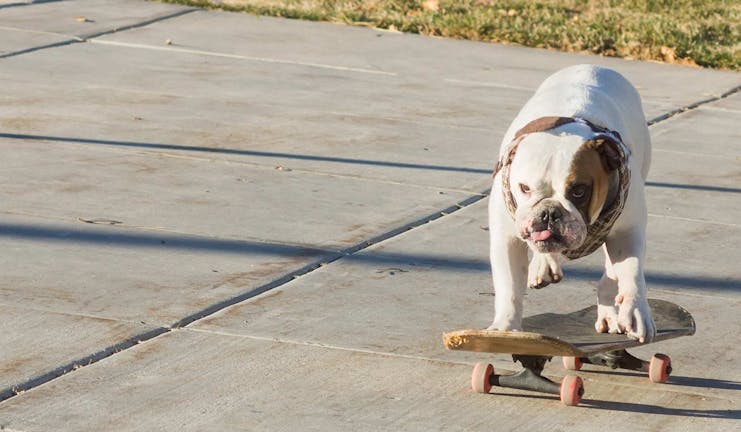 Introduction
Do you love to skateboard?  Do you have a dog with lots of energy that loves to work and spend time with you? Why not combine your love of skateboarding with your dog's need for exercise! 
You can teach your dog to pull a skateboard, also called "skatejoring". Lots of dogs need a way to burn energy off. Sometimes owners cannot provide enough exercise on foot, or some owners may just want to enjoy their skateboarding sport with their dog. By teaching your dog to pull you on your skateboard with a long leash attached to a harness, you can combine skateboarding and walking your dog, and give your dog a job. Dogs love jobs, and pulling a skateboard not only gives your dog a great physical outlet but creates a social interaction between you and your dog, building a team!  Not only that, but it's a great way to get somewhere, and attract a lot of attention.  How often do you see a dog pulling a skateboard!  A real conversation starter.
Top
Defining Tasks
Skatejoring, or urban mushing, is an activity where your dog pulls a skateboard or scooter with you on board. Many of the training methods and commands are similar to those used to teach dogs to pull sleds. Pulling is good work for dogs, who usually thrive off it, however, making sure your dog is the right size and in adequate physical condition to pull a skateboard is necessary before commencing training. Most dogs over 30 pounds are able to pull a skateboard. Smaller, high energy dogs, working in pairs, may also be able to participate in skatejoring. A young dog may not be adequately physically developed to pull the weight of a person on a skateboard, and this should be considered before training. A harness should be employed in teaching your dog to pull--never let your dog pull from a neck collar! Any breed of dog can learn to pull, although pulling dogs like Huskies and other large working dogs like St. Bernards and Bernese Mountain Dogs are particularly suited. 
In skijoring you will stand on a skateboard, holding a line or lines attached to a harness on your dog and your dog will walk, trot or run, pulling you along at various speeds. Verbal commands to go left, right, forward, faster and stop are recommended to provide control to your dog.
Top
Getting Started
Since skatejoring has recently become more popular, customized harness equipment for pulling skateboards has become commercially available in large urban centers, or is available online. These harness systems usually allow for a range of motion and have quick release features. Using a custom harness and tagline to teach your dog to pull a skateboard is recommended for your dog's comfort and safety.
Your dog will need good obedience and response to verbal commands, as he will be learning verbal commands specific to pulling a skateboard in order for you to maintain control and direction. It will be important to get your dog used to the skateboard and well adapted to the sights and sounds of the areas he will be pulling you so that an excited or frightened dog does not end up pulling you right off the skateboard!
Top
The Commands First Method
Reinforce direction commands
Teach verbal commands such as "Gee" (turn right), "Haw" (turn left), "Wait" or "Whoa" (stop), "Easy" (slow), and "Hup Hup" or "Mush" to go forward. Teach these commands when walking your dog on a regular lead line. Get your dog used to wearing his pulling harness at the same time. Use treats to reinforce correct responses.
Teach to ignore distractions
Teach your dog to "go on by" to move past distractions while out on walks. Encourage him to ignore distractions and reward for compliance.
Line out
Teach your dog to "line out". Attach one end of the tug line to an immovable object and ask your dog to move out until the line is taut and stop and wait for further directions. Guide your dog and reinforce with treats and praise.
Practice dragging
Attach an item for your dog to drag with his harness, such as a small tire or piece of wood, and allow your dog to pull it while you provide verbal commands while walking beside him. Eventually drop back and provide commands while walking behind your dog.
Use with skateboard
Step on a skateboard with harness and tuglines attached and provide the established verbal commands.
Get used to the harness
Put the pulling harness on your dog. Walk him frequently wearing the harness with you walking behind holding using the tuglines.
Walk with skateboard
Walk with your dog in a harness while you pull a skateboard behind your dog, or have an assistant skateboard with you while you walk your dog in the harness.
Pull empty skateboard
Attach a lead line to the skateboard, without any weight on it, and allow your dog to pull. Practice commands like 'gee', 'haw', 'whoa' and 'easy' while walking with the skateboard.
Step on skateboard
Step on the skateboard while holding the tug line. Have your dog line out--move out from the board until line is taut--and wait. Have an assistant walk next to your dog to guide, assist and reassure your dog.
Practice moving on skateboard
Ask your dog to move forward with your assistant providing support. Practice gong left, right, stopping, slowing and starting. When your dog is comfortable, start taking your dog solo without assistance.
Introduce equipment
Put the harness on your dog. Let your dog wear the harness; go for walks and allow your dog to get used to it. Introduce your dog to the skateboard. Use a clicker and provide treats when your dog investigates to create a positive reinforcement.
Reinforce pulling a drag
Attach your dog's harness to a drag. Call your dog forward. When he tightens up the lines, click and reinforce with a treat.
Increase pulling skills
When your dog pulls the drag forward, just a few steps, click and treat. Continue clicking and treating every few steps, increase how many steps your dog needs to take before being reinforced.
Attach skatebaord
Switch the drag item out for the skateboard, and have an assistant kneel or sit on the skateboard, continue clicking and treating to reinforce your dog tightening the lines and then pulling forward a few steps at a time.
Stand on board
Gradually have your assistant move to standing and continue reinforcing your dog for pulling the passenger and skateboard. Introduce verbal commands for 'go right', 'left', 'go by', 'stop', 'start', etc. while you walk alongside your dog guiding and reinforcing.
Ride the skateboard
Start riding on the skateboard yourself and providing verbal commands to direct your dog pulling the skateboard.
By Laurie Haggart
Published: 01/17/2018, edited: 01/08/2021
---