How to Train Your Dog to Quarter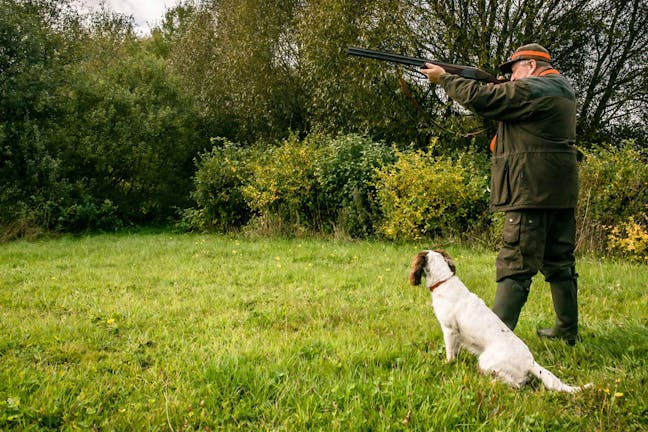 Introduction
When you are hunting birds or small prey in dense underbrush or a field with tall grass and scrub, your quarry could be anywhere, even just a few feet to the side. If you and your dog go headlong in a straight line, prey that is in range could easily be missed! Teaching your hunting dog to travel back and forth from side to side in a quartering pattern, to cover ground beside you and not just in front of you, allows him to discover and flush out more game in a shorter timespan, and while covering less ground, than if he travelled out in front of you in a straight line.  
You don't want to miss hunting opportunities, so teaching your hunting dog to quarter is a great idea, and starting your dog performing this behavior from the start, before he develops the habit of traveling in a straight line, is ideal. Some dogs, notably spaniels, have been bred for generations to naturally perform this behavior, by scenting and moving into the wind and traveling in a zigzag pattern to find scent and cover the ground around their handlers. Although other dogs can be trained to quarter, a dog that is naturally inclined to perform this behavior will be much easier to train.
Top
Defining Tasks
Quartering allows you and your dog to thoroughly cover the ground around you. Small prey can easily be concealed in tall grass or brush only a few feet from you. Having a dog that quarters and scents the air back and forth, from side to side in a zigzag pattern, increases your likelihood of locating hidden game, resulting in increased hunting opportunities. 
Ideally, you should start your dog hunting from a very young age, using a quartering pattern so you do not have to break your dog of the habit of rushing out in front in a straight line. Dogs are usually taught to move back and forth, ranging in front of and to the side of handlers, and to turn and change direction, crossing in front of handlers in response to a signal, usually a whistle. You will want your dog to stay in range of your shotgun so that any quarry he flushes can be shot. An added bonus to teaching your dog quartering is that it teaches your dog to range close to you while hunting, preventing your dog from becoming separated from you and potentially getting lost.
Top
Getting Started
Starting with a dog that is naturally predisposed to quartering and hunting, like a spaniel or another breed of hunting dog that has been trained with strong recall and off-leash commands established, will be the most successful. Start in an open space, free from distractions. You will need a whistle to signal your dog. Some methods use long lead lines to provide direction and control. During the training period, avoid letting your dog run or hunt out in front of you, as this establishes a bad habit that counters quartering behavior.  You will want to start with your dog facing into the wind so as to encourage him to start scenting and move back and forth to capture windborne scent.
Top
The Follow the Leader Method
Work into the wind
Sprinkle flour with your fingers to determine which direction the wind is blowing from. Face into the wind.
Get attention
Get your dog's attention, call or clap, and run to the side with one side of your face facing the wind. Your dog will follow you.
Run zig zag pattern
Stop and change direction. Your dog may overshoot you. Make sure your dog sees you change direction--call him or make a noise to get his attention, if you have to--and run in the other direction with your other side facing into the wind. Carry on zig-zagging back and forth. Continue and stop when your dog starts to get tired and is not overshooting you so much. Repeat daily for several days.
Mark turning
Take a whistle along after several days of practicing, and when you stop and turn, wait for your dog to slow to turn and blow your whistle to mark his behavior, not yours.
Encourage independent quartering
Start reducing how far you run from side to side, letting your dog continue going to the side for several strides before blowing the whistle and signalling your dog to change direction. You can combine the whistle with arm signals to indicate change in direction and encourage your dog in that direction. Your dog should cross over in front of you not behind, so you may need to step back to encourage this. Do not allow your dog to cross over too far in front, call him back if necessary to reinforce crossing over in front of you in close range.
The Direct on Lead Line Method
Prepare line
Determine direction of the wind, and start facing into the wind in an open area. Use a long lead line up to 50 feet in length. Stiff ropes move through underbrush easier. Attach the lead to your dog's collar. Gloves will help you avoid rope burn. You can also tie knots on the end of the rope you will be holding to prevent it from sliding through your hands easily if your dog is at high speed.
Signal and direct
Allow your dog to range to the side, when he approaches the end of the rope, blow your whistle. If your dog proceeds, direct him back with lead line.
Call in opposite direction
Call your dog back and allow your dog to range back in the opposite direction to the length of the rope, crossing in front of you. Repeat whistle and change direction.
Associate signal
Continue practicing with the lead until the dog starts to respond to the whistle.
Practice off-lead
Take your dog off lead and practice with the whistle.
The Verbal Commands Method
Allow dog to proceed
Stand facing the wind in an open area with your dog. Your dog will eventually wander off, usually facing the wind, and scenting the air to investigate.
Verbally signal direction change
Let your dog proceed several yards then call him, turn and walk in the opposite direction.
Encourage opposite direction
Call your dog as your proceed in the opposite direction to get his attention. He will run to you. Give him an arm signal encouraging him to proceed in front of and past you in the opposite direction.
Repeat change of direction
Let your dog range out several yards in the opposite direction, as you proceed forward. When your dog gets to the limit of the desired range, change direction again and verbally signal your dog to come past you.
Repeat daily until established
Continue in a zigzag pattern until your dog shows signs of becoming tired. Repeat daily until the zigzag pattern of ranging in an open space is established.
By Laurie Haggart
Published: 11/30/2017, edited: 01/08/2021
---