How to Train Your Dog to Ride in a Canoe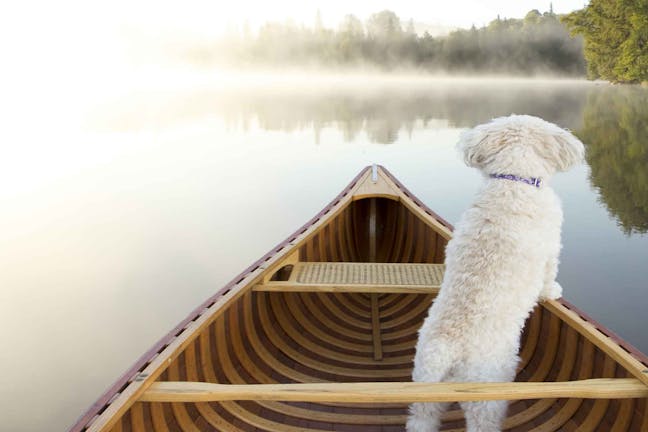 Introduction
If you're a lover of the outdoors, you may enjoy nothing more than going for a trip down the river, in the sea, or on the canal in a canoe. If you're also a dog lover, can you think of anything better than being able to have a first mate in the form of your best four-legged friend? Hopefully, he isn't a scurvy dog! 
Now you won't have to feel guilty when he gives you those sad doey eyes as you're about to leave for your canoe trip, as now you can simply bring your poochie pal with you. Also, if you wanted to go away for a few days there would be no requirement to get a dog sitter, leaving you with more time and money to spend on canoeing and boating accessories, you could even save up and buy a canoe for you and your pooch to explore scenic places together.
Top
Defining Tasks
In this guide, your pooch will learn how to adopt the correct position in the canoe and what to do in the event of capsizing. This is an extremely important skill to learn if both you and your pooch are going to learn to canoe safely and all hands and four paws are going to remain on deck. Think of the initial training that you needed to undertake to learn to canoe safely; you're going to have to teach your pooch a few things about safety on the water too. Some dogs will take to this command like a fish in water, whereas others will take a bit more time to get those sea legs, therefore this command usually takes a couple of months to master. This skill is not suitable for young puppies, as your pup needs to be strong enough to swim against currents and therefore must be a strong, experienced swimmer; dogs need to be at least 6 months old to qualify.
Top
Getting Started
There are a few different bits of equipment you'll need to get started. High value treats are a good idea for praising your pooch when he gets it right, such as cooked chicken pieces or sausage. You will also need a canoe and, if possible, an area of water to practice. Rivers and the sea wouldn't be very good for this, as for safety you need to avoid currents while learning. A swimming pool would be the best solution if you have access to a friend's or neighbor's, however, a canal or still body of water would do if you can't find a pool. It would also be a good idea to have a friend watching over you and your pooch just to make sure you don't run into any difficulties. Most importantly, your pooch must be a strong swimmer, know basic recall well and have basic obedience skills. Good luck and be sure to wear your life jacket and put your pup's on too!
Top
The Slow Introduction Method
Get used to the canoe
Put the canoe somewhere familiar, like your front or back yard and sit in the boat, encouraging your pooch to jump in as well. When he jumps into the canoe, give him a load of praise, telling him how much of a good boy he's been and give him a tasty treat.
Introduce the 'up' command
Each time your pup jumps into the boat, say "up", as you want him to be disciplined and enter the boat on command.
Act like you're on the water
You want your pooch to get used to the motions of the water, so gently rock the boat back and forth, doing your best to pretend you're on the water. This will get your pup used to the motions experienced while canoeing.
Put your life jackets on
When canoeing, both you and your pooch must wear your life jackets. Safety comes first.
Practice somewhere sensible
Try to find somewhere safe to do your first test run of you and your pooch paddling about in a canoe. It needs to be somewhere with both a shallow entry and exit point. A swimming pool would be ideal, as it's a safe environment without any currents, in case you run into any difficulties.
The Getting Comfortable Method
Getting their sea legs
Although your pooch needs to be able to swim before canoeing, why not get them really used to the water before taking them out on the canoe. This way your pooch should take more naturally to canoeing and if you were to capsize, they'll be able to stay afloat.
Take them swimming regularly
One way in which you can get your dog used to the water is to take them swimming regularly.
Go on a motor boat
Going on a motor boat with your pooch first can be a great way to get them their sea legs, as motor boats are more stable than canoes and so is a good way to get them adjusted to being on the water.
Getting them into the canoe
Start with the canoe on land where your pooch can hop in whenever he pleases. If he doesn't show much interest in the canoe, why not encourage him with treats or pop his bed in the canoe to get him used to it.
Keep on repeating
Repeat the above steps to get your pooch used to the canoe and make your first trip out easy.
Go on your first trip
Choose somewhere familiar for your first adventure out so that you know your route. Also, make sure that the currents aren't too strong and that you have a shallow point for your pooch to hop on and off easily.
The Calm and Steady Method
The basics
To keep safe on the canoe, first make sure your pup has good control of basic commands such as 'sit' and 'stay', as it will be important to use these to ground him if he gets a bit too over excited.
Introduce the canoe
To begin with, you can put the canoe somewhere he has easy access to it, letting him enter the canoe of his own accord. Then teach him the 'up' command, so that he jumps into the canoe on command by reinforcing the behavior of him jumping into the canoe with treats and praise.
Go swimming
Take your pup on lots of swim trips to get him used to the water, so he won't be so excited when he goes in the canoe on it for the first time.
Go walkies
Before you go on your first canoe trip, be sure to take your pooch on a nice long walk to tire him out a bit so he's not too excited when he goes on the canoe for the first time. You want him to sit still in the canoe so that he doesn't tip it over at any point.
Go canoeing
Go for a trip out in the canoe somewhere without strong currents and that is fairly shallow for your first trip, with easy entry and exit points. Hint: getting a mat for your boat could be a great idea, as this will be far less slippery for your pup.
Short but sweet first trip
Keep your first trip short, as if your pooch does get too excited and decides to jump out at least he won't be too far away from the shore.
By Catherine Lee-Smith
Published: 11/01/2017, edited: 01/08/2021
---