How to Train Your Corgi Dog to Roll Over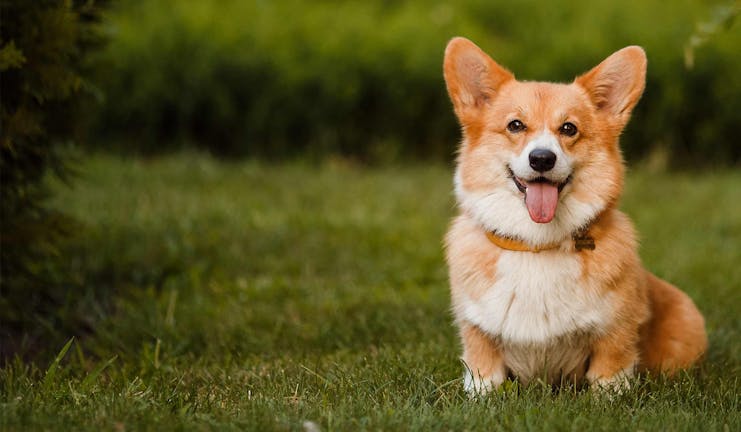 Introduction
Roll over is one of the classic dog tricks, but there is more to this trick than just a little fun. It makes your dog use muscles in ways he normally wouldn't, which means he's getting a good workout at the same time. Keep in mind that teaching your Corgi to roll over puts him in a very vulnerable position during the roll. This means your pup must have a lot of trust in you, so before you try to teach this trick to your pup, you need to build that level of trust.
Building this level of trust or bond takes time. It means spending time playing with him, teaching him the basic commands, and just getting to know each other. Your dog will let you know when you have earned his trust. He will let you touch him anywhere on his body and will lay down near you and relax. When he reaches this point, you will be able to easily teach your Corgi to roll over. 
Top
Defining Tasks
Having taught your pup to do simple things like 'come', 'sit', 'stay', and 'lie down', you are ready to move on to something a little more advanced. 'Roll over' is a lot of fun to watch and your pup will love doing this trick for an enthusiastic audience. And yes, even Corgis can learn to roll over, it just looks a little more comical than with many other breeds.
This trick takes more than a single movement, which is why your pup needs to already know how to lie down on command. The reason for this is that rolling over is simply an extension of the down command, which will make it much easier for your pup to segue into rolling over on command. Take your time, be patient, and your Corgi will be hitting the ground flopping from side to side every time he hears the cue. 
Top
Getting Started
For this one, you won't need much in the way of supplies. The only thing you really need is a handful of nice chewy, smelly treats for your pup. You can use these as lures to help your dog understand what you are asking of him. You can also use them as rewards for when your pup gets things right. 
Top
The Physical Assistance Method
The right treat
Pick the right treat, one that is chewy and has a strong odor. Your pup is sure to love them. Use this treat for training only, this will help your pup associate the treat with learning a new trick or mastering the one he is currently learning.
Down
Call your Corgi over and have him assume the 'down' position. Help him roll over on one side. Since Corgis are not very happy about being touched while they are laying on their backs, take some time to rub your pup's belly and play with his legs and feet to desensitize him.
By two paws
Gently take hold of the front and rear paw closest to the floor and gently roll your pup over to the other side while giving him the cue "roll over". Praise him and give him one of those treats.
Repeat, repeat, repeat
Repeat this several times until it feels as though he is trying to roll over without your help. This means he is ready to move on to the next step.
By himself
Time for your pup to master the skill. You should now be able to give your pup the 'roll over' command and he does exactly what you want. Each time he does, praise him and give him a treat.
It starts with a simple tasty treat
Start by finding a tasty treat your Corgi will do just about anything for. The smellier the better.
To the down position
Using the treat, lure your pup into the 'down' position by placing the treat on the floor between his paws. Make sure he gets the treat the moment his belly hits the floor.
To one side
With your pup in the 'down' position, move the treat up towards his shoulder blade. As your pup turns his head to follow the treat, he will eventually fall over on his side. When he does, let him have the treat and praise him.
Moving on over
After your pup has gotten used to rolling over on one side, keep moving the treat further towards his back, which will cause him to roll completely over. You may need to move the treat a little more quickly to help your pup build up the necessary momentum to roll completely over.
Keep up the good work
The rest is all about taking the time to practice as often as you can. Keep the training session short and be generous with praise and treats for when your pup gets it right.
Down using treat
Take one of your pup's favorite treats and call him over to you. Use the treat and 'down' command to put your pup on the floor in front of you.
On your side
Take a treat and hold it up to his nose, then move it towards his shoulder. This will cause him to roll over on his side. Practice this until your pup will roll over on his side every time.
It's whirr time
This is where the "whirring" comes in. Take the treat and "whirr" it over your pup's head. When you pup rolls over on to his other side, be sure to give him plenty of praise and of course the treat.
All the way over
The goal of teaching your pup to roll over is that he ends up back on his belly when the trick is completed. To do this, you place the treat far enough away from where your pup comes to a rest after rolling over. This way he will have to roll up on his belly to get the treat.
The best is yet to come
The rest is all about practice, practice, practice. The more you practice the better your pup will become at rolling over. One last tip, you should slowly wean your Corgi off the treats unless you want him to get fat!
By PB Getz
Published: 01/05/2018, edited: 01/08/2021
---