How to Train Your Dog to Run a 5k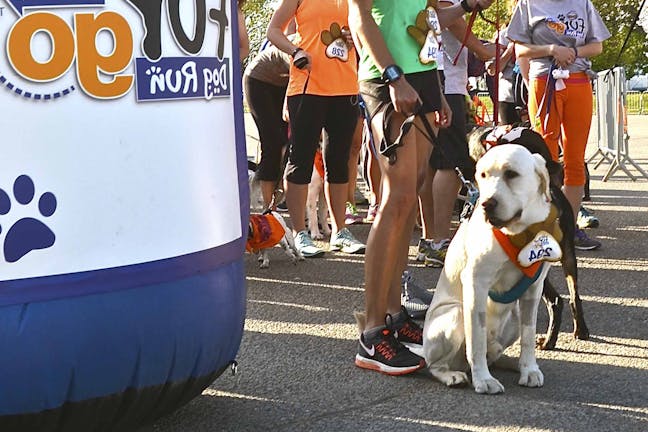 Introduction
In a moment of madness, you agreed to do a serious race with friends in a few months. You'll have to run over 5k and well, you're not exactly the fittest you've ever been in your life. You are however, committed to doing it and you don't want to let anyone down. To make training a little less dull, you want to take your canine companion along with you. He's always full of energy anyway and you know he'd love the bonding time. Who knows, maybe this will become a long-term arrangement.
If you can train him to run 5k not only do you get fit, but you kill two birds with one stone, as you won't have to walk him each day. A decent sized run is fantastic exercise for him. If he isn't fit now, he will be soon enough!
Top
Defining Tasks
Training your dog to run 5k is relatively straightforward, but there remain some hurdles to overcome. You'll first have to gradually build up the distance to make sure you don't leave him too exhausted. You'll also need to use obedience commands to keep him running calmly at your side for 5k. You don't want to be pulled in every which direction for the run, he needs to run in harmony alongside you. To do that, some tasty treats will also be needed to keep him motivated.
If he's a puppy he should be capable of running 5k and he should also be receptive to training. You could see results in just a couple of weeks. If he's older and not quite as athletic as he once was, you may need up to a month before you see consistent results. Succeed and you'll have the ideal running partner to keep you company on long runs.
Top
Getting Started
Before you get to work you'll need to collect a few items. The most essential ingredient will be delicious treats. Alternatively, you can break his favorite food into small chunks. 
You'll also need a secure, short leash. If he's big and strong you may also want to consider a body harness. This will increase your control and reduce the strain on his neck.
Apart from that, you'll just need to set aside time to go for a long run every other day. Then just bring a positive attitude and you're ready to begin!
Top
Fast walk
Before you can get him running 5k, you need to get him used to and concentrating on just a fast walk. Secure him to a relatively short leash and head out the door. Start walking briskly and don't stop for at least 15 minutes.
Calm and quiet
Throughout this time, it's important you don't get him worked up. You want him concentrating on staying by your side and on the task ahead. You don't want him stopping to sniff everything on the way.
Upgrade to a jog
The next time you take him out, start jogging. Don't run too fast, you need to build his stamina up gradually. Again, remain quiet to keep him focussed. If he seems tired you can stop for a minute to let him catch his breath.
Increase the distance
Now each time you take him out, you need to steadily increase the distance you run for. It's important you do this gradually and give him at least one rest day in-between runs. Just like humans, dogs' muscles get tired and ache too, so respect that.
Reward
Each time you take him out, make sure you give him a generous reward at the end of the run, or when you stop for a break. You need to show him that running steadily is the behavior you want to see, and nothing hammers that home more than some mouth-watering food.
Short leash
Before you can run 5k, you need to make sure he'll run calmly by your side. If he pulls and sprints too fast, not only will it make the run a nightmare, but he'll also struggle to keep up the stamina. So when you head out, keep him on a short leash to increase your control.
Treat
Go on a walk, but hold a treat out at his head height. Make sure he can smell it and knows what's in there. This is going to motivate him to stay by your side throughout your runs. Don't let him get to the treat until you say so though.
Reward
After 50 yards, open your hand and let him have the treat. When you do this, make sure you give him some verbal praise too. He needs to know he's definitely been behaving correctly. Make sure you don't stop when you hand over the treat, you need to get him used to constantly moving if he's going to run 5k.
Upgrade to a jog
After several successful walks where he stays by your side and doesn't stop the whole time, you can upgrade to a light jog. To start with, jog only a short distance, say 1k. Then the next time you take him out increase it to 2, the time after that 3, and so on until you reach 5. Use the treat at head height technique to keep him on task each time.
Freedom
After several successful 5k jogs, you can increase the length of the leash. He knows what's expected of him and he stays by your side, so you can give him some more freedom. You can also steadily cut out the treats at this point, the habit will have cemented.
Big meal
Make sure, before you start training him to run, you give him a nice big meal a couple of hours beforehand. You need to fill him with energy for the adventure ahead. Don't feed him and then take him out running within an hour though, you may find he quickly throws up his dinner.
Head out
Put him on a leash and head out for a light jog. To start with, keep the distance 1k or less. You don't want to tire him out so much he never wants to run again. Stay calm as you head out, you want him focused, not hyperactive and playing around.
'NO'
When you start jogging, it's important you keep his eyes ahead and his attention on the run. That means you need to correct any behavior that shows he's being distracted. If he stops to sniff something, give the leash a quick pull and give a firm 'NO' command. Don't terrify him, but let him know it's time to move on.
Reward
When he does run for at least a few hundred yards without stopping, give him a treat. Pull one out of your pocket and give it to him as you run--you don't want to encourage unnecessary stops. Now over the next few weeks, gradually increase the distance you run for. You can go up in 1k increments every few days.
Rest & breaks
Make sure he gets at least one rest day after a run. This is particularly important if he's old. You don't want to cause an injury, that will only delay training further. Also, pay attention as you run. If he looks seriously out of breath and struggling, take a quick break and give him a drink of water. You don't want to let him get dehydrated. Plus, make sure he gets a tasty treat at the end of each run, he deserves it!
By James Barra
Published: 12/05/2017, edited: 01/08/2021
---