How to Train Your Dog to Run an Obstacle Course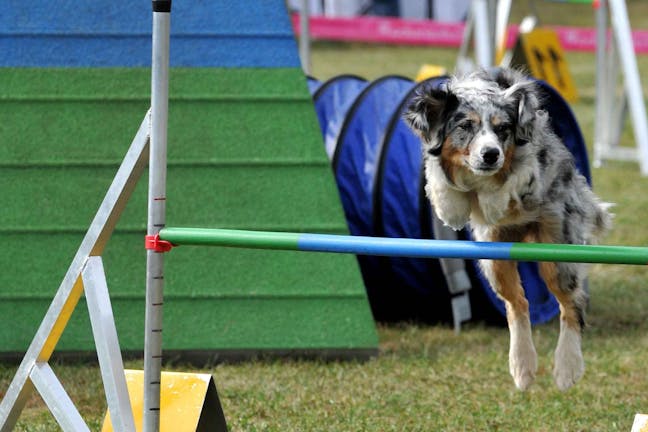 Introduction
Running an obstacle course, or as it's better known--an agility course, has become an extremely competitive sport among dog lovers. However, it was not initially intended to be a sport, it was nothing more than an agility display at the 1978 Crufts Annual Dog Show. Today, agility competitions are held around the world. Whether you think you might want to train your pup to compete or simply just for fun, running an obstacle course is fun, exciting, and good for both you and your pup's health.
In competition, dogs are expected to navigate between 18 and 20 obstacles with the one who does so the fastest declared the winner. The dogs and their human friend get to have a map of the course ahead of time and given time to walk the course to familiarize them with the course. But even if you are doing this only for fun, let your dog go all out each time, it's good for both of you. 
Top
Defining Tasks
Throughout training your pup to run an obstacle course, you will need to teach him simple commands such as 'up', 'through', 'weave', and 'round'. Take your pick, but be sure to use a single command for each activity. Mixing up the commands or using different ones each time will only confuse your pup and make the training go that much harder.
Before you can start this type of training, you should talk to your vet and make sure pup has physically matured enough for his body to handle jumps as well as the twists and turns. Typically, this type of training doesn't start until a dog is out of his teen doggy years and is a young adult. During the obstacle course, your pup will be jumping over some obstacles, climbing up and over others, and running between slalom poles, all of which could lead to serious injury.
Top
Getting Started
Before getting started, there are a couple of things you should know. First and foremost, you need to keep your pup's safety in mind at all times. While it might be tempting to make your own obstacles, and there is nothing wrong with doing so, be sure that anything you build is strong enough to support your dog's weight when he is running at full tilt.
You also need plenty of space to set up the obstacle course. Be sure to scale the size of your obstacle course to the size of your yard, for safety's sake. Hurdles should have a bar that can easily be knocked off to avoid injury to your dog's legs. Do your homework and buy good quality equipment. Not only will this reduce the risk of injury, it will make the training go far more quickly. Below, we are going to look at three different types of training for three obstacles you are likely to find in most competition agility courses. 
Top
Set up the jumps
Find a spot in your yard with plenty of room on both sides of the jump and set the jump up with the bar set at the lowest height.
Lead your dog
With your job on his leash, walk him up to the bar and give him time to get used to the jump.
Walk him over the jump
While he is still on the leash, walk him up to and over the jump bar. Give him a treat when he does exactly what is asked of him.
Introduce the command
Now walk him over the jump using the 'jump' command and reward him for a good job.
On his own
Take the leash off, have your pup sit a few paces away from the jump, go to the other side and call his name. When he comes running and jumps over the bar, give him a treat and plenty of praise.
Moving on up
Once your pup is jumping the bar at the lowest setting easily, start moving the bar up one notch at a time, until your pup is jumping at the recommended height for his breed and will do so with you running beside him, giving him the command.
Set up the weave course
Set up two rows of weave poles parallel in your backyard.
Grab a treat
Grab a handful of your pup's favorite treats
Make him wait
Have your pup sit at one end of the channel between the poles.
Walk backwards
Holding the treat out in front of you, walk backward away from your pup through the channel. Give him the 'weave' command as you do so to get him used to hearing it. Repeat this until he gets it right every time.
Move the poles
Move the poles a little closer together, continuing the training with plenty of treats and praise.
Create a slalom
Move the poles together until your pup is forced to weave through them, using the 'weave' command and a treat to entice him to go through the entire course.
Build up speed
Take the game to the next level by working him faster and faster until your pup can weave through the poles while running at full tilt. Next, add in going over the jump to weaving through the poles.
Create a short tunnel
Using a flexible and expandable tunnel (buy one that has solid ends and a soft tube), create a short tunnel for the first stages of training.
Have a seat
Have your pup sit at one end of the tunnel and give him time to get used to it.
Treat time
Toss a treat through the tunnel so that your pup can see where it lands.
Release the hound
Release your pup, give him the 'through' command, and let him go through the tunnel so that he can get the treat. Praise him for doing a good job. Repeat until he will go through the tunnel on command.
Make it bigger
Slowly repeat this process, extending the tunnel a little at a time. Wait each time until he has mastered the added length.
Add a curve or two
Finally, change the shape of the tunnel. Add in a curve at first, and finally create an "S" shape to make it more challenging, then place it in sequence with the jump and the weave. Once your pup has mastered these skills, you can add in other obstacles such as a teeter-totter, a balance beam run, and maybe some hoops to jump through. Most of all, just have FUN with your obstacle course!
By PB Getz
Published: 10/27/2017, edited: 01/08/2021
---